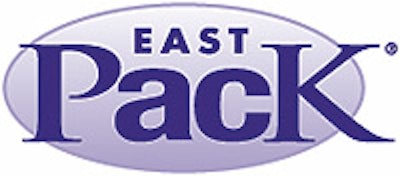 More than 25ꯠ visitors are expected to attend EastPack 2002 this June at Jacob J. Javits Convention Center in New York City. Running June 4 through June 6 and sponsored by Canon Communications (Los Angeles, CA), EastPack targets the $24 billion Northeast packaging market, according to Canon, and its 2ꯠ exhibitors will feature every aspect of packaging equipment, supplies, and services.
For the first time, EastPack is co-located with Medical Device & Manufacturing East, Atlantic Design & Manufacturing, and Plastec East, creating what Canon calls "the largest business-to-business design and manufacturing event on the East Coast."
Two feature pavilions will group together exhibitors displaying similar products. The Pharmaceutical and Nutraceuticals Packaging Pavilion will showcase every aspect of pharmaceutical packaging, including specialty equipment, blister packs, tamper-evident containers, labeling and bar-coding technologies, QA/QC methods, and sterilization as well as testing and inspection services. An expansive Cosmetics and Personal Care Packaging Pavilion will feature the full spectrum of services and supplies for the cosmetics, fragrance, and personal-care packaging industry.
Also on tap is the EastPack Conference, presented by Institute of Packaging Professionals (Naperville, IL). It runs from 9 a.m. to noon all three days. Registration for the conference will be held Tuesday and Wednesday beginning at 8:00 a.m. and Thursday at 9:00 a.m.
The conference kicks off on Tuesday with Anti-counterfeiting for drug and pharmaceutical packaging, by Neil Sellars, director of product development and marketing at National Label Co. Next up is attorney Eric Greenberg of Ungaretti & Harris, whose topic is Ensuring patient compliance. Tuesday's final session is Proprietary coding techniques for pharmaceuticals, by Mike McKinney and Scott Liniger of Videojet Technologies.
On Wednesday the conference resumes with New regulations for child-resistant closures, by Suzanne Barone, Ph.D., project manager for poison prevention at the U.S. Consumer Product Safety Commission. She's followed by litigator Peter Neger of Bingham Danna, who will address Packaging liability vis a vis terrorist activities. Wednesday closes with Packaging that sells, by Robert Swientek, editor-in-chief at Brand Packaging magazine.
The final day of the conference is Thursday, which starts with Electronic Signatures-creating greater value for the supply chain, by Dave Shoemaker, group vice president of strategic marketing at Checkpoint Systems. Optimizing packaging in a single-parcel distribution environment is presented by Chad Thompson, package engineering manager at UPS Professional Services, with Alfred McKinlay, professional engineer and certified professional in packaging and handling. Finally, Michael Kelley, CPP Packaging & Security Integrations & Opsec Security Technologies, presents Security solutions for consumer products and packages.
Those interested in a full-day track of topics should look into Wednesday's Medical packaging update, scheduled for 9:00 a.m. to 4:00 p.m. at the co-located MD&M East.
Additional information about EastPack 2002, the EastPack Conference, and Medical packaging update can be found at www.eastpackshow.com.
Companies in this article