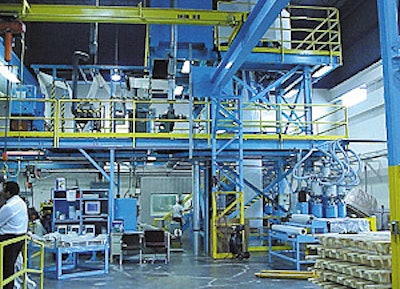 For years, Enhance Packaging Technologies has closely guarded the production techniques for its unique Sclair™ film. But about a year ago, the company installed a new line for coextruded blown films that are not part of the Sclair family. About this line the firm is less guarded so Packaging World agreed to explore it.
Why install a coex line in the first place when the wholly owned subsidiary of DuPont Canada (Whitby, Ontario, Canada) has long been successful with laminations? Economics. Although a coextruded film often lacks the high-barrier properties available in a lamination, management at Enhance saw opportunities for a coex film to provide sufficient barrier. For these applications, Enhance now can produce a one-step coextrusion rather than a multi-step lamination and achieve savings from this more economical method of assembling discrete film layers.
Pouched drink in Puerto Rico
According to Bruce George, business manager for aseptic packaging, one of the early customers to employ a five-layer coextrusion from Enhance is Alipak Corp., a unit of Processadora Campofresca, San Juan, Puerto Rico. Alipak makes and markets Sakito Extreme, a 10% juice drink packed into a 250-mL (8.45 oz) pouch that's made and filled on unidentified form/fill/seal equipment. This product is sold at retail in multipacks, first in an eight-color printed bag of 10 pouches, and more recently in a printed carton that is similar to Kraft Foods' Caprisun brand.
The pouch material is approximately 4 mils thick with a core of ethylene vinyl alcohol copolymer. Linear-low-density polyethylene is the sealant layer.
The target market for Sakito Extreme is children from five to 14 years old, says Gonzalo Escobar, general manager at Alipak. The coextruded film from Enhance was selected because it produces fewer leakers and it exhibits more tear resistance than other films that were tested.
Enhance incorporates two other features in the coextruded film for Sakito Extreme. In the masterbatch for the outer layer, Enhance uses a pearlescent colorant for the background to the printed graphics. In addition, George says, the outer film is a patented LLDPE formulation that allows easy penetration of the attached straw. "Then the material mechanically seals itself, if you will, to the straw so it won't leak," he adds. This technology is far from new; it's been used on all the school milk pouches made from Enhance materials for years.
Die influenced selection
Once Enhance decided the market for the coextruded film was sufficient, it took just one year to determine what it needed, draw up detailed specifications, select the supplier, and install and start up the line in late 2000. Full commercial production was achieved by spring of 2001, George reports.
Much of the specifications and decision making about the new line rested on the shoulders of Jim Johnson, Enhance engineering supervisor. "We looked at several vendors, comparing features, reliability, and costs," he says. "In the end, we decided on Brampton Engineering as the sole supplier, based on value, proven die technology, and service," Johnson says.
One of the keys to the selection was die design, and Brampton (Brampton, Ontario, Canada) has up to 10-layer dies operating around the world. "This is the heart of the entire line. If you can't get the material through the die and produce high-quality film with controlled layer thicknesses, you've got the wrong equipment," Johnson says. Brampton's design is what Johnson calls a "pancake-style" design, instead of the more typical concentric circles of other technologies.
With the typical die design, it's inherently difficult to get much temperature variation between the layers. According to Johnson, this temperature variation is important to Enhance in some formulations where it might require a 50°C temperature differential between a core layer and those adjacent to it. The other dies rarely permit a differential of more than 10°C, he says.
Further, Enhance opted to have Brampton supply a complete turnkey line so that a single supplier would be responsible for the entire line. "We
didn't want to risk one supplier blaming another for deficiencies in the line." In the end, Brampton supplied a 60"-lay-flat film line fed by three 2" and two 3" extruders. Nominal output is 300 kg/hr (661 lb/hr).
Integrated controls, too
Unlike most of the film lines at Whitby, the new coex line also features highly computerized and integrated controls that Brampton calls Italycs. "This is our first line with all the controls integrated from one end of the line to the other," Johnson says. "Our operator has the winder information displayed at the same point as the resin-blending detail and the extruder operating parameters, too. Plus the control system provides an historical record for our files."
Most of Enhance's other lines employ stand-alone controls for each component, or in some cases, even manual controls. For all of these reasons, Enhance relied heavily on training at and by Brampton.
"Early on, we identified four people who would be the lead operators for the line. They each went to Brampton's Blown Film Technology Centre for training on its laboratory line, which basically has the same controls as the commercial line," Johnson says. Additional training was provided during installation and start-up.
Beyond that, Brampton provided technical coverage 24 hrs/day for the first six days and then daily coverage for another three weeks. That's easy for these two partners; their locations are just a little more than an hour apart. So proximity for service and training was an issue in their selection as well, Johnson admits.
Steep learning curve
Even with all that training, commercial production still required a learning curve. That's partly because of the new technology in this line, but also because Enhance was working with some new resins it had never used before, especially EVOH.
"Actually, the new line was up and running within just a few hours," Johnson reports. "But when we got into production with more sophisticated structures and with new materials, we had to learn. We had never produced blown barrier film before. So we had to learn how to control these materials as they came out of the die, going up the tower and through the web handling."
However, without the EVOH barrier layer, the Sakito Extreme pouch wouldn't work, George says. With Enhance's conventional material, shelf life would be only three or four weeks. "Juice is highly susceptible to oxidation, so the oxygen barrier is critical. Combine that with Alipak's hot-fill process, and they get about six months' shelf life on their pouch."
Since the pouch is hot-filled, George says, Enhance had to formulate with materials that have higher melt points so the film is able to withstand the temperature of the product as it's filled, which Alipak declined to reveal. And, he says, the EVOH is formulated to deliver higher-barrier properties than in some other applications. The result is a custom material.
"That's not atypical for us," George says. "We have dozens of coextrusion formulations, depending on the application. One of the reasons for using coextrusion is to reduce the overall cost of a film by customizing the layers. Of course, it also simplifies the production steps for us."
Once manufactured, the coextruded Sakito Extreme material is sent to one of Enhance's unidentified converter partners for eight-color flexo printing. Part of the rationale for the coex line, George says, was to make the company more competitive in serving markets outside North America. "Our strategy was to provide ourselves with a little more breadth in the technology we could offer."
And Brampton Engineering has provided the follow-up service that a turnkey provider needs to do, adds Johnson.
Companies in this article