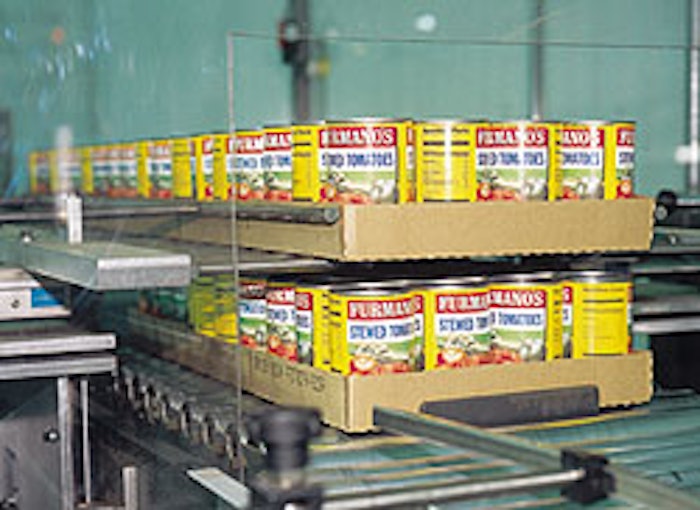 The Furman Foods plant in Northumberland, PA, cans a full range of tomato products, from sauces to whole tomatoes, as well as beans including kidney, navy, and Great Northern. Yet, while the canned products were good as ever, line efficiencies weren't.
Improvements were set in motion in mid-2000 to revamp the plant's four production lines. Based on a strategy of mixing new equipment with the best of the old, three of the four lines have been updated so far (see upgrades sidebar).
On Furman's Line 1, completed in late 2000, various can sizes ranging from 211/300 to 404/700 are labeled, trayed, and shrinkwrapped. One of the goals was to increase the speed from 25 cases/min to 45 cases/min, notes Jeff Bradigan, Furman's electrical supervisor and project manager. Now, the line not only averages 45 cases/min, it has reached 80 cases/min.
The line's central operations were bolstered by a new tray-packing system from Kisters Kayat (Edgewater, FL) comprising a tray packer, stacker, film wrapper, and shrink tunnel. A veteran of many startups, Bradigan says that this particular line's commissioning was "the cleanest I've seen. I attribute that mostly to the fact that Kisters Kayat had their act together and their service technician was very knowledgeable." Furman also appreciates the dramatic reduction in changeover times on the equipment (see changeovers sidebar, p. 80).
Heading the U-shape line is a new depalletizer (see video) from Whallon (Royal Center, IN). "It does everything," comments Bradigan. "All we do is put a pallet on the infeed via forklift. It has performed well." It sweeps brightstock (unlabeled) retorted cans from pallets one layer at a time at a rate of 4 layers/min regardless of can size or pallet layer count. A fully automatic arm lifts each can layer using a magnetic plate and rotates it over to release the cans onto an accumulation table. Tier sheets between pallet layers are removed by a vacuum head plate on a separate arm. Sheet removal is a new feature for a depalletizer at Furman, and one well liked by Bradigan and his crew.
Cans proceed from the accumulation table through a new Whallon single filer ahead of labeling by a refurbished roll-through unit moved from another line. In between, an online dud detector identifies any defective retorted cans.
'Smart' conveyor smoothes flow
Labeled cans convey onto a mass flow conveyor ahead of the tray packer. This 60' section, from Alliance Industrial (Lynchburg, VA), is "fairly custom," notes Bradigan. "It keeps the cans from jamming, ahead of and into the tray packer." It uses several narrow, parallel independent conveyors to do that. Onboard, an Allen-Bradley MicroLogix™ programmable logic controller from Rockwell Automation (Milwaukee, WI) regulates speed and flow according to the speed of tray packer as well as the volume of cans that are on the conveyor system.
A 20' outfeed leads directly to the tray packer infeed where the cans are directed into either four (larger cans) or six lanes, depending on the tray pattern. Most pack patterns are 3 x 4, although the other pattern is 4 x 6 (for 211 cans). Rows are grouped mechanically within the lanes by an under-conveyor lugged chain (see video).
Packer picker preferred
Meanwhile, the tray magazine pulls a blank using a rotary
vacuum cup device. It's a method that Bradigan prefers over a pull-and-push-through mechanism. In fact, it was a major selling point, he says: "It's a whole lot smoother operation. It doesn't suffer from blank feed problems such as missed picks." These were experienced with the other method.
Cans in the tray packer are swept from behind by a set of flight bars across a deadplate and onto the blank. After hot melt glue is applied to the corners of the prescored flaps, the front and then back flaps are folded up. The side flaps are then folded up ahead of a compression section of stainless steel guides. Depending on the product, the trays have a lip height from 1 ½'' to 3''. "Most of the time that's about one third the way up the cans," Bradigan notes.
The tray releases onto a Kisters Kayat-supplied conveyor section on which it is ink-jet printed by a Diagraph (St. Louis, MO) PEL system. "It's a very reliable system," says Bradigan. "We use Diagraph coders on our other lines, too." Printheads mounted on opposite sides of the conveyor print production and date-coding information, the latter if the customer desires.
Trays are then conveyed to the Kisters Kayat stacker. One third of Furman's nine different pack/tray configurations run are stacked; the others convey through the unit without stopping.
Within the machine, a stop gate near the discharge rises from beneath the conveyor to halt tray flow. Near the entrance, a second stop gate allows five trays in before it halts incoming trays. Metal fingers lift up through the conveyor to raise the group of trays. Then five more trays are allowed in before the infeed gate halts the tray flow. The five top trays are then set down on the bottom trays. The front gate lowers, the trays convey on and the cycle begins anew.
Trays move onward into the Kisters Kayat wrapper where they are first spaced by an accelerator belt. A single roll of film is fed from beneath and is caught by the tray's leading edge as the tray transfers from one belt to another. Below conveyor level, the film is cut to length before a flight bar from beneath pulls the film sheet up, over, and ahead of the continuously moving tray where it catches and overlaps the front edge. Wrapped trays continue on through a Kisters Kayat-supplied 10'-long heat tunnel.
The trays are then palletized by a Whallon low-level unit relocated from another line before they are stretch-wrapped. Prior to storage, a pallet label applicator finishes off the packaging operations.
See sidebar to this article: Major upgrades
Companies in this article