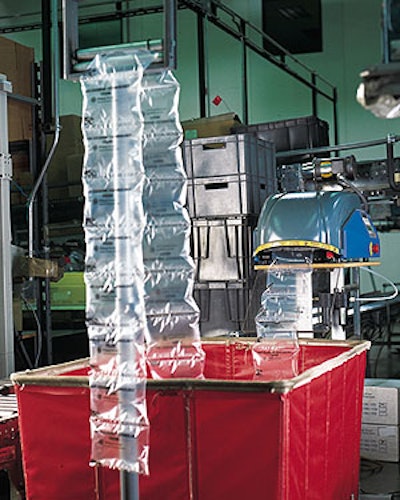 When Omron Health Care, Inc., Vernon Hills, IL, switched from expanded polystyrene loose-fill "peanuts" to the Pactiv Air 3000™ air-cushioned, void-fill system from Pactiv Corp. (Lake Forest, IL), it reduced its packaging inventory space by 83% and significantly reduced labor costs. "We'd been looking for an alternative for quite a while," says Mary Bimel, shipping supervisor at Omron, a medical and home wellness products supply distributor.
Over the years, the company had received complaints from customers on a variety of "peanut"-related issues, ranging from the environment to clean-up. Additionally, Bimel says, the peanuts would sometimes disintegrate in transit, minimizing their protective performance. "The boxes containing the products we distribute would occasionally be damaged and would also have some discoloration due to movement during transit," says Bimel. Shipping orders at Omron can consist of one case or several hundred cases because it ships to hospitals and medical centers as well as to mass merchandisers such as Wal-Mart, Walgreens and Kmart.
The solution
Omron investigated alternatives to peanuts, and in May 2000, the company converted its packing line to the Pactiv Air 3000.
The system creates on-demand void fill by converting polyethylene rollstock into continuous, perforated chains of air-filled cushions. The cushions are perforated between each section, allowing quick tear-off and placement. It can create cushions a maximum width of 8" and with lengths varying from 3" to 20".
Bimel says she's amazed at the machine's operation. "It's wonderful. The only time we need to touch the machine is when we need to change the size of the cushions," she says. "We start the machine up first thing in the morning and make several different sizes that we'll use during the course of the day." The material used to create the air cushions is a 2¾-mil blend of linear low-density PE and LDPE.
Omron uses cushion lengths between 4" and 12" in its operation, depending on the volume of the void in the case. Omron uses 13 different shipper sizes to transport products ranging from diagnostic blood pressure kits to stethoscope ear tips.
"Most of our products are already boxed, so 95 percent of the time we basically use the air cushions to fill the void in the packing boxes," says Bimel. "Sometimes we need to use extra protection, but not often."
Because void-fill cushions are created "on-demand," inventory and warehousing requirements for preformed cushioning materials are minimized.
Storage, labor reduced
Bimel explains, "Previously, we used 1길 cubic feet to store enough peanuts for one month's production requirement. Now we only need 26 cubic feet to store rollstock for a month's production."
Additionally, the switch positively affected labor costs. "It could take as long as 30 minutes to refill the peanut bag," says Bimel. "Now all we do is open a case of film, insert the new roll onto the machine and we're done. The process has been reduced to four minutes."
The 60-lb, table-top unit produces up to 5½ cu' of void-fill cushions/min. It's compact and portable, further minimizing warehouse space requirements, says Bimel. The unit is sold through distributor Champion Container (Elmhurst, IL).
Furthermore, the cushions are extremely lightweight, which has a positive effect on shipping cost. When cushions are deflated, the material reduces down to 1% of the inflated volume. Although it is more expensive to use the air cushions, Omron's total shipping costs have not been affected, nor has it had to increase prices to customers. "We're saving in other areas, such as storage rental, time, labor and cleanup," says Bimel.
The packaging process
In production, cases filled with the appropriate product travel down a conveyor belt to the packing station. An attendant reaches up to a metal stand, which Omron uses to feed the just-made cushions to the line. Next, the appropriate number of cushions is detached at the perforation and placed into the case before it is sealed semi-automatically.
Since switching to the air cushioning, Bimel says feedback from customers indicates they're happy with the change. Some are reusing the cushions, as well as finding ways to recycle them.
"The machine is so easy to use that training wasn't even an issue," says Bimel. "A representative from Pactiv came and taught me and one other person how to run the system." An optional feature on the system will enable Omron to imprint its logo on the air cushions.
As a result of switching to the air cushions, damage claims have been reduced. "We are so pleased with the results that we are planning on purchasing a second unit that can be used by our repair department for its shipping requirements," Bimel concludes. (IZ)
Companies in this article