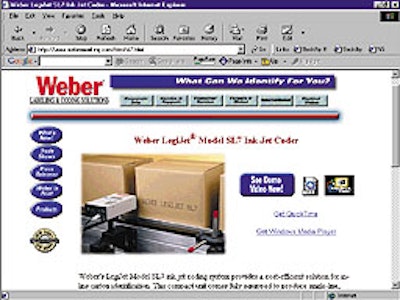 Weber Marking Systems (Arlington Heights, IL) is the one of the latest suppliers to offer video clips of several of its products in action at www.webermarking.com. Clips run from 15 to 40 seconds in length and are available in Windows Media Player and QuickTime formats.
Gebo (Bradenton, FL) has unveiled its new Web site at www.gebo.net. The site is designed for fast loading and easy navigation. An "E-Quote" feature allows visitors to generate a fairly detailed request for quotes right on the site. The site is also rich with "E-Brochures" (downloadable brochures in the universal PDF format) on the company's complete line of conveyors, combiners and feeding equipment.
The site also contains an entire section devoted to the company's engineering services, including line integration, controls and automation, consulting, training and audit services.
See the main story that goes with this sidebar: Transport packaging: Turning data into dollars
Companies in this article