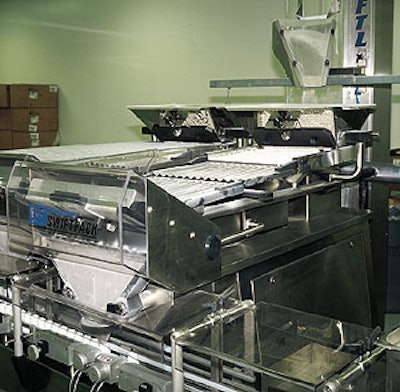 Repackaging has been very, very good to San Francisco-based McKesson HBOC. A major drug distributor for 167 years, the firm began repackaging prescription drugs about 11 years ago. (See sidebar on p. 25 for more on "repackaging.") At the outset, all repackaging was handled by contract packagers. But it didn't take too long for management to realize that the task could be done more efficiently, and profitably, in-house. So in March of 1999, the company opened a new division called RxPak in a brand new 50ꯠ sq' facility in Memphis, TN. Four packaging lines now run in the plant, which, says vice president and general manager Dan White, paid for itself in less than a year.
The newest of the lines went into production last August. A tablet/capsule line used to fill 75- to 500-cc plastic bottles, it's designed to run 100-count containers at 80/min. Most of the equipment was supplied by Kalish, a member of DT Industries Packaging Group (Kirkland, Quebec, Canada). Kalish also acted as the main integrator.
According to White, increased demand made Line 4 an absolute necessity. Though equipment in the new line is similar to the three lines installed when the plant first opened, Line 4 has some significant automation upgrades.
The Swiftlift is a good example (see video). Supplied by Swiftpack Automation, another DT Industries division, it's a bucket mounted on a vertical shaft. The bucket receives tablets from a floor-level hopper whenever a photocell signals that tablets are needed. The bucket then rises quickly to replenish the overhead hoppers above two electronic tablet counters. Each hopper has a photocell that detects when the supply of tablets is low and signals the Swiftlift to bring up another bucketful. A pivoting chute at the top of the Swiftlift permits the bucket to empty its load of tablets into either the left or right hopper.
"Right now Line 4 is the only line equipped with a Swiftlift," says White. "But we're looking at adding it to other lines. It's especially useful for long runs. It eliminates having to carry those small rectangular pans to the overhead hoppers, so there's a real productivity gain with the Swiftlift."
Unpackaging comes first
Because RxPak is a repackager, incoming product usually has to be unpackaged first. On the day Packaging World visited, for example, 300-count bottles were being removed from their 48-count taped shippers. Operators then removed bottle caps and peeled back the induction-sealed foil liners so that the contents could be emptied into metal pans. These pans were then emptied into the floor-level hopper that automatically feeds the Swiftlift. The tablets were then filled into 90-count bottles, instead of the 300-count bottles the medication was received in.
Upstream from the Swiftlift, a Kalish bottle unscrambler is also fed from a floor-level hopper (see video). It unscrambles and orients bottles before placing them on a conveyor leading to a Kalish air rinse unit. This machine captures bottles between two belts and inverts them over high-pressure nozzles that blow in ionized air to remove dust and other particles. The bottles are then uprighted and conveyed into a lane divider that creates two separate bottle flows, one for each filler on the line.
Just ahead of the lane divider is a Kalish automatic desiccant inserter. It was bypassed on the day of PW's visit because the product being packaged didn't require a desiccant. In operation, it's a hopper-fed system that guides small "barrel-shaped" desiccants down a chute until they drop into each bottle.
Filling is done by a pair of SV2 Intellisense electronic tablet counters from Swiftpack (see video). Unlike most conventional electronic tablet counters (including those on RxPak's other three lines), which rely on optical sensing to count tablets falling through an infrared field, the Intellisense counters inspect as well as count. They do this by creating an electrostatic field at the point where each tablet falls from the vibratory tray system toward a waiting container. If the physical makeup, or "signature," of the tablet is unlike the correct signature stored in memory in the system's microprocessor, the container it drops into is automatically kicked offline a short while later.
"These newer tablet counters sense product density, so if a pill or tablet is damaged or broken somehow, that will be detected and the bottle rejected," says White.
Automatic cottoner
After the tablet counters, bottles are returned to a single file for cotton insertion, done automatically by a machine from DT Industries' Lakso Div. Also inserted, a short distance later, is an information pamphlet (see video). A two-head pick-and-place machine from Minnesota Automation (Crosby, MN) uses vacuum pickup to grab two inserts from magazines and place them over the tops of two containers. Then a mechanical plunger strokes down to fold the insert neatly into the bottle.
"The inserts have a simple bar code that's read by a scanner on the pick-and-place machine," says White. "If a misread is detected, a signal would tell the machine to stop until an operator could correct the problem." The scanner also detects if the vacuum pickup fails and no insert is picked. Then the bottle that should have gotten that insert is rejected.
An in-line Kalish Super Cap II capper is next. Above the point where it discharges bottles are three photoeyes that check to make sure a cap is in place and isn't on crooked. If anything is wrong with cap placement, that bottle is rejected from the line.
Similar photoeye inspection stations upstream from the capper automatically check to see that a desiccant has been inserted in each bottle and that cotton is in each bottle, too. If the desiccant or cotton that's supposed to be inserted doesn't break the beam emitted by the photoeye, it can be assumed the insertion didn't take place, and so the bottle is rejected from the line.
Induction sealing is performed on a machine made by Pillar (Hartland, WI) and modified by Kalish. No retorquer is needed because the design of the cap and neck finish of the bottle prevent the cap from backing off. A Kalish labeler applies pressure-sensitive paper labels. RxPak prepares these at a remote location on a thermal-transfer printer. A vision detection system from Sick (Bloomington, MN) checks each bottle for a UV mark right after a label has been applied. If the mark isn't detected, it's likely a label has not been applied, so that bottle is rejected.
Also mounted on the labeler is a Eurocoder hot-stamp imprinter from Open Date Systems (Georges Mills, NH). It prints lot number and expiration date on each label. "We use the same expiration date as the one used by the drug manufacturer, because our container/closure system is equivalent to the original drug manufacturer's, and handling of the drugs is comparable to that of the drug manufacturer," White says.
Bar-code verification
One last piece of inspection equipment mounted on the labeler is a bar-code verification system from Microscan Systems (Renton, WA). It verifies that the proper label has been applied.
Shrink bundling, done on a machine from Automation Packaging Inc. (Tampa, FL), unitizes bottles into 12-count bundles. These are conveyed down a roller conveyor to a semi-automatic top-and-bottom taper from Belcor (Richmond, British Columbia, Canada). An operator erects a case blank by hand and places it in the loading station of the taping machine (see video). The operator places three shrink-wrapped bundles in the case and then folds down the top flaps before pushing the case through the taping machine. Finished cases are palletized by hand, and the pallet is removed by hand-truck from the packaging room.
Like other drug packagers, RxPak dedicates individual rooms to each packaging line. Each room measures 100'x25'. Positive pressure with HEPA-filtered air keeps contamination out.
With Line 4 now operating since August, White and colleagues have turned their attention to equipment for Line 5, which was part of the original construction of the plant. When that's done, they'll focus on a 40ꯠ sq' expansion.
Repackaging has indeed been good to McKessonHBOC.
See sidebar to this article: Repackaging' defined
Companies in this article
Videos from Graphic Packaging International