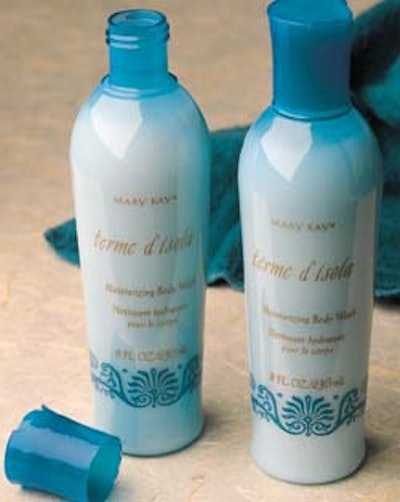 The 8-oz body wash shown here, in a polyethylene terephthalate bottle with polypropylene dispensing closure, was the first product to benefit from the new software. "As we moved toward launch," says Renee Wickham, quality assurance director, "we questioned the ability of the in-line capper to deliver a precise amount of torque when rotating the cap onto the bottle. If the amount of torque applied fell below four inch-pounds, the result would be a leaky package. But torque greater than 10 inch-pounds would scuff the cap."
Wickham and colleagues used Design-Expert software to pinpoint the optimum torque. The software is an alternative to more traditional OFAT testing, or "one-factor-at-a-time" testing, where other factors remain constant while a single factor is tested. Design-Expert systematically provided information about how interconnected factors—spindle speed, conveyor speed, cap placement, product residue—affect torque. This information is in the form of algebraic equations that serve as models to predict the results for any given combination of factor values.
"Identifying ideal capping torque ranges would have been nearly unattainable using the antiquated OFAT method of testing," says Wickham. "Besides, OFAT just doesn't provide statistically precise test methods, nor can it reveal important factor interaction information. Design-Expert is far more effective."
The five key factors analyzed by the software program were cap placement, product residue, conveyor speed, spindle speed and gripper belt speed. The Design-Expert software statistically determined that the three factors having the greatest influence on torque were spindle speed, conveyor belt speed and gripper belt speed. It also helped determine a setting for each that would consistently yield an optimum torque. Most important, it did all this in a day or two.
"Had we used OFAT experimentation, we would have wasted days or weeks," says Wickham.
"This technique," she continues, "gives us an accurate and economical method of determining the fundamental cause-and-effect relationships of multiple factors in a given process. We saved at least $100ꯠ by eliminating rework and replacement costs in this one application alone, and we now have a new tool to help us avoid delays in product launches in the future."
Companies in this article