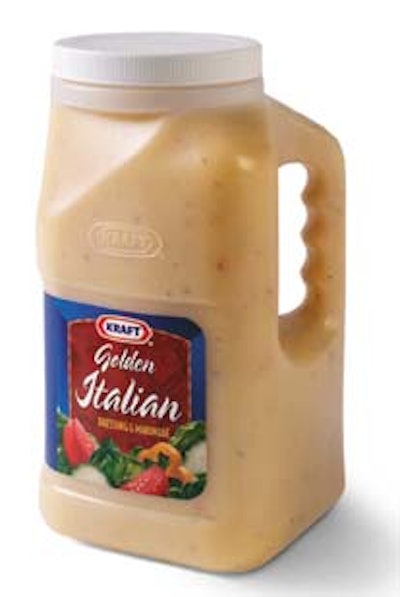 Designed in-house, the jug is extrusion blow-molded by Liquid Container (West Chicago, IL). It replaces a 1-gal round jug with snap-on lid. Kim Trinh, category business director for Kraft Food Services, says the previous bottle design made pouring the oil-based dressings a slippery, messy and often difficult task. "This bottle has a square footprint and two walls in the pouring corner that 'funnel' into the shape of a 'V,'" says Ron Olsen, group leader of packaging at Kraft. That helps create a continuous flow because the tapered walls help channel product, allowing the neck finish to remain round while still acting as a pour spout.
Trinh says the screw cap is a big improvement over the snap cap because it doesn't separate from the container if the user grabs the bottle by the top once it has been opened. Kraft declines to name the company that injection-molds the 110-mm polypropylene cap, which incorporates an induction seal foil membrane. Also unnamed is the supplier of the bottle's two-panel paper label, which is printed flexographically in four colors.
"Feedback has been tremendous and very positive," Trinh says. Trinh adds that the cost of the Kraft dressings remains comparable to others on the market, and no upcharge has been passed on to the consumer.
Also from Kraft, though aimed at the retail market rather than foodservice, is the recently introduced Cool Whip Squeeze, an easy-to-use squeezable pouch found in the supermarket freezer section for $1.89 per 6-oz package.
"With its special decorator tip, Cool Whip Squeeze lets you personalize pies and cakes with stars, loops and swirls," says Kraft in a press release announcing the new package. Kraft declined to provide technical information about the package. Industry sources, however, say the pouch is fabricated by Riley & Geehr (Evanston, IL) and the dispensing fitment is supplied by Creative Packaging (Buffalo Grove, IL).
Kraft senior brand manager Mark Sugden says Cool Whip Squeeze was rolled out regionally in August through most of the East and the South. Will the product go nationwide? "It's still very early," says Sugden. "We're continuing our evaluation."
Companies in this article