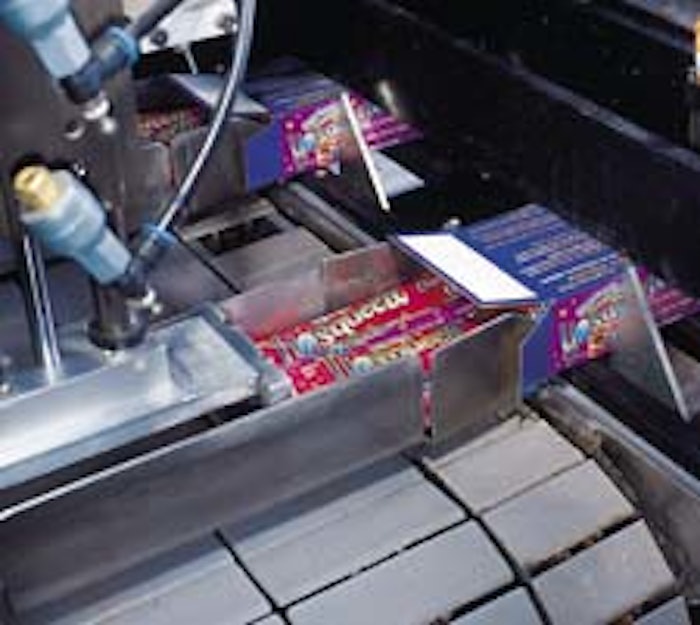 At Stonyfield Farm's Londonderry, NH, facility, eight packs of Yo Squeeze are loaded into a printed folding carton by a new IH-2 cartoner from Elliott Manufacturing (Fresno, CA). The IH-2 cartoner was added last year to accommodate the stick packs. Cartoning is currently the only automated function downstream of the vertical form/fill/seal equipment.
Four packs discharge from one vf/f/s machine directly into a pocket of a new straight-line pocketed conveyor from Uni-Pak (Bradenton, FL). The conveyor advances before four tubes from the second vf/f/s are discharged into the same pocket. "The filler, conveyor and cartoner are precisely controlled," says John Daigle, Stonyfield's vice president of operations. "So when the filler makes four tubes, it sends an impulse to the conveyor to move, which sends a pulse to the cartoner. They're all connected electronically so the timing works."
The conveyor carries eight tubes per pocket from the vf/f/s machines to the cartoner. During that 70' span, the tubes are conveyed through an enclosed refrigerated tunnel that lowers product temperature down from about 90°F to 40°F. "This allows the liquid to cool into the finished creamy consistency of yogurt," explains Daigle.
At the end of the servo-driven conveyor, the eight tubes drop 2' along vertical guides, or chutes, onto the pocketed conveyor of the IH-2. A vacuum pick head uses suction cups to pick a preglued carton blank from a magazine and open it. The 20-pt clay-coated newsback stock is offset-printed in four colors by Old Dominion (Madison Heights, VA). A product insertion ram gently pushes the sticks, by their ends, into the open carton (as shown). Hot melt adhesive is applied to end flaps, and the ends are compressed before the carton is discharged.
Cartons receive an expiration date/time code on the corner of the back panel from an ink-jet coder supplied by Markem (Keene, NH). Next, cartons are conveyed through an older metal detector and checkweigher. "If there's a short weight, the carton is kicked off onto one conveyor, and if there's metal detected, the carton is discharged onto another conveyor," Daigle explains.
Cartons are conveyed into a cooler where they're manually case-packed. This is a step that Daigle admits, "creates some overall line downtime, but we envision automating this process in the future." Cases are then taped shut on both top and bottom and stacked on pallets. Cases from pallets holding a specific product variety are selected manually and then placed on pallets to meet orders. These pallets are stretch-wrapped manually for distribution.
See the main story that goes with this sidebar: Filler meets tough standards at Stonyfield
Companies in this article