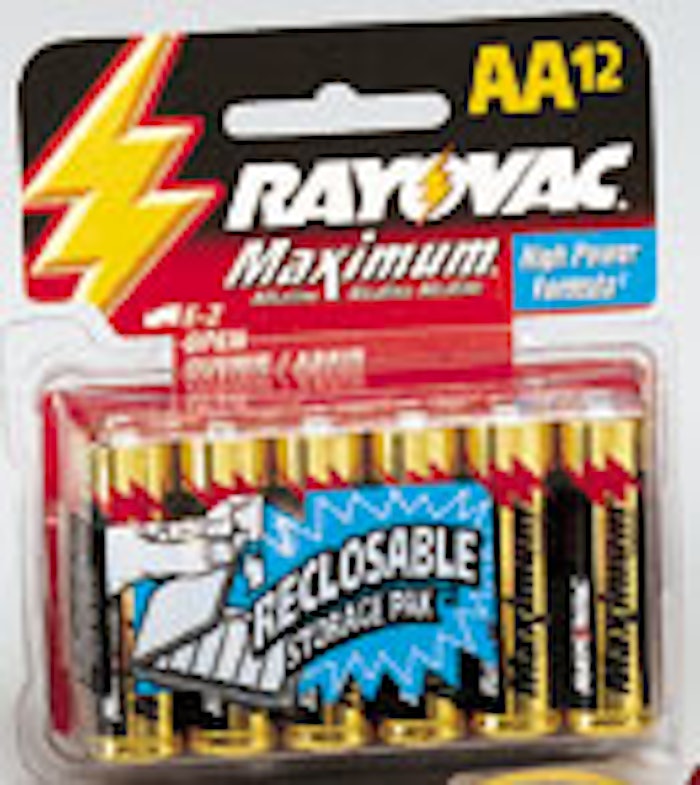 Developments in battery packaging seem to be an open and shut case, with two companies touting reclosable packages for their batteries at August's National Hardware Show (see story, page 30). These include Rayovac's clamshell, with its maximum-strength batteries and Leap Batteries' tube pack breakthrough (see sidebar). Both companies use packaging to sell customers on the new batteries.
Madison WI-based Rayovac's concept puts a retail slant on previous approaches that have targeted homecenters and mass merchandisers.
The company calls the new pack, a hinged, reclosable clamshell made of recycled polyethylene terepthalate (RPET), the "peggable, resealable Storage Pak™."
"Consumers like reclosable packages," says director of marketing services John Daggett. "It will help them organize batteries in their 'junk drawer,' which everyone has."
Besides a change in material from polyvinyl chloride that had been used on Rayovac's prior battery packs, the package uses SBS cardstockdie-cut with a peg hole as a graphics billboard.
The packaging consists of the clamshell, a graphics card of SBS converted with a die-cut punch hole for peg display and a pressure-sensitive label that seals the side of the clamshell opposite the hinge.
The RPET clamshells are thermoformed by two companies, Algus Packaging (DeKalb, IL) and Plastic Ingenuity Inc. (Madison, WI).
The cardstock is 26-pt SBS printed and die-cut by Cardpak Packaging (Solon, OH). For AAA 8- and 10-packs, 14-pt SBS is folded over to add strength. A pressure-sensitive label that runs about half way across the front and partially around the back of the container seals it on the side opposite the clamshell hinge. The label stock, 2-mil clear polypropylene printed in three colors by Wisconsin Label (Algoma, WI), carries Reclosable Storage Pak™ graphics on the package front.
The product line consists of seven items, AA and AAA packs of 8, 10 and 12, and a 4-pack of 9-volt batteries. Daggett says the new packaging is rolling out now and will be available nationally at retail by early 2001. He points out that traditional battery packaging has centered on carded blisters containing four batteries.
"The new pack is a concept we think will make a real impact at retail," he enthuses. "Retailers can sell more batteries in less space [than before]. And it takes advantages of existing pegboard display—it really pops out and breaks through that clutter."
That's crucial: Daggett points out that impulse purchases account for two-thirds of all battery sales.
RPET considerations
Daggett says environmental concerns in Europe led them to use RPET for all markets, so that the packaging is standardized globally including in the U.S. It also provides the necessary clarity and strength Rayovac sought. Packaging manager Joe Jacobus adds that RPET offers a cost advantage.
Daggett says the design strategy, from Stephan & Brady (Madison, WI), was to ensure that consumers realized that Rayovac's change involves a new battery formulation and new, reclosable packaging. Also, for the global marketplace, the packaging had to accommodate trilingual English, French and Spanish copy.
It was also important that the one-piece paperboard portion could be easily separated from the clamshell to fit in with European recycling standards, says Daggett. It's also a reason the cardstock is not glued to the package, which would leave residue if it were to be peeled away from the clamshell, he points out.
Rayovac believes it has a clear winner, which was made apparent in prelaunch consumer tests, says Daggett: "We found many people were die-hard buyers of other brands, but many remarked that they would try our brand because of this package. So we knew that it struck a hot button with consumers."
See sidebar to this article: A tubular Leap
Companies in this article