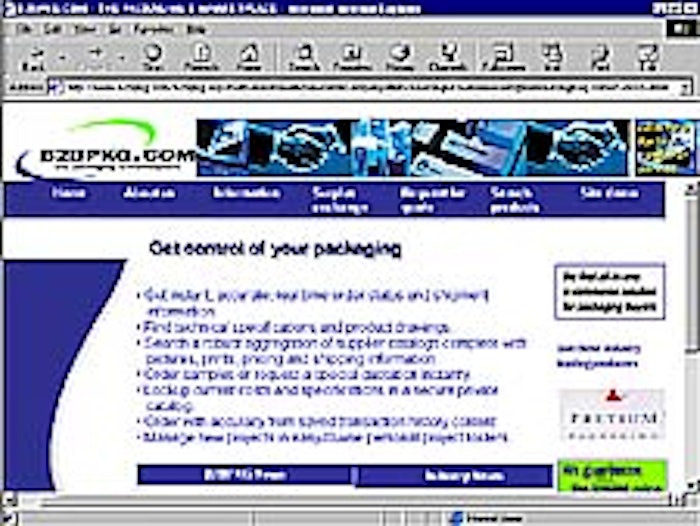 Users can check order status, shipment information and detailed item specifications, as well as receive samples and quotations online.
CommerxPackaging.com (www.commerxpackaging.com) is a packaging materials marketplace that will permit sourcing and contract negotiation, online order management, workflow and user profiling, content management and supply chain management services.
getplastic.com (www.getplastic.com) is an e-marketplace for engineers and purchasing professionals to locate and buy off-the-shelf resins, custom compounds and commodity-based materials from a variety of suppliers.
IntroAgent.com (www.introagent.com) is an Internet marketplace for buyers and sellers of corrugated boxes, partitions and sheets. Buyers can receive comparative quotations, participate in reverse auctions and purchase "emergency" boxes for immediate shipment.
Application Services Providers
PackageX.com (www.packagex.com) is an online workspace that allows packaging designers and brand managers to create, customize, approve and source packaging and point-of-purchase displays online. Includes a design library that allows users to browse and search hundreds of rendered 3D designs.
Packtion.com (www.packtion.com) is an application service provider that allows buyers of custom packaging to speed up packaging R&D by collaborating over the Internet with suppliers.
Equipment Marketplaces
The Online Asset Exchange (www.onlineassetexchange.com) is an Internet marketplace for used capital equipment, including a category for packaging equipment. Services include inspection, shipping, rigging, video and photo appraisal, financing and escrow.
DoveBid (www.dovebid.com) is a used industrial equipment auction site that includes a packaging equipment category.
Other Marketplaces
BuyerLinkDairy.Com (www.buyerlinkdairy.com) is an e-marketplace focused on the dairy industry, bringing online procurement services to dairy industry buyers and sellers.
Electronic Freight Exchange (www.efxit.com) allows manufacturers to access a customized list of shipping vendors, profiles and detailed price information based on what they specifically need to ship. Handles both ground and air shipments.
iProcure.com (www.iprocure.com) enables end-to-end automated procurement of packaging as well as maintenance, repair and operations (MRO) items from a variety of suppliers and distributors.
Lease2save.com (www.lease2save.com) allows equipment buyers in need of financing to determine how a lease stacks up against a bank loan or cash purchase as well as use an adjustable lease calculator to create a payment schedule. Visitors can select from a variety of site-affiliated vendors to fund a lease application.
E-commerce-enabled Suppliers
ELF Machines (www.elfmachines.com) now permits U.S.-based customers to buy standard parts for ELF fillers, cappers, labelers, conveyors, turntables and unscramblers via its online "E-store." The site accepts all major credit cards and promises 24-hour delivery, plus a 10% discount for a limited time.
Flexlink now sells hundreds of its stock structural and automation components online such as aluminum extrusions. Contains detailed information such as drawings, specifications, engineering tables and pricing discounts.
K-Resin (www.k-resin.com) is an online procurement site for Phillips Chemical Co.'s K-Resin styrene-butadiene copolymers. Permits customers to order online, view order history and access technical documentation.
Marconi Data Systems (www.marconidata.com) now permits U.S. customers to order parts, fluids and accessories online for its ink-jet coders. Users can view pending shipment status in addition to seeing order, shipping and payment history.
Willett America (www.willett.com/special-offers.htm) is beginning to sell a variety of its label printers, ink-jet printers, label applicators and consumables online. Online offerings vary by country.
Web-based Distributors
Barcode.com (www.barcode.com>) is a seller of bar-code label printers, scanners, software, accessories and related supplies.
xPackage.com (www.xpackage.com) sells boxes, bags, tape, stretch film, adhesives, labels, cushioning, strapping and other supplies. Future plans call for online design capabilities, a packaging knowledgebase and catalog engine.
Information Sourcing
InsidePackaging.com (www.insidepackaging.com) contains a "vendor match" search engine that is said to allow packaging machinery and materials buyers to find the vendor that best matches their needs.
PackagingFinder.com (www.packagingfinder.com) consists of a searchable database of over 4길 packaging suppliers, according to the site. The site spans 19 categories of materials, equipment and services.
Trace-Em (www.trace-em.com) is a site where packaging machinery buyers can submit specifications on the type of equipment they seek and wait for suppliers to respond. Suppliers can check these leads via the www.vendorleads.com companion site.
Companies in this article