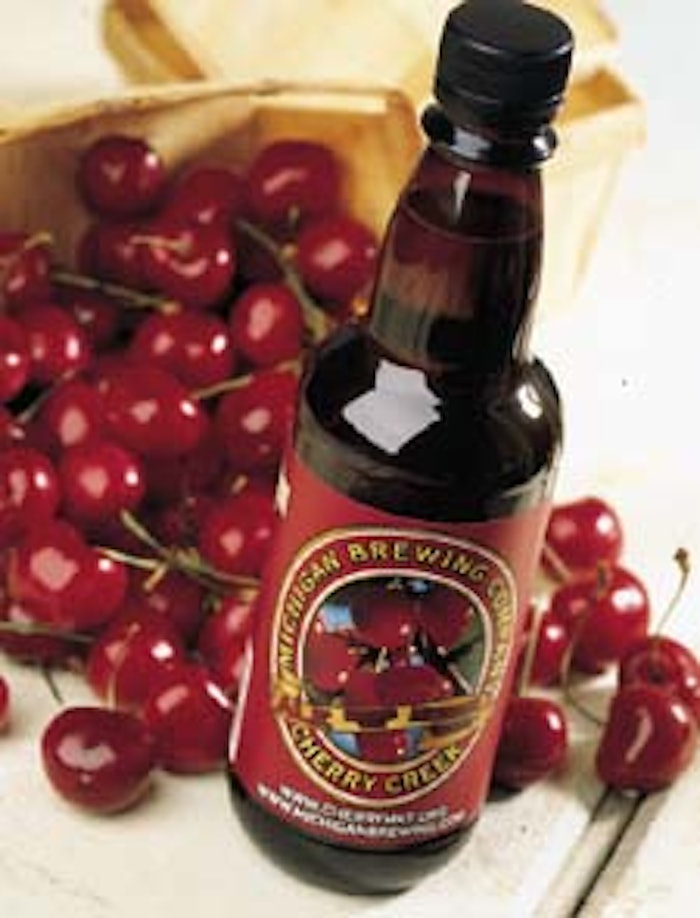 Beer in a plastic bottle is a concept that has more than its share of doubters. But even the doubters allow that such a container could appeal to certain niche markets. Take these two, for example: a Michigan casino and a week-long festival in the self-proclaimed Cherry Capital of the U.S.
These are the targets selected by Michigan Brewing for the plastic beer bottles it launched this summer. The five-year-old microbrewery, based in Webberville, MI, worked closely with Amcor PET Technologies (Mississauga, Ontario, Canada) to develop its 16-oz multilayer bottle and 28-mm plastic threaded closure.
"We're looking first and foremost at venues where plastic bottles have an advantage," says brewery president Bob Mason. "Plastic for beer is going to happen sooner or later anyway, so we decided to seize the opportunity early when the chance presented itself."
An added incentive was Amcor's willingness to take on Michigan Brewing as a partner. As Mason puts it, "Amcor is helping us a lot with the pricing as well as the technology."
Weighs in at 39 g
The last time Amcor made news with a plastic bottle was this past March when it supplied quantities for an Anheuser-Busch test that lasted only a few weeks. The bottle used by Michigan Brewing is similar to A-B's. Weighing 39 g, the coinjection stretch/blow-molded bottle has a three-layer structure of polyethylene terephthalate/oxygen absorber/PET. The central oxygen absorbing layer is BP Amoco's (Chicago, IL) Amosorb® 3000. Amber colorant is added during preform molding.
The 28-mm injection-molded polypropylene closure, from Bericap North America (Burlington, Ontario, Canada), also has an oxygen absorber. A barrier layer in the bottle sidewall is unnecessary, says Amcor's Kirby Losch, thanks to the bottle's design and the way Amcor blow molds it. "We do something along the lines of heat setting," is about as specific as Losch gets.
Whatever it is, it helps keep oxygen out and carbon dioxide in long enough for a 90-day shelf life. It should be pointed out, though, that Michigan Brewing keeps the plastic bottle at temperatures below 50°F during storage and distribution.
Adjusting the filling line to accept the plastic bottle was fairly easy, says Mason. A used four-head rotary capper was installed, and the 16-head rotary filler used for glass bottles was modified.
"Unlike our glass bottle, we can't evacuate ambient air from the plastic bottle because the sidewalls would collapse," says Mason. "So we modified the double pre-evacuation system. We pressurize the plastic bottle with carbon dioxide, and the vacuum channel opens to purge the bottle of ambient atmosphere. Only then does the filling valve open."
Traverse City cherry festival
As for the Cherry Festival, it took place, of course, in Traverse City, MI. Attending were some 1.5 million visitors over eight days. Mason signed up as a festival sponsor and brewed up a special beer for the event called Cherry Creek. He then arranged for what some might call a sweet deal.
"In the open area at the fair grounds, the only packaged beer available was Cherry Creek," says Mason. "Attendees paid three dollars for a token, which could then be used to buy either 16 ounces of Cherry Creek in a bottle or 12 ounces of a well-known brand in a cup."
Mason says sales of Cherry Creek at the festival were disappointing because his distributor didn't push the novel package very effectively. A few weeks later, when a different beer distributor took Cherry Creek in plastic to a blues and jazz festival in Kalamazoo, "we sold out all 50 cases that were sent," says Mason.
Cherry Creek was also available in some supermarkets and C-stores this summer. Paperboard ring carriers manually placed over the bottles held the four-packs together. They sold for $6.99 per four-pack.
Casino welcomes plastic
The other interesting and logical niche staked out by Michigan Brewing is the Soaring Eagle Casino and Resort of Mt Pleasant, MI. "Glass bottles are no more welcome at a casino than they are at a concert venue or a hockey game," says Mason. "They're heavy and they break."
Mason even came up with a custom label for the casino. Supplied by CCL Label (Toronto, Ontario, Canada), the p-s label is a 45-lb wet-strength paper printed on a rotary letterpress in five colors. The same converter also supplies the Cherry Creek label, which is done in five colors as well.
Mason continues to fine-tune the plastic bottle business he now has with Soaring Eagle Casino. He says he's currently working on a four-pack carrier that will permit the casino to sell takeaway souvenirs to its patrons.
While Mason is encouraged by the response thus far to his plastic bottles, he admits that wider use of plastic for beer won't come until the recycling issues are sorted out. Recyclers have to figure out what to do with PET bottles that include a layer other than PET and that are amber rather than green or clear.
"Green and clear are soda standards, so everyone is used to recycling those," says Chris Teufel, sales director at Michigan Brewing. "Amber is different. Our distributors have been calling the recyclers to see what's best to do."
It is the distributor's responsibility to take back and find a buyer for the plastic beer bottles that consumers in Michigan bring back for their 10 cent deposit. Recyclers who take Michigan Brewing's brown bottles are mixing them with the growing number of plastic beer bottles coming not only from Miller Brewing but also, says Mason, from Anheuser-Busch. Teufel believes that as Miller, Anheuser-Busch and other beer marketing heavyweights expand their usage of plastic bottles, some of them amber, it's inevitable that recyclers will figure out the best way to accommodate this new component in the recycling stream.
Assuming the recycling issue can be worked out, Mason and Tuefel would like to explore opportunities for plastic beer bottles beyond the Soaring Eagle and Cherry Creek brands.
"We tell our distributors that we can put any of our eleven beers in the plastic bottle," says Tuefel. "We won't do it for just a few cases, but for a hundred or so cases we will. It only takes about 25 minutes to shift the filling line from glass to plastic."
Mason sees other opportunities.
"Our current bottle isn't a custom container," says Mason. "But we're looking at custom bottles. The cost of a mold for a custom plastic bottle is only two thousand dollars or so."
But will the plastic beer bottle ever be suitable for mainstream use?
"I'd like to think so," says Mason. "For now, I'm jumping in slowly. But I'm anxious to see what happens in five or ten years."
See sidebar to this article: Meanwhile, at Miller Brewing
Companies in this article