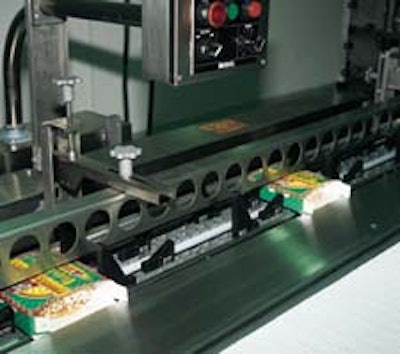 Two California food processors focusing on school foodservice accounts got an A+ in automation recently by installing packaging equipment that helps them expand their businesses.
At Southland Bagel in Carson, CA, the equipment addition was an automatic sleever from Adco (Turlock, CA). The sleever is a key component in a promising contract manufacturing relationship that Southland has formed with Cincinnati-based CCF Brands. That firm is licensed to market pizza bagels under the well-known Chuck E. Cheese® restaurant brand owned by CEC Entertainment of Irving, TX. Southland makes the pizza bagels that CCF is licensed to sell under the Chuck E. Cheese brand, and CCF specified that it wanted the product to be packaged in an attention-grabbing paperboard sleeve. Southland installed the Adco sleever when it began manufacturing Chuck E. Cheese Pizza Buddy bagels in two sizes and two flavors early this year.
Sold through brokers, the frozen pizza bagels are shipped to distributors and then to school cafeterias, where kitchen personnel simply pop the ovenable containers into a conventional oven. When cooking is done, the product is served right in its sleeve.
"It's unique in school foodservice," says Southland vice president of sales and marketing Karen Peterson.
Packaging for other school lunch pizzas shows why the Chuck E. Cheese offering is so unique. Far more typical is a round or rectangular pizza wrapped in flexible film. While this is certainly more economical, it means cafeteria personnel must spend time removing the wrapper. Also, compared with the Chuck E. Cheese sleeve, it leaves little opportunity for promoting a brand.
Another option, and one that does have some potential for creating brand awareness, is to have cafeteria personnel bake a 14" round pizza, and slice it into six pieces, then serve it on grease-resistant paper sheets printed with whatever logo and brand information the pizza marketer wants. But here again, the amount of in-school handling required makes this cumbersome. The sleeve, says Peterson, is much more efficient.
"With this package, the kitchen operators have nothing to unwrap or cut," says Peterson. "They cook the pizza bagel in the package and then serve it as is with no extra steps."
Even more important than convenience is the brand reinforcement created by the paperboard sleeve. "CCF Brands didn't choose the cheapest, but they did choose the most impressive method of presentation to get their name out there in the most visible way," says Peterson. "I think they chose correctly."
Research came first
According to Southland president Steve Brody, the Adco sleever was selected only after considerable research. One concern was that if the Chuck E. Cheese concept proved unpopular in the schools, Southland would be stuck with a machine for which it had no use.
"When I explained my concern to some machinery manufacturers, they told me 'Sorry, the risk is yours,'" Brody recalls. "But Adco bought into the project right along with us. They put together a lease/purchase plan that allowed us to install the new equipment and get real product out into the marketplace while still spreading some of the risk around in case things didn't go well."
As it turned out, things did go well. That was clear in about six months, says Brody. Still, it was nice to know the machine could be shipped back had it been necessary, he adds.
Brody says Adco representatives were also good about two other concerns he had. First, he wanted a sleever capable of handling not only tuck-style packages, like the one for the Chuck E. Cheese product, but also hot melt-glued packages as well. Products launched in the future, he predicts, could just as easily require glued sleeves.
Second, he wanted the machine designed so that automatic loading of the pizza bagels could be implemented should Southland choose to go that route. Adco complied with both requests. "They went above and beyond what they had to do to get us into this business," says Brody.
The Adco machine is mounted on wheels so Southland can position it easily at the discharge of the pizza freezer when it's needed. Its magazine holds 350 flat, pre-glued sleeves made from a 16-pt ovenable paperboard supplied by Inter-national Paper (Purchase, NY). Converter Field Container (Elk Grove Village, IL) flexo prints the sleeve in six colors plus an aqueous coating.
Heat-resistant inks
Special heat-resistant inks are used plus a coating that protects the inks from smearing yet still allows moisture from the cooking pizza to escape through the board. If the moisture were trapped, the paperboard would become badly deformed and the pizza soggy.
Pre-glued sleeves are pulled from the magazine by vacuum cups. They're erected and placed in a flighted conveyor. Operators manually insert frozen pizza bagels, and the sleeves are then automatically tucked closed and discharged from the machine. Although the cartoner is capable of considerably more, speeds at Southland currently are in the range of 70/min.
Now that Southland Bagel has a firm foothold in supplying sleeved pizza to school foodservice accounts, the firm is beginning to look at other market segments, including supermarkets. "The new machine has opened up so many new opportunities for us," says Brody.
Pizzas and sandwiches
A few short miles up the Harbor Freeway from Southland Bagel, Integrated Food Service of Gardena, CA, is another firm focused on school feeding. Steady growth in sales of both single-serve pizza and sandwiches, both distributed frozen, made it necessary to install a new flow wrapper early this year. The WS-20 Series II horizontal wrapper was supplied by Sasib (DePere, WI).
"It's fast and reliable," says president Paul Giuliano. "And all contact surfaces are made of stainless steel, so it cleans easily."
An adjustable forming plow permits wrapping of either sandwiches or pizza, each of which has its own profile. "The operator simply turns a knob to adjust the plow for the necessary package width and height," says Giuliano.
The wrapper uses multi-axis, computer-controlled servo drives to reach speeds to 350 packages/ min. Such speeds are not currently required, however, at Integrated Food Service, where 80 to 110 packages/min is more typical. The new wrapper replaces an older flow wrapper that couldn't run much faster than 60 packs/min.
Another improvement that the new machine brings is a no-product/no-wrap feature.
Printed film = $$
"We often use printed film, which is expensive," says Giuliano. "On the old machine, if a sandwich didn't occupy a flight on the conveyor, an empty bag would be produced. Not any more. If a flight is missing its sandwich, the machine slows down, and the film stops and waits for a flight that has a sandwich. There's no wasted film."
The film in use on any given day can vary from polyester to polypropylene to a metallized polyester that is designed for micro-wavable sandwiches. "We can run any of them on this machine," says Giuliano.
A powered unwind station sends film into the horizontal wrapper. As film advances, it's pulled over a forming plow that creates a long, continuous tube. Product is conveyed into this tube and a fin seal is created underneath in the longitudinal direction. The fin wheels that create this seal continually pull the film through the machine. Finally, a pair of rotary wheels that make up the cutting head assembly crimp, heat seal and cut the film to form the trailing edge of the exiting package and the leading edge of the next.
Sensor prevents jams
One of the items wrapped on the new machine is a croissant sandwich. Croissants can vary widely in height from one to another. So the Sasib machine is equipped with a sensor that functions as a high-product detector. If an oversized croissant results in a sandwich that is too tall, the sensor triggers a signal alerting the operator to remove or adjust the sandwich before it reaches the wrapping station and causes a jam.
Also useful as a diagnostic tool is the production run history shown at the human machine interface panel. "It shows how many faults there were, how many times the machine stopped, what the percentage of downtime was, and so on," says Giuliano. "At the end of a shift we can know for certain how the machine has performed and how our operators have done, too."
Operating since March, the new wrapper promises to be a useful tool in helping Integrated Food Service meet its goals.
"With a high percentage of our business devoted to school foodservice, we're trying to create the highest-quality, most cost-effective product for that particular market," says Giuliano. "This machine helps us achieve that goal by increasing capacity and efficiencies while reducing film waste."
Companies in this article