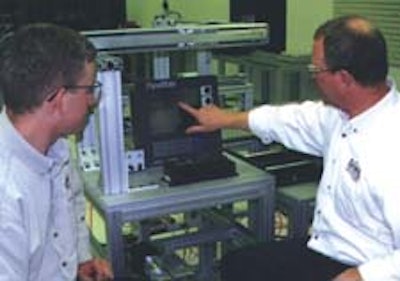 Packagers may not have heard of its basketball team, the Norsemen, but when it comes to learning about motion control, the students of Alexandria Technical College, Alexandria, MN, have a lot on the ball.
Dr. Ken Ryan, who directs the Manufacturing Automation Research Lab at ATC's Center for Automation & Motion Control (CAMC), wants to position the school on the leading edge of the technology curve. Jeff Elstad of Cybertrol, an automation integration firm, calls CAMC "one of the highest tech classrooms in the state, maybe even in the country. His students work on the most recent releases of software, and graduate having worked on the latest equipment."
Ryan describes the curriculum as a well-balanced combination of mechanics, drafting, hydraulics, pneumatics, electronics, and automation: "We make every attempt to coordinate our classes so that common principles are presented in parallel." CAMC consists of four subsegments: Fluid Power Technology (FPT), Machine Assembly Specialist (MAS), Manufacturing Engineering Technology (MET) and the Manufacturing Automation Research Laboratory (MARL). About 80 students are enrolled in the 2-year program at any one time.
MET advisor Rob Auel says the overall CAMC curriculum provides a 2:1 ratio of hands-on learning to theoretical lecture. The MET portion features a computer-integrated manufacturing (CIM) lab with a 100% hands-on environment including a servo robot, a nonservo robot and a material-handling conveyor. In short, it has a host computer overseeing other computers and controllers.
"On the control side, we teach [PLC] program-ming for products from Rockwell Automation, Omron, Siemens, Automation Direct and Cutler-Hammer," says Ryan.
Networks taught include DeviceNet, SERCOS, Firewire, Profibus, ControlNet and Ethernet. "Our PC-based control is currently Think-and-Do and we hope to add Steeplechase this Fall," says Ryan. "Supervisory control is from Wonderware and RSSQL with plans to include Intellution."
The central computer lab is used to design circuits, control PLCs and interact with an automation lab that surrounds it on two sides. CAMC's high level of technology "is possible due to the outstanding support of evolving laboratory facilities by our packaging and automation partners," adds Ryan, referring to regional partners like 3M, Douglas Machine and other vendors. A complete partners list can be found at www.alextech.org/CAMC/ IndustryPartners2.htm.
Custom training
"We currently offer customized training to all of these partners," Ryan explains. The school offers complete customized training in automation including motion control and PLCs and welcomes inquiries from interested packagers, too.
"We're doing more than education, acting as a consulting service," says Ryan. In one development, the college is working with a partner to develop "smart" packaging machines that would allow remote servicing over the Internet. "We are very bullish on wireless intra-enterprise communication and the Internet with their potential for distance monitoring. We are tightly integrated with the college's advanced applied wireless networking program," he adds. Plant-based wireless communication is another high priority.
And it's not all hardware, software is another key area, Ryan feels: "We've been very aggressive about soliciting software in particular, and see this as an area where automation industry partners can make a large contribution without a large capital investment."
In conjunction with Rockwell Automation, CAMC is exploring the establishment of a section concentrated on network hardware and Internet data acquisition issues.
Alexandria Technical College is a recognized "Partner in Education" with the Packaging Machinery Manufacturers Institute. For further information, contact Dr. Ken Ryan by phone at 320/762-4461 or via e-mail kenr@alx.tec.mn.us. The Web site is www.alextech.org/CAMC/.
Companies in this article