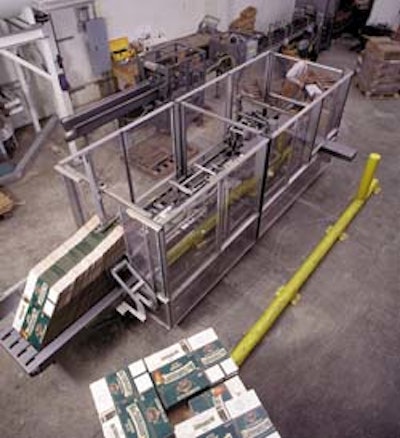 Popular in the early 1990s, craft beers by 1996 had reached a serious downturn. Too many brewers and too many brews were chasing too few store shelves. The inevitable shakeout is still underway.
Portland Brewing Co. of Portland, OR, counts itself among the survivors, and packaging, says executive vice president and CFO Glen James, receives much of the credit. The brewer has invested heavily not only in brewing systems, but in automated packaging equipment, too. This enables Portland to brew and package its own brands and others as well.
"We can produce any style of ale or beer here and package it at a cost that is very attractive to brewers who don't have or can't afford the necessary equipment," says James. "In addition, our six-pack carrier supplier is across the street, and our corrugated and glass suppliers are close by, which allows us to quickly bring in new bottle and package styles."
The latest investment by Portland included a case erector, a six-pack basket carrier erector, and a carrier inserter, all supplied by Pearson Packaging Systems (Spokane, WA). The new equipment allowed the company to switch to bulk glass rather than pay the extra cost of ordering bottles already packed in carriers and reshippers.
"We felt that with the move away from reshippers, we could better control our own destiny," says plant manager John Davis. "We could make up carriers and cases as we needed them without having to put up with long lead times. Also, bulk glass is much cheaper than glass in reshippers."
Simplicity gained
Maintenance manager Pat Nye appreciates the simplicity of the new arrangement.
"By going to bulk glass instead of bottles in reshippers, we have reduced waste, inventory and labor costs," says Nye. "With reshippers, too often we wound up with more bottles than we needed, so we had to store the excess. And in some cases, we had to remove bottles and repack them by hand when we changed to a seasonal or contract product that required a different six-pack carrier and case. Short runs and contract brewing are much simpler and cost-effective now that we can assemble packaging as we need it. We can brew and package as a just-in-time operation."
In cost of materials alone, says plant manager Davis, the savings come to about 10%. That's why Davis anticipates a two-year payback on the investment, which will total about $250ꯠ.
Before the Pearson equipment was installed, cases were depalletized manually and placed on a conveyor leading to an uncaser/caser from Krones (Franklin, WI). This machine removed bottles from their carriers and placed them on a conveyor leading to a rinser, filler, capper and labeler. The empty reshippers and their paperboard carriers were cued up on a conveyor loop and then returned to the uncaser/caser so that filled bottles exiting the labeler could be repacked in them.
In the new line, manual depalletizing of cases is replaced by a used automatic depalletizer that Portland rebuilt. Bottles flow through filling, crowning and labeling just as they did before.
The newly installed Pearson equipment is near the uncaser/caser and feeds directly into it. The six-pack carriers with self-locking tabs are erected automatically on a Model D1001 unit from Pearson. Carriers are then conveyed toward a Pearson Model S1135 "stuffer." Beside the carrier erector is another Pearson unit that erects tab-style RSC cases and hot-melt glues the bottoms.
Meet at the stuffer
Cases and carriers meet at the Pearson stuffer, where four paperboard carriers are then stuffed into each case at a rate of 15 cases/min. Filled bottles meet the prepared cases at the uncaser/caser. Once bottles are inside their cases, the cases run through a machine from Hertel (Santa Rosa, CA) that cuts the tabs holding back the flaps. The flaps are then closed and hot-melt glued. Automatic palletizing completes the line as it did in the days of reshippers.
The new equipment is flexible enough to accept 12-oz longneck, 12-oz heritage style or 22-oz longneck glass bottles. The 22-oz bottles go directly into 12-count cases, with no carriers involved. Most of the 12-oz bottles go into 24-count shippers, but there's also a 12-count case for 12-oz bottles, and here again no carriers are used. The case erector accepts these case-size changes readily enough, says Nye. "There's one main timing guide, which is a mechanical adjustment, and a change in PLC logic that's done on-screen from a drop-down menu," says Nye.
Supplied by Rose City (Port-land, OR), Portland's six-pack carriers are made of an 18-pt coated natural kraft that is treated with a wet-strength agent. Printing is offset in up to six colors.
Shippers, from Boise Cascade (Boise, ID), are made of 200#-test, C-flute corrugated. They're printed flexo in three or six colors.
The new equipment has been up and running since February '99. Portland management believes it's an important step in the company's thus far successful battle to remain viable in a brewery segment that faces an uncertain future. And Davis, for one, appreciates Pearson's contribution.
"I've been in brewery packaging for more than 27 years," says Davis. "I knew that Pearson could supply systems that were reliable and had good after-sale service. They handled the difficult task of layout of this equipment into a limited area, met requirements for options we wanted, and provided hands-on assistance for our operators and maintenance people during startup."
CFO James is equally pleased with the shift away from reshippers. "We feel that in the coming years, we are on track to be successful with our brands and with our contract brewing and packaging opportunities."
Companies in this article