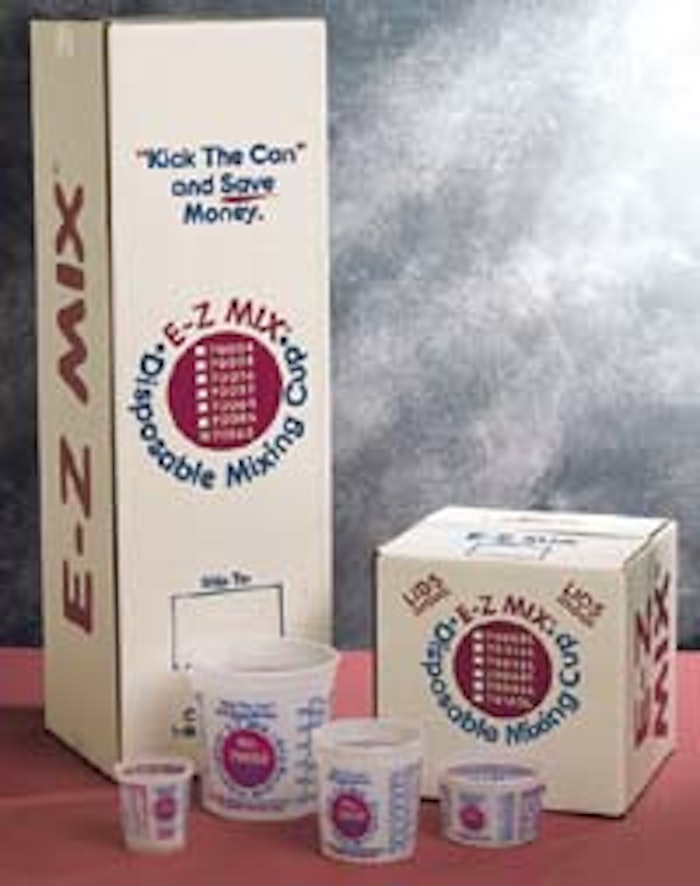 An operation such as case taping that's usually so straightforward as to be ubiquitous at most plants was not so easily done at E-Z Mix, Chicago, IL. The company packages specialized plastic cups preprinted with ratios for mixing of paints used by auto body shops.
The company's corrugated cases, most filled with the plastic cups, include one that stands more than 30'' tall. It could not be handled by conventional case sealers, says company president Rick Hyman. "It's difficult to tape a box that tall because it tends to tip as it conveys through a conventional taping machine," he says, noting that the cases must be run standing upright through a taping machine.
Height wasn't the only challenge. Cases are prone to falling over because, even when filled with the lightweight cups, they weigh very little. Most cases, filled with cups or lids, weigh 4 lb or less.
Yet manual case sealing methods proved inefficient and tiresome for workers, especially as output demands increased. Those demands compelled E-Z Mix to search for a taping machine, which led them to Manta Ray (Menomonee Falls, WI). Like other companies Hyman had contacted, Manta Ray didn't have a taper available to handle the tall cases. But there was one major difference: Manta Ray was willing to build one for his application, says Hyman, at a reasonable price. The Sting Ray Tall Boy Model 3330 case sealer, installed in March, "works fine," says Hyman.
In fact, it works so fine that E-Z Mix has doubled its cased output, he says.
Synchronicity
The key to the case sealer's "heightened" taping ability is the use of synchronized top and bottom belts, located on the machine's right and left sides. The top and bottom belts are linked directly by a spline, or rod with teeth, run from a motor. That's crucial, as the belts must be closely matched in speed to prevent case damage through the machine. Separate motors serve left and right sides.
Combined with easy height adjustability, this mechanical synchronicity allows E-Z Mix to successfully tape-seal cases ranging from a 10'' cube, filled with lids, to a case 10''x10''x32 ½'' tall. Hyman refers to the latter case as "the Sears Tower."
E-Z Mix's most popular item, 32-oz mixing cups, were case-sealed the day of Packaging World's visit. Hyman says the cups comprise about 80% of the company's output. The 100-count case stands 26 ½'' tall, metaphorically making it the Chicago company's "John Hancock" case. The Tall Boy unit can handle cases up to 36'' tall and as small as 4"x4'', PW is told.
The corrugated cases are 200# test, C-flute corrugated printed in two colors by Cameo Container (Chicago, IL). Cases are supplied to E-Z Mix in six sizes, all with the same 10''x10'' footprint. The cases remained unchanged in the upgrade from manual taping. However, the tape roll length was greatly increased to 1000 yards from 110 yards. Also, the tape width was reduced from 3'' to 2'' due to the accuracy of automatic application. The 3-mil, clear acrylic pressure-sensitive tape is from Sekisui TA (Garden Grove, CA). The change to longer, narrower tape rolls created a notable cost savings compared with the shorter, wider rolls they'd used for manual application, Hyman says. They can seal hundreds of cases before a roll is exhausted, adds foreman Raul Arce.
Four-fold increase
"Before, we could manually seal a case every 20 to 25 seconds," states Hyman. "Now, a case can be sealed every five seconds."
The 6'-high, 5'-long semi-automatic machine, equipped with tape applicators and spare tape holders above and below belt level, is mounted on rollers. It features hand-crank adjustments for case width and height as well as tabletop height. Fine-tuning can be made using adjustment screws.
The previous setup required operators to erect and tape the case bottom, fill it with cups or lids as appropriate, then seal the case top. The cases are still manually erected as before, but then are filled and, usually, staged before they are sent through the machine for top and bottom sealing.
Hyman says this part of the operation requires just one worker rather than the three or four needed before. Sealed cases discharge from the sealer onto a temporary roller conveyor about 10' in length. Cases are then palletized manually, and the pallet is stretchwrapped by a semi-automatic unit.
Daily, the company produces on average from six to 24 pallet loads, Hyman says.
The combination of labor and tape savings has provided E-Z Mix with a payback in less than a year, Hyman reports. That's a tall, but welcome order for any size operation.
Companies in this article