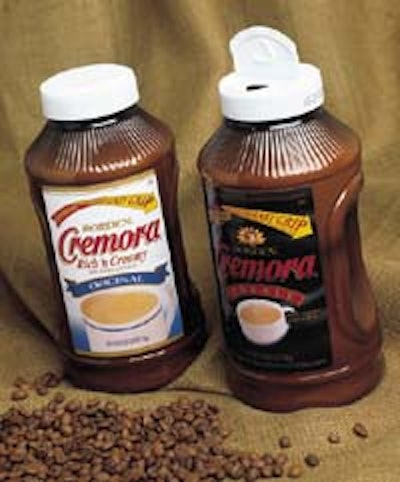 A 6-oz size made the switch next, followed by 16- and 22-oz sizes. "By October," says director of packaging R&D Bob Larkin, "we hope to have all Cremora in PET."
According to EFFI brand manager Dawn Polizzotti, polyethylene terephthalate containers are shinier, stronger and more easily recycled than polyvinyl chloride. "And with the kilo size, we added another benefit: the grip." Suggested retail price for the 1-kg Cremora Original is $3.99, while Cremora Royale is $4.39.
Surprisingly enough, even though PET resin historically costs more than PVC, EFFI saved money in making the switch to PET. Larkin won't quantify the savings, but he emphasizes that the switch wouldn't have been made if a savings couldn't be achieved. A big factor in the cost picture is that the PVC containers are extrusion- blown, while the PET jars are injection/stretch blown, a considerably faster process. "With higher speeds in bottle making comes a reduction in the cost of the package," says Larkin.
The savings come in spite of an increase in labeling costs, too. The new 1-kg jars take a more costly p-s paper label instead of the hot-melt-glue-applied paper label applied to PVC.
"The pinch grip creates a very limited surface on the back," says Larkin. "We felt pressure-sensitive labeling gave us a better chance of hitting that surface accurately."
Label specs for the three smaller sizes are being finalized. The paper labels used on the 1-kg size are from Fort Dearborn (Niles, IL). Front labels for the premium Cremora Royale product are printed offset in nine colors plus high-gloss UV coating; back labels get five colors.
Added to the filling line for label application was an Autocol Series 747 front-and-back labeler from Krones (Franklin, WI). "The labeler was chosen for its ability to accurately and consistently place the front and back labels without wrinkles," says Larkin. Also critical in the labeling setup is a dust-abatement system, says Larkin, because p-s label adhesion is more secure on a dust-free surface.
See the main story that goes with this sidebar: New technology spurs Cremora launch in PET
Companies in this article