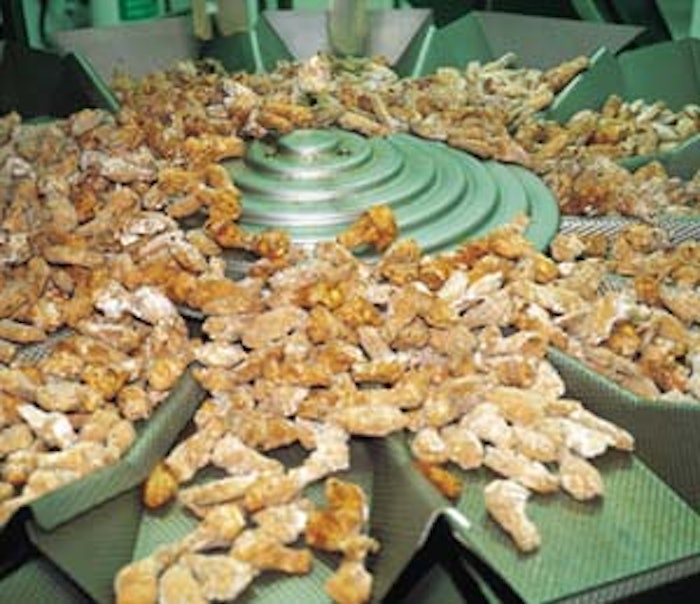 By automating the bagging of frozen chicken wings at its St. Rosalie, Quebec, plant, Canadian pork and poultry producer Olymel L.P. did more than take a big chunk out of its labor costs. The company also made significant gains in package consistency and reduced giveaway.
The frozen chicken pieces previously came down a chute to a packing table surrounded by 22 operators. Each operator would fill and weigh a premade bag and then introduce it to a semi-automatic heat-sealer. "It was difficult to be consistent, and giveaway was really hurting us," says plant manager Michel Paradis. "The accuracy of the new equipment is far better, which brought us a sizable reduction in giveaway."
The equipment he refers to is a Model A14-C8 vertical form/fill/seal machine from Triangle (Chicago, IL). Filling bags as small as 250 g (8.8 oz) and as large as 2 kilo (4.41 lb), the machine runs most sizes at a steady 32 bags/min. Before it was installed, Olymel achieved similar speeds, but 10 workers are now stationed throughout packaging instead of 22. Those no longer required on the packaging line have been redeployed elsewhere.
The chicken packaged on this line is cooked and frozen. Consumers are instructed to warm the product in their conventional or microwave ovens. Not all varieties include a sauce, but some do, and for these Olymel uses a Hinds-Bock (Redmond, WA) volumetric piston filler to inject the sauce automatically along with the chicken.
The filler, a Model SP-64B, is mounted on the back side of the Triangle machine. Its 10-gal hopper has a level-sensing probe, so whenever the hopper needs more sauce, it's automatically pumped in by a floor-mounted pump that draws sauce from a large tote.
Sauce is pumped in 6-oz quantities through a long-reach tube that has a 1 ?" dia. The Triangle machine signals the pump to dispense sauce down the center of the bag-forming tube each time the transverse sealing jaws complete a bottom seal.
Maintaining a clean seal zone is important when pumping sauce into a vf/f/s system. So the Hinds-Bock pump combines mechanical shut-off with a pulse of air across the spout. This causes any fluid clinging to the spout to drop off into the sauce just deposited, which is where it belongs.
Bucket elevator
To bring product up to the 14-head Triangle combination scale mounted over the bagging machine, Olymel uses a bucket elevator made by one of its own subsidiary companies. This elevator delivers the frozen wings to the infeed conveyor of the Triangle system, which in turn dumps them onto a dispersal cone in the center of the weigh buckets that are arranged in a circle around the cone.
At floor level directly below the combination scale, the bagger uses powered side belts to pull film over a forming collar. An overlap seal is made by heat-seal tooling in the machine direction, and then a second set of tools creates a heat seal across the machine direction. This makes the top of the filled package and the bottom of the succeeding one. Product drops in and the cycle repeats itself.
Film used on the Triangle machine is a 3-mil linear low-density polyethylene from poly-plus (Farnham, Quebec, Canada). For bags containing sauce, something with better puncture resistance is required so leakage won't be a problem. At this point the firm is trying several options.
Bagged chicken dropping out of the Triangle machine is conveyed a short distance to operators who load bags into cartons by hand. The 18-pt paperboard cartons are printed offset in six colors plus UV coating by Cartem (Sainte Marie, Quebec, Canada).
Next, a Weldotron 2000 (Woodbury, TN) in-line overwrapper/shrink tunnel encases cartons in a clear, 60-ga D955 shrink film from Cryovac (Duncan, SC). Case packing is then done manually.
Operating in the plant since March '99, the new packaging equipment has had "a significant impact," says Paradis. Added impact is apparently on the way, as he's not yet finished automating the chicken-packaging operation. Says Paradis: "A cartoner is next, though probably not until next year."
In a hurry? Request more info via Web-based reader service by clicking on the reader service number.
Or you can jump right to their Web site if ones listed.
Companies in this article