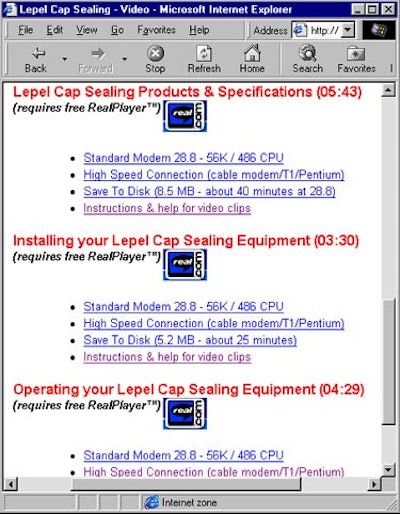 In fact, multimedia was one of the Web's first great promises for interactive, view-on-demand content. That's because the three hurdles of Internet video—old PCs, slow modem connections and competing video playback software standards—are beginning to give way to fast hardware, fast connections and two dominant video playback software standards vs five or more.
For the packaging field, one of the best applications for packaging is the ability to view prospective equipment in action—right from a supplier's Web site. Several suppliers have begun to put videos on their site.
One that's done a particularly thorough job is induction-sealing equipment maker Lepel (Waukesha, WI). The supplier has created a page on its site at www.cap-sealing.com/video.htm that serves as a gateway to five videos. Three videos describe the induction sealing process and cover the company's products.
But the videos aren't just limited to marketing. Two of them are instructional videos on how to install and operate the equipment. That means packagers can begin relying on their suppliers' Web sites for support after the sale.
Multiple versions
The videos on Lepel's site are designed to operate with the RealPlayer video playback software, which is included as a plug-in with most Web browsing software these days. (Users with older computers can download a free copy of the playback software via a link on Lepel's site.)
What's nice about the implementation of the videos on the Lepel site is that three separate versions of each video are available. There are two versions of what's known as "streaming video," which means you can watch the video while it downloads. One version is for modem connections (28.8 to 56 kbps) and another is for high-speed connections (T1, DSL, cable modems, etc.).
A third version is a non-streaming file that can be downloaded to your hard drive (about five megabytes, or 20 to 30 minutes with a modem) for off-line viewing, which usually results in better image quality.
Lepel tells us it plans to add more videos to its site as new equipment is introduced. In fact, a company official noted that there could be a day when "we may never release [a new video] on actual video tape."
Companies in this article