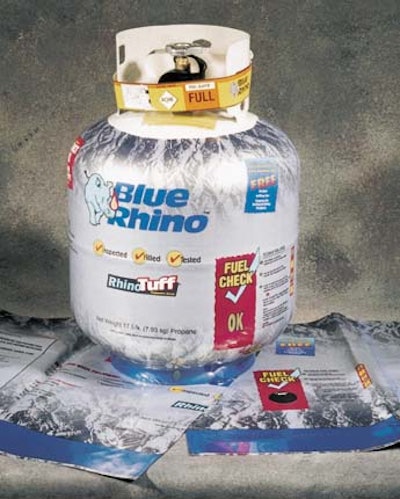 Innovation, consumer convenience and environmental awareness are some of the criteria used when considering winners for the 1999 Flexible Packaging Assn. (Washington, DC) awards competition. Four FPA award winners excel in these categories by going the extra mile in bringing the best possible package to the consumer. (For a look at FPA winners for food packages, see p. 64.)
Perhaps the most clever package to win an FPA award is the Rhino Tuff™ Fuel Check Sleeve, an eye-catching polyvinyl chloride shrink sleeve used to sheathe gas grill cylinders (1). Marketed by Blue Rhino Corp., the 2-mil sleeve employs bold graphics and an innovative fuel–check system that permits consumers to check the level of propane left in the cylinder. (Editor's note: This package won the competition's President's Award.)
When a consumer is unsure how much propane remains in the cylinder, he first turns the cylinder and grill on. Then he removes the protective pressure-sensitive label from the fuel check area on the sleeve to reveal the letters "OK" printed in green thermochromic ink. Next, he pours hot tap water over the "OK," which will immediately turn yellow. If after 10 seconds any portion of the "OK" turns green, there are at least two hours of fuel remaining. If the "OK" remains totally yellow, there are less than two hours of fuel left. After about one minute, the ink will return to green, ready for its next fuel check. Due to the thermochromic ink's sun-sensitivity, the consumer must replace the label after every fuel–level check.
"Twenty-five percent of people who grill run out of fuel while cooking," says Rick Belmont, vice president of marketing for Winston-Salem, NC-based Blue Rhino. "This is our attempt to help them avoid that situation."
North State Flexibles (Greensboro, NC) reverse-prints the PVC flexographically in eight colors, then applies the thermochromic ink on a gravure press in a separate step. Blue Rhino chose thermochromic ink due to the absence of heavy metals in the ink formulation. The p-s label is applied to the film in-line, then the PVC is seamed and cut into individual sleeves. A representative from North State says some equipment was modified for this application, but would not divulge more information. North State sends the printed sleeves to Blue Rhino distribution centers.
The sleeve is especially helpful when used in conjunction with Blue Rhino's cylinder exchange service, Belmont says. When the consumer uses all the propane in the cylinder, he peels off the sleeve and takes the cylinder to one of the thousands of retail stores carrying Blue Rhino cylinders. There, he exchanges it for a new sleeved cylinder.
Blue Rhino refills and sleeves the cylinders at 50 distribution centers across the nation. An operator manually slips the sleeve over the cylinder and sends it through a shrink tunnel. Afterward, the cylinders are palletized and driven to stores, and Blue Rhino employees offload the cylinders from the vehicle and display them in outdoor display racks. Propane, because it is a flammable gas, must always be stored outside. Belmont says retailers don't touch the cylinders except when a new tank is handed to the consumer.
The sleeved cylinders with the fuel–check system have been on the market since March '99. Belmont says there are numerous reasons why he selected PVC shrink sleeves. "It provides us with marketing space and a means of differentiating ourselves from any other cylinder exchange program," he says. "And from our end, the manufacturing side, it helps us provide uniform consistency of product look across the nation." He adds that the sleeve protects the cylinder from weather elements, which keeps the cylinder fresh-looking and rust-free.
The Blue Rhino gas grill cylinder is available at mass merchandise, convenience, grocery and hardware stores nationwide for $12.99 to $14.99.
'Slik' competition
Like the Rhino-Tuff sleeve, Slik-Pak (2) takes film where it's never gone before.
Slik-Pak's trophy case must be getting crowded. This month the lubricant pouch adds an FPA award to its collection, which already includes two awards from the Institute of Packaging Professionals (Gold Star award and 3M Eco-Efficient award) and a Mobil Golden Mummy award (see Packaging World, March '99, p. 98 or packworld.com/go/slik). Manufactured by Ogden, UT-based Keystone Business Service, Inc. the 4"x6" Slik-Pak pouch contains 2 oz of industrial grease used to lubricate the fifth wheel on tractor-trailers. The product provides an alternative to filling grease guns with cumbersome 55-gal drums.
"We took a food-grade, single-web film and put it in an industrial application," explains Keystone president Dennis Spiers. "I guess we crossed some barriers." Indeed, Slik-Pak's use of 110-ga Mobil Bicor® AXT, an oriented polypropylene film traditionally used for bakery applications, is a little unorthodox. Placed on either side of a truck's fifth wheel (the pivot point where tractor and trailer connect), Slik-Pak's seal ruptures under the weight of the plates, evenly distributing lubrication to the fifth wheel as the truck drives down the road. The friction of the rotating plates then disintegrates the pouch film, leaving no waste and requiring no clean-up. Acrylic coating outside and polyvinylidene chloride coating inside the pouch provides Slik-Pak with barrier and seal integrity that prevents leakage and gives the product "unlimited shelf life," according to Spiers. "I've changed films a couple of times since I started in order to get things just right," he says.
The inspiration for Slik-Pak came to Spiers, a former truck driver, as he sat in a coffee shop one blustery morning. Watching a frustrated driver throw a grease gun across the parking lot after trying to thaw the grease with the heat of an exhaust pipe, Spiers got an idea. Turning to the driver across from him, he indicated the sugar packet the man was opening and said, "That's how you grease the fifth wheel."
The environmental angle was important to Keystone, notes Spiers. "Slik-Pak contributes no waste to landfills whatsoever," he says. Converted by Zimmer Custom-Made Packaging (Indianapolis, IN), the film is flexo-printed in two colors using proprietary water-based inks.
Zimmer sends the film to Keystone in rollstock, where it is formed into pouches on a vertical form/fill/seal machine from General Packaging Equipment (Houston, TX). The vf/f/s machine is equipped with a Hinds-Bock (Redmond, WA) filler. Although he won't disclose specifics, Spiers says some modifications were necessary to "beef up" the filling and packaging machinery for running the viscous lubricant. With the modifications, Keystone can run its machines at 90 packages/min with few—if any—rejects, according to Spiers. Meanwhile, Slik-Pak continues to develop a loyal consumer following. "The drivers just love it," Spiers says. "A lot of them come up at truck shows to shake my hand and say it's one of the most unique products they've ever encountered."
Available at truck dealerships, truck stops and from warehouse distributors nationwide, Slik-Pak is also shipped to Mexico, Canada, Australia and many other global locations. Two 2-oz pouches (one application) retail in the U.S. for about 99¢.
Pillow pack
Air Box®, an innovative cushioning package used to ship fragile items, is another FPA winner. Manufactured by Air Packaging Technologies (Valencia, CA), Air Box resembles a clear pillow and protects items placed inside the pillow before inflation. The product is currently being tested by Micro Dental Laboratories in Dublin, CA (3).
Micro Dental makes crowns, bridges and dentures based on impressions dentists take of their patients' teeth and ship to the lab. The Air Box designed for Micro Dental has four pockets into which the dentist can place the impressions. After sterilization, Micro Dental then can potentially use the same Air Box to ship its restorations back to the dentist.
According to Fred Walke, operations manager at Micro Dental, Air Packaging Technologies and Micro Dental's R&D team worked for more than two years on the design of the package. Air Box measures about 13"x12"x21/2" when inflated. The film inside the pockets of the package is a 6-mil blend of low-density polyethylene. The film on the outside is a 4-mil lamination of LDPE and nylon for protection against swelling during air travel.
Micro Dental has been testing Air Box for about three months. The company still uses foam-in-place packaging for most of its shipping. Walke says Micro Dental was looking for a cheaper and more convenient way to ship its restorations. If the use of Air Box goes according to Micro Dental's plans, the shipping process will proceed as follows.
Micro Dental sends deflated Air Boxes to the dentist's office. A dental assistant places the restorations into the four Air Box pockets and uses an air pump provided by Micro Dental to inflate the package. The package is sent via flexible courier envelope overnight to Micro Dental. There, operators deflate the Air Box by pulling off a p-s label, which exposes a hole in the package. Operators then extract the impressions from the deflated Air Box.
Used Air Box packages are sent to a facility in Los Angeles that sterilizes palletloads of Air Boxes using lasers. The sterilized Air Boxes are sent back to Micro Dental, where they're loaded with restorations, inflated, placed in a courier envelope and sent to the dentist's office. The dental assistant then deflates the Air Box, takes out the restorations and stores them until needed by the dentist. The Air Box is reused to send impressions back to Micro Dental.
Walke is hopeful that the Air Box will function as it was intended during development. "If it is reusable, it's a cost savings to us. Plus, you can deflate it and stack multiple boxes in a dental office, where space is at a premium," he says. "One advantage [over foam-in-place] is that it's clear, and you can see the product inside so you know what's in there before you open it."
Walke adds that the Air Box could save Micro Dental some shipment costs because it weighs less than 1 lb. The foam-in-place package weighs slightly more, which increases shipping cost.
Air Packaging Technologies also won the FPA award for its SDS™ Air Box. That Air Box is used by Photronics Inc. (4) to protect its semiconductor photomasks during shipment to wafer fabrication facilities. The SDS Air Box is similar in shape and appearance to that used by Micro Dental, except it has one pocket instead of four.
Because photomasks are quite fragile and can be worth up to $40ꯠ, the SDS Air Box is quilted for extra protection. The film inside the pocket of the SDS Air Box is a 6-mil coextrusion of LDPE blends and nylon, and the outside of the package is a 4-mil laminate containing the same materials.
It's a wrap
A recyclable wrapper for reams of business-grade cut-sheet paper (5), like the Air Box, is a package recognized by FPA for its "green" properties. Stamford, CT-based Xerox Corp. wanted to develop an environmentally friendly wrapper that would protect its contents from moisture and dust in the same manner as traditional, plastic-overlay wrappers, while offering environmental and financial benefits. The resulting wrapper, converted by Lawson Mardon (Northbrook, IL) meets these criteria and is 100% repulpable and recyclable with corrugated waste.
According to John Viavattine, paper technical specialist at Xerox, the wrapper is essentially an unbleached kraft sheet coated with a polymer-based barrier coating commonly used inside oatmeal pouches. Lawson Mardon receives the paper from an undisclosed vendor, then coats and prints it all in one step. The proprietary process combines coating with offset printing in one color for the business-grade wrapper. Available in three varieties, the business grade of paper is sold by the truckload in the business-to-business market. Lawson Mardon also converts Xerox's retail-grade wrappers, which are printed in up to eight colors and are available for individual purchase at retail outlets.
Steve Simpson, product planning and development manager for Xerox, says the company made a few changes to the thickness of the wrapper along the way in order to achieve the desired specifications. "It took quite a bit of time to find a paper source that could deliver the smoothness and structure of the sheet that we needed," he says. Xerox uses the 4.8-mil recyclable wrapper for the majority of its commercial-grade business in the U.S. and Canada. "We are looking to roll this out on a much broader level," Simpson explains. "But we wanted to get it launched and debugged before going worldwide."
Graphics on the wrapper tout its recyclable nature, alerting consumers that the wrapper can be recycled with corrugated waste. Additionally, a recyclable label listing product information is placed on the end of the ream of paper, where consumers most often open a wrapper. Soon, a yellow starburst will be added to the wrappers to further call attention to the packaging's recyclability.
Both manufacturing and retailprices on reams featuring the recyclable wrapper remain the same as for wrappers that used traditional plastic overlay wrap, according to Viavattine. "We are not passing on an upcharge for this recyclability," he says, adding that customer responses have been favorable.
In addition to the environmental advantages of recycling the wrapper, Xerox believes some consumers could benefit financially from the switch. In many areas of the country, manufacturers and businesses must pay to have landfill waste hauled away, while recyclables are usually removed at no cost. Also, some manufacturers of recycled material products will pay businesses for their recyclable waste. Thus, a recyclable wrapper could actually make money for consumers, according to Viavattine.
Xerox estimates that providing a recyclable ream wrap for the cut-sheet paper industry could reduce landfill material by about 48ꯠ tons/yr. That's the amount of wrap currently estimated to be generated annually from North America's use of 5 million tons of cut-sheet paper.
Viavattine had the amount put in perspective for him recently. "I visited a customer at his site, and he showed me a dumpster that they were filling with ream wrapper daily to be thrown away," he recalls. "Later, after the switch to recyclable wrapper, he showed me the same Dumpster, and it was empty. It's a testimony to recyclability."
Companies in this article