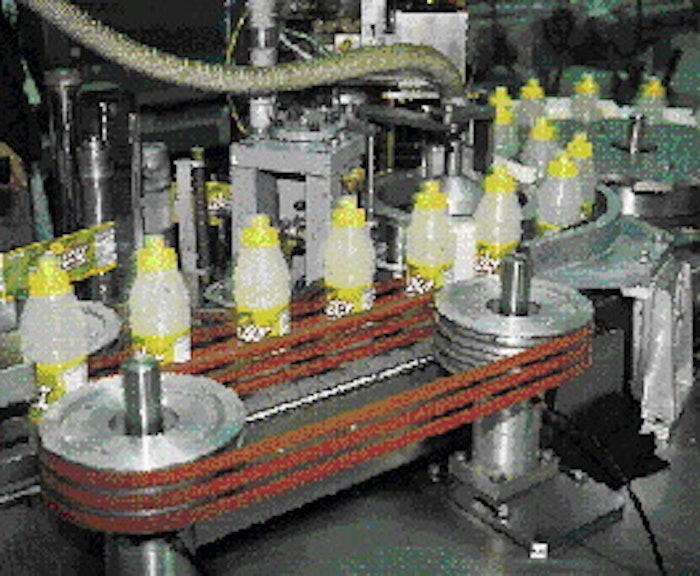 For many companies, a successful product launch creates a need for new packaging equipment, and Twin Mountain Spring Water Co. is no exception. When the Nashua, NH, firm introduced a fruit-flavored spring water called Guzzler(TM) two years ago, consumers responded so favorably that a new packaging line was soon on the drawing board.
But more than just packaging equipment was purchased. Also ordered was stretch blow-molding equipment to blow bottles and injection-molding equipment to make preforms of polyethylene terephthalate. Plant manager Kevin Tappa explains the firm's strategy.
"Vertical integration is one of the keys to our success. We are the low-cost supplier in the metro centers on the East Coast that we target. We don't advertise, and our products are very low in price. Vertical integration helps us reach those price points. Even in New Hampshire, where electric costs are the second highest in the nation, we can still make preforms for less than what we can buy them."
The newest PET bottle-making equipment running at Twin Mountain includes a 32-cavity injection-molding system from Husky (Bolton, Ontario, Canada) and two SBO-6/10 stretch blow-molding units from Sidel (Norcross, GA).
"The 32-cavity Husky machine lets us make about 60 percent of the preforms we need," says Tappa. "The beverage business is very seasonal, but the Husky machine practically never stops, which means we can stockpile preforms over the winter months until they're required."
All preforms for the custom-molded Guzzler bottles are produced in-house. The finished bottle weighs 241/2 g.
The second Sidel system was just installed early this year. Also on hand are the two single-stage injection/stretch blow-molding machines that Twin Mountain used for the initial launch of Guzzler. And elsewhere at Twin Mountain, extrusion blow-molding systems crank out high-density PE bottles in several sizes for the firm's various water products.
So deeply ingrained is the vertical integration mindset at Twin Mountain, "We even looked at making our own caps," says Tappa. No cap-molding machines were in evidence, however, on a recent Packaging World visit.
Two phases
What was visible was the new Guzzler packaging line, installed in two phases. Completed in late '96, Phase One consists of a bottle unscrambler, a Model 610 rinser from Bevco (Surrey, British Columbia, Canada), a rotary-style filler/capper from Fogg (Holland, MI), air knives from Sonic Air Systems (Brea, CA), a Trine (Turlock, CA) roll-fed labeler and a refurbished drop packer.
This equipment has been in use at Twin Mountain since the '97 season. It allowed the company to package 20-oz bottles of Guzzler at about 300 bottles/min, which was sufficient for '97 but not good enough for the volume projected for '98. The case packer was the limiting factor, says Tappa, so in Phase Two it was replaced with a PTF-28 tray/case packer from Kisters/Kayat (Edgewater, FL). Since its installation, Twin Mountain packs the 20-oz bottles at 400 bpm.
In addition to increasing the speed of Guzzler's packaging, the PTF-28 allows Twin Mountain to pack water bottles in three new formats: 20-oz PET bottles in 24-count trays and 11.2-oz PET in either 12- or 24-count trays. These new multipacks are a big boost to Twin Mountain's marketing efforts, says Tappa.
"In some markets you have to be able to see the product, and a full-wrap case doesn't allow that," he says. "The trays also provide some cost savings because tray plus film is about 25 percent less costly than a full wraparound case." Wraparound cases are still preferred, however, in some distribution channels because they offer greater protection.
Tappa appreciates the flexibility of the Kisters/Kayat machine, which makes changeovers a breeze. "It's friendly to our operators and our mechanics," he says. "It's simple to change over or to fix because everything is so accessible."
When bottled water is scheduled to run through the Kisters/Kayat machine, conveyor gates are used to divert the water bottles into the multipacker. Some mechanical change parts on the Kisters/Kayat machine have to be physically removed and replaced, but these are designed with quick changeover in mind.
"A series of spacers, for example, guide the bottles into the machine's infeed lanes," says Tappa. "It's all one component instead of six individual spacers for the six bottle lanes. We loosen a nut on one side, pull the piece out, put the new piece in, tighten the nut, and we're ready to run. It's simple and fool-proof."
PET bottle flow
The beginning of the Guzzler line is a large bulk hopper located out in the warehouse area where the injection-molder and the two blow molders turn out containers. Bottles drop steadily into this hopper from an overhead conveyor that carries the bottles from the discharge of one of the Sidel blow molders.
The Sidel generates about 120 bottles/min, and the Guzzler line needs almost 400, says Tappa. So an operator empties box-loads of bottles--all made in-house and stored--into the same bulk hopper that the Sidel machine feeds. Between freshly blown bottles and those taken from storage, the supply of bottles is sufficient to feed the line.
Bottles are conveyed from the bulk hopper through a wall and into a Model N-30 unscrambler from Posimat (Miami, FL). Installed as part of Phase Two earlier this year, the N-30 replaced an unscrambler that was installed in Phase One.
"This unscrambler is specifically designed for handling PET bottles, and it doesn't dent or scuff them," says Tappa. "It also has some quick-change features that are appealing. We haven't introduced our 10-ounce Guzzler bottle yet, but when we do, we'll be able to change sizes in 15 minutes."
Bottles enter the Posimat unscrambler through a loading window on the machine's top cover. Inside is a large inclined disk rotating in the opposite direction of disk two. Around disk two are pockets that pick up individual bottles in either neck-up or neck-down orientation. But due to the unique shape of the pockets, all bottles are quickly oriented neck-up. If a bottle is imperfectly oriented in a pocket, it is gently blown out of its pocket by a compressed-air jet, and it rolls back down to the inclined rotating disk to be picked up again. Bottles properly seated in their pockets continue along as disk two revolves until bottles fall through funnels onto a discharge conveyor leading to the next piece of equipment in the line.
Into the filling room
Bottles are conveyed a short distance to the Bevco rinser where they're picked up by rubber gripper belts and inverted over a spray of iodine solution. The concentration of iodine is high enough to kill some bacteria, yet it's low enough so that a second rinse is not required.
Exiting the Bevco rinser, bottles move down a conveyor surrounded by clear plastic sides and a stainless-steel hood. Inside, the conveyor is overpressured with HEPA-filtered air to prevent airborne contaminants from entering the just-rinsed bottles.
Next, bottles enter the filling room. Measuring just 15'x15', the room is also overpressured with HEPA-filtered air. Because the flavored Guzzler product is so unlike Twin Mountain's other offerings, it took a considerable investment in processing and packaging equipment to produce it.
"The Guzzler is about two percent fruit juice, so we needed a complete batching system--including a pasteurizer--and a dedicated filler," says Tappa. "We can't run both our plain water and Guzzler through the same filler."
The gravity filler from Fogg has 56 filling nozzles. It hands filled bottles off to a starwheel that brings them directly into a 20-head capper. Along the path down to the cap application station, the 38-mm sport caps with clear dust covers pass through a UV tunnel that kills bacteria that could affect the product's taste. The injection-molded polypropylene caps are picked up from a chute as bottles pass beneath it. They pass beneath a pressure plate that presses them onto the bottles.
Each hour, the filler is emptied of bottles and the Fogg Sani-Bar system sprays a hydrogen peroxide-based sanitizing solution onto the valves and other key components for 60 seconds. Incoming bottles then resume their flow, and the filler picks up where it left off.
Exiting the filling room, bottles are dried by an air knife from Sonic Air Systems and then moved to the Trine roll-fed labeler. Cut from the roll and applied with hot glue, the labels are surface-printed white opaque PP laminated to clear PP. Printing is done flexographically in six or eight colors, depending on the flavor.
Multipacking on the Kisters/Kayat system is next, but first the bottles are conveyed past a Videojet (Wood Dale, IL) 37e ink-jet printer that puts a batch and date code on the shoulder of each bottle. Use-by information is not included, but Tappa says the beverage has a seven-month shelf life.
At the infeed to the multipacker, bottles fan out from their single-file orientation to a mass conveyor and then into lane guides. On the day PW visited, bottles were being divided into six lanes for placement in a 24-count full-overwrap shipper.
With the addition of the Kisters/Kayat machine, Twin Mountain also upgraded case coding.
"A number of customers use 2-of-5 warehouse-style bar codes, and they wanted that printed on these cases and trays," says Tappa. So the firm installed an Overture ES ink-jet coding system from Marsh (Belleville, IL). It runs two print heads, one on each side of the passing case. One creates the 2-of-5 bar code popular in warehouse scanning, the other creates a UPC-A code so that if a supermarket has a sale on cases, the case is perfectly scannable.
Palletizing is done manually, but stretch-wrapping of pallets is a semi-automatic operation performed on a Wulftec (Ayers Cliff, Quebec, Canada) machine. Installed along with the multipacker, the stretch wrapper is the third of its kind Tappa has bought. Their rugged construction, he says, makes them stand apart from comparable machines.
And what does Guzzler sell for in the supermarket? Distributor arrangements complicate the pricing picture somewhat, but a 20-oz Guzzler can sell for as low as 50¢ or as high as 70¢. And it's anything but a loss leader. In fact, according to Tappa, "It's our highest-margin item."
Price points for Twin Mountain's nonGuzzler products are also remarkably low. According to Tappa, spring water in a 20-oz PET bottle with a sports cap sells in a supermarket at three bottles for a dollar. Some stores, he adds, sell Twin Mountain's 8-oz HDPE bottles of water for as low as a dime apiece.
As for Guzzler, sales are projected to increase again next year, so Tappa and his colleagues are forming strategies to cope. Whatever they come up with, self-manufacturing of bottles is sure to remain at the center of everything Twin Mountain represents.
"That's been our aim from the very start," says Tappa. "We talked to other manufacturers whom we don't compete against, and we pieced everything together based on what we learned from this network. Of course, there were suppliers who helped out, but a lot of it was in-house stuff executed by mechanics, hourly workers and management together. It's been quite a process."
Companies in this article