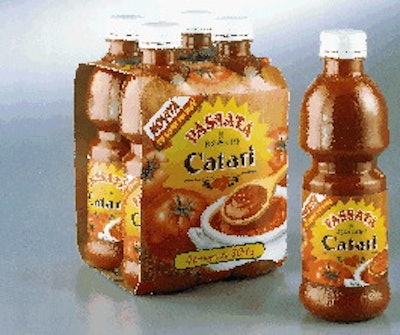 Del Monte Foods Sud Europa launched breakthrough aseptic packaging technology in late '96 when it began bottling beverages in an integrated blow-molding/filling system called ASIS (see Packaging World, November '96, p. 38 or packworld.com/go/ASIS). The innovative line consists of a SIPA (Vittorio, Veneto, Italy) linear blow-molding machine capable of producing 96 bottles/min and a Procomac (Parma, Italy) 50-valve aseptic rotary filler. In the U.S., SIPA is represented by SIPA North America (Atlanta, GA) and Procomac by Procomac North America (St. Petersburg, FL).
Although shelf-stable teas and juices in monolayer bottles of polyethylene terephthalate were the first commercial products to emerge from the ASIS line, Del Monte management had other products in mind almost from the day the system was installed. Last summer it tested one of them, Passata, in the Italian marketplace.
Loosely translated as "freshly squeezed," Passata is only produced during the 40-day period when fresh ripe tomatoes are harvested. Consumers use Passata as a base for sauces they serve over pasta.
Until last summer, Del Monte's Passata was exclusively hot-filled into glass jars. Use of that package, says Del Monte technical manager Mr. Sommi, will certainly continue.
"Our plastic container is positioned as an alternative to glass," says Sommi. "We don't want to cannibalize sales of Passata in glass containers."
Four-packs of the plastic bottles, each containing 500 g of sauce, sell at retail for the U.S. equivalent of $1.55. On a per gram basis, that's about the same as what consumers pay for 700 g of Del Monte's Passata in glass with a steel closure.
In 1998, Del Monte filled Passata in 1 million plastic bottles that were sold in supermarkets throughout Italy. Each bottle contained 55g (17.65 oz) of product. Although lacking a true barrier layer, the monolayer PET bottles were a relatively heavy 30 g, which helps explain why they were given a 11/2-year best-if-used-by date. The glass containers, by comparison, have a three-year shelf life.
According to Sommi, the decision to fix the shelf life at 11/2 years wasbased on accelerated shelf-life data. He adds that as far as taste is concerned, Del Monte's real-time experience with Passata in PET confirms the data from the accelerated test. But color, says Sommi, begins to darken slightly after 12 months. Ongoing research is aimed at addressing that issue.
"From a business point of view, we believe that sooner or later, and I think it will be sooner, somebody will come up with a solution," says Sommi. For the '99 harvest, the firm elected to market the same quantity of Passata in the same PET bottles as in 1998.
Sterility measures
The ASIS system at Del Monte is completely enclosed in a Class 100ꯠ clean room. Within this room is a sealed cabinet overpressured with filtered air that keeps the cabinet at a Class 1ꯠ level of cleanliness. Inside this cabinet is the SIPA blow molder. Bottles leave the blow molder on a Procomac air conveyor that is also enclosed and overpressured with filtered air. It guarantees Class 100 air quality from the blow molder's discharge to the infeed of the filling machine.
The Procomac Fillstar Fx-M filler sits in still another overpressured "room within a room." Here the level of sterility is at a Class 10 level. Operators do not routinely enter this room. The room's clear walls have ports fitted with "intervention gloves." Operators put their arms into these to clear up jams or make other corrections.
According to Sommi, the concept of one aseptic system handling something as free-flowing as tea and yet still being capable of filling a more viscous product like Passata comes as no surprise.
"At the very beginning, our sterilizer was selected with this in mind," says Sommi. "The Procomac filler, too, was tested with ketchup, which is even more viscous than Passata. Filling speeds are absolutely the same with the Passata as they are with the juice or tea."
The 32-mm injection-molded polypropylene closures, supplied by Novembal (Les Creres, France), are sterilized with hydrogen peroxide before entering the Class 10 zone for application. Only after capping do bottles exit the Class 10 clean zone. They're conveyed into a four-pack carrier applicator, supplied by Mead (Atlanta, GA), that wraps them in paperboard brightly decorated on a gravure press in five colors.
Others use aseptic bricks
According to Mario Calatroni, general manager at Del Monte Sud Europa, the only other Passata in Italy that's available in aseptic packaging is a brick pack from Parmalat. Calatroni says his company considered this format as well. But consumers made it clear that the clear PET bottle has more appeal.
Cost is obviously among the factors that had to be considered. According to Sommi, PET is more economical than glass from a materials cost standpoint. But the production speed is much faster with glass. These are among the issues that Del Monte has to weigh as it measures how successful Passata in PET can be.
Consumer preference must also be factored. "PET offers value-added advantages like reclosability, light weight and shatter-resistance," says Sommi.
At the end of the day, Del Monte likes what it sees in aseptically filled PET for Passata. "We have confidence in its potential," says Sommi.
Companies in this article