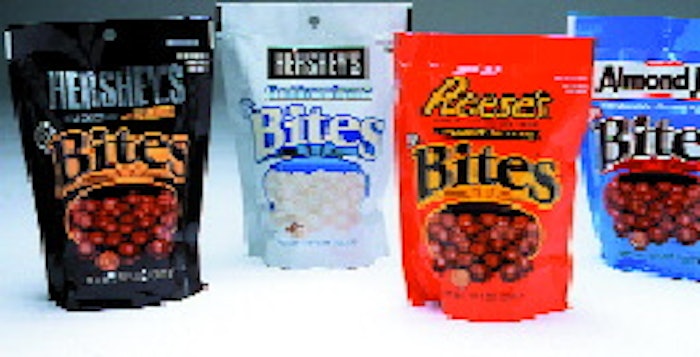 Just in time to catch the American "candy rush" formerly known as Valentine's Day (now increasingly referred to as "V-Day," something that Hallmark Cards, I think, has foisted upon us), Hershey Chocolate USA, a division of Hershey Foods Corp., Hershey, PA, is introducing a line of pouched chocolate balls called Bites(TM). The confections consist of Hershey's® milk chocolate with almonds Bites, Peter Paul Almond Joy® Bites, Hershey's Cookies 'n' Creme (chocolate cookie bits in white chocolate) Bites and Reese's® milk chocolate peanut butter Bites.
Packaging for the new line consists of a 12.5-oz tear-open, tape-recloseable stand-up pouch (shown) and a 5.3-ounce "pegbag," a conventional pillow-pouch with a die-cut hole punched in its header. There's also a 30-oz, tape-recloseable stand-up bag for club stores. We haven't found the packages at either end of the size spectrum. But, the 12.5-oz. size is readily available in supermarkets and drug stores in the Cleveland, OH, and Washington, DC, areas. It measures 8x57/8" and features a polyester tape affixed to its back that serves as the reclosing feature for the bag.
"Hershey Bites were developed for the ever-growing, munching/snacking segment of the confectionery industry," says Rick Gates, new products manager at Hershey Chocolate USA.
Still, neither Gates nor anyone else at Hershey is saying much publicly about the packaging of the new line. Even the company Web page (www.hersheys.com) provides only a captioned photograph of the stand-up pouches and the promotional line, "For a big taste, have a little Bite(TM)." That slogan appears on the back panel of the package, as well.
The color schemes of the four pouches in the product line duplicate the familiar colors of their candy bar relatives. While flexography might do for the reproduction of the product vignettes on three of the four products, Hershey solves the challenge of silhouetting the cream-colored Cookies 'n' Creme balls against a dramatic white background, by gravure-printing the film. Bag stock is produced by Oshkosh, WI-based Milprint, Inc., a division of Bemis Co. (Minneapolis, MN).
This isn't the first time Hershey has opted for a stand-up pouch. Hershey's Sweet Escapes(TM) bars popped up in stand-up, peggable pouches about three years ago. Those pouches are run on horizontal form/fill/seal lines from the Klockner/Bartelt operations of Klockner Packaging Machinery (Sarasota, FL). The Bites line stand-up pouch is probably run on the same type of equipment--perhaps even the same units--but neither Hershey nor Klockner will confirm our supposition.
Still, though they may be running on the Sweet Escapes lines, the Bites pouches represent what the Flexible Packaging Assn. used to call a "breakthrough" application, a new use for flexible packaging. In this instance, we see the stand-up pouch as a serving bowl, a candy dish, a lap-pack that can stand on a coffee or card table or be spirited into movie theaters and shared (or not) with a friend.
Composite cans--cylindrical tubes made of paper, aluminum and plastic web windings capped with paper, plastic or metal ends--have been around for a long time. And even their non-cylindrical cousins (see photo on p. 119), known by the less-than-the-whole-truth name of "paperboard canisters," are familiar sights in supermarket coffee and tea aisles. Maxwell House coffee filter packs have found a comfortable niche in the category for the Cekacan®, a glossy paperboard block with a heavy foil liner and a flip-open injection-molded lid over a tamper-evident laminated foil membrane. Cekacan is the invention of Akerling & Rausing AB (Lund, Sweden) whose U.S. arm is A&R North America, Inc. (Duluth, GA). The coffee filter packs may be the only--and they certainly are the most visible--application of Cekacan in the U.S. In Europe, Jacob Suchard has used the concept for ground coffee and Bahlsen's introduced Cekacan shaker/dispensers for salted nuts a couple of years ago.
Younger than Cekacan is the Linearpak® canister from Sonoco Products Co. (Hartsville, SC). To date, Sonoco's non-cylindrical paperboard canister has been identified with Lipton tea mixes. Lipton replaced a family of conventional Sonoco spiral-wound composite cans with Linearpaks in 1996.
The packaging concept is about to break new ground on a couple of fronts. For Kraft's General Foods International Coffee (Tarrytown, NY), a foil membrane-sealed Linearpak with a plastic reseal lid holds the mix. Kraft has been using rectangular steel cans for smaller sizes.
Another extension/expansion of the market for non-cylindrical canisters is the Linearpak container being used by Mead Johnson Nutritionals (Evansville, IN) for its Viactiv® soft calcium chews for women--individually wrapped chocolate-flavored nutrition supplements. This may represent the first use of custom-footprint paperboard canisters in the consumer healthcare arena. As a vanity/kitchen/bath countertop package, Viactiv's capped canister is both functionally and esthetically more appealing than the conventional folding carton Mead Johnson might have chosen. Here, again--as with the stand-up pouches of candy--the Linearpak canister's role as a serving container appears to be a key consideration in its selection...although it's probably too bulky to sneak into the movies. c
Companies in this article