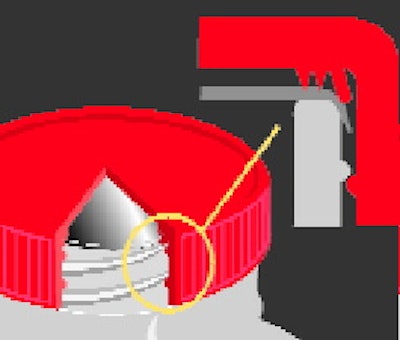 Introducing a breakthrough plastic jar doesn't have to require a brand new packaging line. A few additions here and there to an existing glass line can make it flexible enough to accommodate plastic, as Seneca Foods of Marion, NY, learned last summer when it launched a heat-set jar made of polyethylene terephthalate for applesauce (see Packaging World, June '98, p. 2, or packworld.com/ go/seneca).
Injection stretch/blow-molded by Graham Packaging (York, PA), the pinch-grip jar--holding 48 or 46.5 oz depending on variety--is filled in Seneca's Prosser, WA, plant. Filling is done on the same packaging line originally created for the glass jar that has been replaced by PET. Glass hasn't been eliminated. Seneca still uses the line to fill a 25-oz glass jar.
four key pieces of equipment have been added to the Prosser line to accommodate the plastic container: capper, induction sealer, labeler and seal integrity tester. The labeler and seal integrity tester are now used for both glass and plastic. The new induction sealer and the new capper aren't in operation for glass. Glass containers are conveyed through them as if they weren't there.
Less obvious changes on the revamped line are sensors that are vital for better control of plastic containers.
"We need tighter control so that, for instance, if there's a delay between the filler and the cooler, bottles automatically stop entering the filler," says vice president of technical services Vince Lammers. "Otherwise you might wind up with hot sauce in the plastic bottle and no way to begin cooling it, which could cause the bottle to deform from the prolonged exposure to heat."
Seneca's sensors are photocells. "They tell us where the bottles are on the line by sending inputs to the PLC, which in turn controls bottle movement overall," says plant manager Ron Malecha. "The nature of the bottle requires the added control. If you allow bottles to jam up, they can get crushed a bit. Some of that was alleviated by Graham redistributing the material in the bottle. The bottle didn't get heavier, but through process changes, it did get stronger."
The pinch-grip PET container has been in production at Prosser since April. When glass bottles are being filled on the glass/plastic line, they're sent through a rinser and tempering unit that warms them. This prevents the glass from shattering when the hot apple sauce hits it. This treatment is inappropriate for plastic containers. So Seneca took a gripper/rinser used elsewhere in the plant for juice in heat-set PET and repositioned the machine so it could feed containers to both juice and sauce lines.
For now the shared arrangement works because the company produces apple sauce in glass jars 40% of the time. During that time, the gripper/rinser can be dedicated to PET bottles for juice. But eventually, a separate gripper/rinser will be needed so each line can have its own dedicated machine.
Rinsed PET bottles enter the same piston filler used for glass containers. "We have change parts for the filler to position the bottles correctly under the fill nozzles," says Malecha. "We fill plastic a few days in a row, then switch to glass. Right now we probably run six out of every ten days in plastic."
When plastic is in production, the in-line capper that would apply metal lug closures to glass bottles is adjusted so that the plastic containers convey right through to a rotary capper from Fowler/Zalkin (Athens, GA). The eight-head Model CAF-8/320 capper is standard in some respects. But it was modified to permit nitrogen gas flushing of the container headspace. This flushes oxygen out of the head space, and the less oxygen the applesauce is exposed to, the longer its shelf life.
While some flushing systems use a moving injector, Fowler developed a stationary manifold concept that creates a nitrogen-rich environment in the short space where cap and bottle are joined. Neither Seneca nor Fowler will quantify residual oxygen levels, but both emphasize that the nitrogen flushing system is highly efficient.
Low residual oxygen in the headspace is one factor contributing to the product's shelf life. "We can be confident of shelf life equivalent to glass with this container," says Malecha. Tracking information is ink-jet printed on each cap. But Seneca doesn't mark a use-by date on either plastic or glass containers of its applesauce, relying instead on effective control over inventory turns to get bottles to consumers on time.
Induction sealing
Shortly after the capper, jars enter a Model 3300 induction sealer supplied by Enercon (Menomonee Falls, WI). It activates the coating on the foil liner inside each cap, thus securing the liner to the jar finish.
"In a lot of hot-pack juices, you'll see a plastic insert inside the cap, but we like the foil liner for the added barrier it delivers," says Lammers. He believes consumers prefer it, as well. "When they take that cap off, it's very evident that the seal is secure."
Sun-Twist wide-mouth closures used by Seneca are supplied by Kerr/Sun Coast (Sarasota, FL). The 63-mm injection-molded polypropylene closure has multi-lead threading that makes it easy for consumers to twist it off.
"The torquing numbers we arrived at after considerable effort, which involved not only our suppliers but also our own people at both corporate and plant levels," says Malecha. "We have it dialed in to where we want it, and we'd rather not share that too freely."
The closure's Edge-Seal performs two important functions. Essentially a flange molded into the spot where the neck finish contacts the cap, it provides more surface contact area for the liner, which means a better seal. This flange also creates a secure barrier to keep water from being drawn between the container's neck finish and the closure during cooling. If water is allowed to enter, it forms a puddle on top of the foil--not exactly the kind of presentation Seneca has in mind.
"We're very pleased with the induction-sealing equipment," says Lammers. "The Enercon people have been good to work with, too."
To cool the filled and capped bottles, Seneca uses a submersion water cooler. "We did a lot of work in our cooling area to accommodate the plastic bottles," says Malecha. "Nothing exotic, just a bunch of maintenance guys sketching things out and getting more cooling capacity to the unit."
Because cooling is more efficient, the time required in the cooling unit is minimized. That means PET bottles can be filled at the same rate as their glass equivalents. "We sustain a steady rate of one-hundred-and-fifteen bottles per minute," says Malecha.
One key modification to the cooler was the addition of a water-level detector and a tank that holds displaced water. When glass was run exclusively on the line, the water level in the cooler wasn't critical. Regardless of the number of bottles in the 50'-long cooler at any one time, there was enough water to accommodate them all. Because of their weight, glass bottles entered the cooling bath and sat firmly on a mesh chain conveyor during their 20- or 30-minute ride through the water.
Light-weight plastic containers, however, are more buoyant. When a small number of bottles are conveyed into the water, they could float up from the mesh conveyor to the surface of the water. If they lose contact with the conveyor, that can cause problems at the discharge end. Plus, there's no easy way to upright the bottles as they leave the bath.
The solution is to make sure the cooler never contains enough water for the bottles to float. Seneca accomplishes this by using a water-level-detection unit. It drains excess water into an adjacent tank when the number of incoming bottles is low, and it quickly draws water back into the cooler when needed. As long as the water level is maintained below the bottle's cap, the bouyancy never becomes a problem.
Versatile labeler
Exiting the cooling unit, bottles pass through air blowers that remove most of the water. Then the bottles enter a Futura 20-P Executive labeler from B & J Machinery (Cincinnati, OH). It replaced a machine that applied full-wrap labels to the glass bottles, an approach that couldn't be used for the plastic pinch-grip container. The new labeler handles both cold-glue front-and-back labeling for plastic bottles and full-wrap labels applied with hot melt to glass.
"Because the plastic bottle has the hand grips, it has to be oriented before labels are applied," says Malecha. "Otherwise the labels wind up in some pretty funny places. One thing we heard about this labeler is that it's good at detecting the notch on the bottom of the bottle that makes orientation possible. It's true, too. Things are running well."
Bottles enter the labeler via feed screw and starwheel and settle on one of 20 platforms. Orienting is accomplished in the feed screw, which is roughly 6' long. Opposite the screw is a guide rail that holds bottles up against the screw. Bottles are made to rotate while in the grip of the screw until the notch at each bottle's base engages an orientation rail. Once there, the bottle ceases to rotate and is handed off to a starwheel that maintains orientation mechanically.
Front labels are attached first and back labels second. But as Malecha explains, the machine handles far more than just front and back labeling.
"We bought appropriate change parts for the forty-eight ounce pinch grip, parts for another plastic bottle [not in use yet], and parts for full-wrap labels on three sizes of glass: fifteen, twenty-four and twenty-five ounces. So the machine as it sits out there has change parts for five different bottles."
Easy changeover
Changeover from glass to plastic or vice versa is aided by no-tool changeover features. For example, roller stations that apply the hot melt for wraparound labeling of glass are height-adjustable by means of knobs. Cold glue labeling stations are similarily height-adjustable. Malecha estimates changeover from glass to plastic or vice versa takes about an hour. "We do it off-shift," he adds.
Dud detection is next in line, performed by a Turbo Trak Pressure Vacuum analyzer from TapTone® (North Falmouth, MA). It employs an electromagnetic proximity sensor that measures the curvature of the induction-sealed foil liner. Once the apple sauce has been cooled, a vacuum created inside the jar will cause the foil membrane to be sucked down slightly into the bottle. If the liner isn't properly sealed, the liner won't adopt the concave shape. The sensor will detect that and send a signal to reject the container.
"Dud detection is a big part of this container conversion," says Malecha. "Everyone said, 'Sure, you can put sauce in a plastic bottle and you can cap it and induction seal and label it.' But the question that kept coming back was, 'What do you do to make sure your seals are good?' We needed a system to kick a bad seal out should there be one, and this is it.
"What's really intriguing to us," he continues, "is that the same system also inspects the metal lug closure on the glass jars. We select a preprogrammed function and the dud detector automatically adjusts to accommodate that bottle. TapTone did a really nice job helping us to set it all up."
In fact, that spirit of teamwork permeated the whole project, says Malecha. "We had great input from container and machinery suppliers as well as our own people from corporate and local. People rolled up their sleeves and went to work on this one."
No wonder the glass-to-plastic conversion is succeeding.
Companies in this article