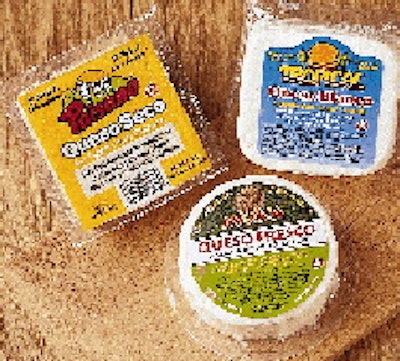 By 2005, Tropical Cheese Industries plans to double its business. One way the Perth Amboy, NJ, company expects to reach that lofty goal is to automate some of its packaging functions.
Early last year, for example, the small specialty cheesemaker added a new checkweigher and metal detector that have reduced product giveaway and freed operators to handle more pressing quality control tasks. And as Packaging World went to press, a label printer/applicator was also being integrated into the line. The Cornerstone(TM) checkweigher is from Hi-Speed Checkweigher (Ithaca, NY), the Zero Metal Free Zone detector from Safeline (Tampa, FL), while the print-and-apply unit is supplied by Auto-Labe (Ft. Pierce, FL).
Every week, as many as 70ꯠ packs of cheese are checkweighed on the line, which runs five days/week, 16 to 18 hours/day, followed by a washdown. The line produces cheeses that are marketed in Hispanic communities along the Eastern Seaboard, from Boston to Miami.
Cheeses are vacuum-packed on two new Multivac (Kansas City, MO) Model 3200 units. These machines were just being installed at press time. They use film rollstock from Cryovac Div., Sealed Air Corp. (Duncan, SC) that Tropical Cheese describes as a high-barrier coextrusion of nylon and Surlyn® from DuPont (Wilmington, DE).
Greater accuracy
Before adding the equipment, "we had a person on each shift who would weigh a limited [random] number of packages every hour to gain representative numbers that we used for the lot," recalls Tom Honse, vice president of operations at Tropical Cheese. "We checked about five thousand packages a week." Because that process was so imprecise, he says, giveaway "as high as two ounces per package," was measured.
The time it took for a quality control person to manually remove packages from the line, weigh them, document their weights and bring the packs back to the line was troublesome enough when Tropical Cheese was producing small volumes. But as volumes increased, so did the amount of time for checking weights. That prompted the family-owned business to look for automated equipment to do the job.
Before Tropical Cheese added any equipment, it examined several options. The caustic washdown essential to the dairy facilities' sanitation demanded rugged machinery that was easy to clean. "We wash down our entire manufacturing line every night, and the new equipment had to be able to function under harsh conditions," says Honse.
"The Cornerstone is perfect for a company like ours," Honse explains. "It can handle our caustic washdown environment. Its modular configuration makes it easy to maintain, and our giveaway is now averaging less than one ounce per package for our twelve-ounce pack."
He also likes the fact that the systems are integrated. "The weight information from the checkweigher is fed by software to the new Auto-Labe labeler so that the correct weight is printed on the label and applied to the product," says Honse. "The Cornerstone design enables us to integrate the machines and use the checkweigher as a prepricing machine."
Better QC
For Tropical Cheese, the checkweigher/metal detector combo not only reduces giveway, but also enhances quality control efforts. The metal detector checks for metal contamination, rejecting suspected metal-contaminated packs of product with a pneumatic reject arm. That pack is immediately sent to the lab for investigation. Over- and under-weight packs of cheeses are diverted to reject bins for rework.
"This equipment has improved the quality of the product that goes out the door," Honse contends. "Automated checkweighing allows our QC person on the line to tend to more important QC duties."
Automation in itself also benefits QC at Tropical Cheese. "The less the cheese is handled, the less chance for contamination," explains Eva Rodriguez Szewczyk, quality assurance and quality control manager.
Tropical Cheese focuses closely on stringent quality control measures. "Because fresh cheese is delicate, lack of strict standards would be professional suicide," notes Szewczyk. "Maintaining a high level of sanitation is more of a challenge when production levels increase. This is why we needed the Hi-Speed and Safeline equipment," she adds.
Szewczyk says the equipment improves the company's production efficiency. Both Szewczyk and Honse say that while the company previously checked weights on only 5ꯠ packs/week, that number is now in the 60ꯠ to 70ꯠ range. "Our volume is up about ten percent more this year than last," says Honse. "And now we're able to checkweigh each package of cheese." That improves the QC process.
Quality of the end product is especially important to the consumers. "To Hispanics, fresh cheese is a staple, as common as wine in France," she says. "It's used as a breakfast food, on salad, as an accompaniment to rice, for everything."
Future automation?
Honse says the Cornerstone uses a modular design whereby the two machines are basically incorporated as a single unit controlled by one PC-based controller. Another benefit, the company believes, is that the equipment permits quick changeovers. "We conduct changeovers between two and about ten times a day, depending on which day of the week it is," says Honse. "We tend to make more changes late in the week to meet orders. But the changeovers can be done in less than a minute on a touchscreen, without tools."
Before reaching the checkweigher/metal detector, cheese is processed and cut into chunks as small as 7 oz or as large as a 5-lb loaf. Cuts of cheese are conveyed to the new Multivac machines. One machine produces smaller retail packs six-up; the other handles larger loaves three-up. Honse estimates that the new machinery helps Tropical Cheese produce as much as 1귔 lb/hr more than was possible on the equipment the new Multivacs replaced. On the machines, cheese is loaded into cavities created in the forming web of the Cryovac film. Lidstock is then heat-sealed to the lip of the forming web to seal the pack. Depending on the product, lidstock may be unprinted or reverse-printed in up to eight colors.
Packs discharge from the Multivacs and are conveyed to the checkweigher/metal detector combo. Packs are spaced just more than 1' apart as they go through the combination unit. If metal is detected, the pneumatic arm rejects that pack. Satisfactory packs proceed onto the weigh belt. Hi-Speed's Checkmate 2 PC-based control system weighs the pack before it continues onto a discharge belt where underweights are rejected on one belt, overweights on another.
Packs in the proper weight range are subsequently pressure-sensitive labeled on the Auto-Labe machine. Some packs include a separate nutrition facts label. The Checkmate outputs the net pack weight via a signal from the checkweigher's RS-232 serial port to the labeler's control system.
Once labeled, packs are brought to a refrigerated area for storage prior to manual case packing, palletizing and stretch wrapping. According to Honse, about 60% of Tropical Cheese's volume is sold at retail, 40% to foodservice accounts.
Company president Albert Mendez notes, "The Hi-Speed and Safeline equipment enable us to increase our production, while maintaining the quality, safety and originality of our cheese." And as Tropical's volume grows, the automated equipment will become even more important.
Companies in this article