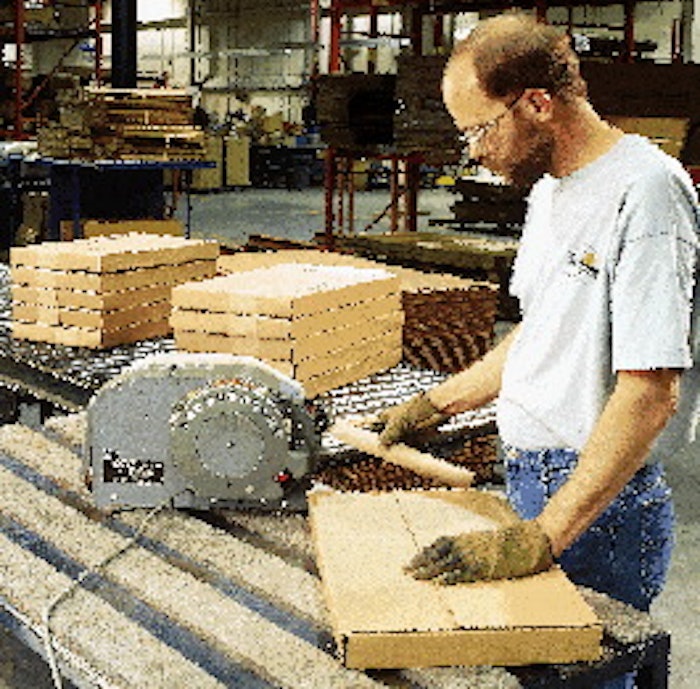 Every week, Steelcase ships more than 700 truckloads of specialized office furniture from its massive Grand Rapids, MI, manufacturing facility. One way the company makes sure its award-winning products make it from the manufacturing site to customers without damage is by securing shipping cases with reinforced gummed tape.
"We use thousands of feet of reinforced gummed tape every day to meet our packaging needs," explains Gary Meengs, a Steelcase senior packaging engineer. "For this plant, reinforced gummed tape is a good option because it's durable, easy to work with and quick-sealing."
Meengs describes the reinforced gummed tape as a material that's made with two layers of kraft paper with nylon in between. He says that unlike some tapes that adhere just to the surface of the material they're applied to, the gummed tape is activated by moisture so that when it's applied to a corrugated box, the moisture is absorbed through the box surface and into the corrugated flutes, thereby forming a solid bond.
Meengs and Rick Anthony, also a senior packaging engineer, are strong proponents of the Better Packages (Shelton, CT) tape dispensers used in several packaging operations at the Grand Rapids plant to automatically dispense specific lengths of the tape. Steelcase purchases these dispensers through distributor Nichols Packaging and Production Supply (Muskegon, MI). Nichols also supplies the 3"-W tape that's manufactured by Intertape Polymer Group (St. Laurent, Quebec, Canada).
"We use extra-heavy-duty reinforced tape, and the Better Packages dispensers can handle this kind of tape," Anthony says. Other machines, the engineers say, had difficulties with consistently dispensing and cutting short pieces of tape when they were required in quick succession. "These dispensers are durable, and if something does happen to them, they can be repaired instead of having to be replaced," says Anthony.
The plant uses nearly 200 of the Better Packages dispensers, some of which have been in operation for at least 25 years, according to Meengs. "We've added them throughout that time as we've needed them. They've been extremely durable, and they've given us quite a bit of flexibility."
Flexibility is important, he contends, because "we're not a company that runs the same products for two days straight. We're a job shop. Every day we produce to fill customer needs. There's a huge variety of orders, and we produce literally thousands of SKUs, most of which are packed in corrugated boxes that we seal with the gummed tape."
Desk parts packing
Several of the dispensers have been added in the past two or three years, many to replace older machines in an area where Steelcase packs modular computer desk parts. Designed for ergonomics, these parts represent a key product line for Steelcase.
Products are usually brought to packaging stations by conveyors or on pallets. Desk parts are packed at one of three packing "lines," each containing three to eight stations. Each of these stations is equipped with one or two Better Packages dispensers. Electric dispenser models 555-S and 554 Duet are used frequently in this particular area.
To load a dispenser, a Steelcase worker opens a back cover on the machine, sets in a roll of tape and feeds the tape end underneath a plate and feedwheel. It's then ready to dispense tape.
The machines have color-coded push buttons to make it easy for operators to dispense a specific length of pre-wetted tape as needed. For example, one machine might have 11 push buttons. By pressing the first button, the machine might dispense a 6" piece of tape. Pushing a second button would deliver a 9" length, with each subsequent button providing a piece that's longer by 3".
But in most instances, Meengs opts for simplicity. "We prefer the two-button machines because we tend to only need one or two lengths [for a particular box]. There's no sense in adding complexity if we're not going to use seventy-five percent of the settings."
Quick-setting tape
To dispense the tape, a worker pushes the button for the desired tape length. A motor-driven feedwheel pulls the tape from the roll and pushes it over moistening brushes that fully wet one side of the tape.
The brushes connect to a heated water tank that's beneath a high-density polyethylene bottle that holds about 1 L of water. The water from the bottle descends into the tank. As the tape passes over the brushes, just enough water is applied to the tape to activate the adhesive without applying too much water. Excess water tends to make the tape overly slippery. Workers then have difficulty getting the tape to adhere to a specific area on the box.
The machine pushes the length of tape out the front of the dispenser, and a blade neatly cuts it from the roll. The operator pulls the cut length of tape from the dispenser and applies it to the box. Manual compression helps the glue in the tape set in about 10 seconds.
Flexible fit
Steelcase relies on nearly a dozen different box suppliers to provide the variety of case shapes and sizes needed for its different office furniture products. For computer desk parts and other office furniture, boxes can range in size from 4" x 4" to 120" x 48".
"The length of tape we use depends on the product," says Meengs. "We use the dispensers quite a bit with office chairs. For those we may use thirty-six- to forty-two-inch tape lengths."
Adds Anthony: "We probably have forty Better Packages dispensers in the computer furniture plant alone."
Once a case is sealed with the gummed tape, an operator hand-applies a computer-generated label onto the box. This label includes customer name, a bar code, box weight, truck routing and destination details. Meengs says there's nothing new or unusual about the labels.
Labeled cases are manually loaded onto a pallet. Some are stretch-wrapped. Pallets are placed on a conveyor that gently takes them to the site's distribution center. Outdoors, this trip can be as lengthy as 1/4-mile. The conveyor is covered to protect loads from the elements. At the distribution center, pallets are loaded onto trucks for distribution to customer outlets. Steelcase uses its own fleet of trucks and ships by common carrier as well. Steelcase also exports worldwide.
Hands-on benefits
The gummed tape offers Steelcase's customers the benefit of not having to remove plastic tape from corrugated boxes. "We see a trend toward environmentally friendly packaging," says Anthony, "and the packaging products we use are recyclable-that's what our customers want."
While he notes that recyclability is "an important bonus, we use reinforced gummed paper tape because of its reliability and strength."
Meengs summarizes: "We build furniture to a customer's order rather than just filling a warehouse with parts. Because of the variety of sizes, styles and shapes we use, there's little automation in our packaging process. It's a hands-on operation, and the Better Packages dispensers fit our needs perfectly."
Companies in this article