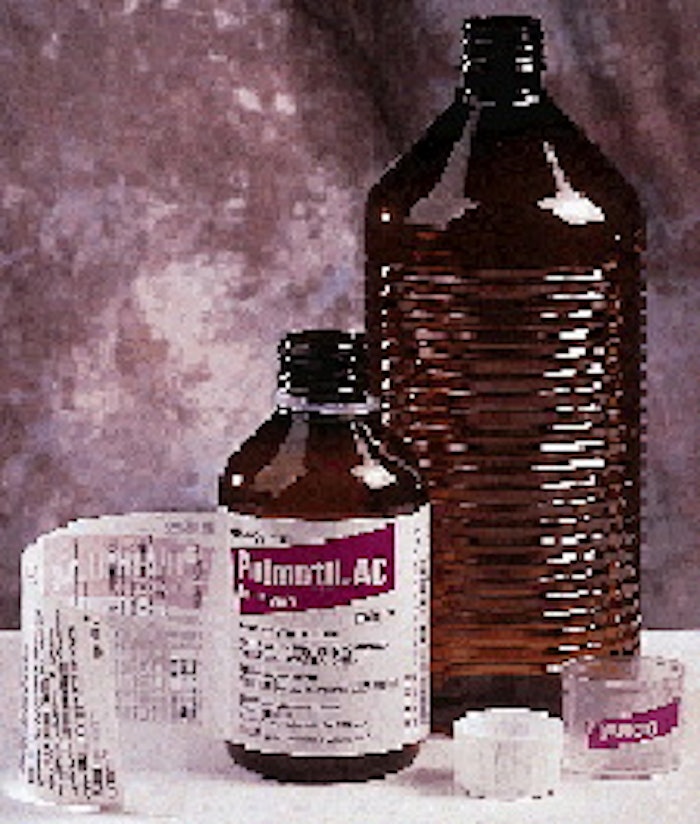 The superior heat resistance and gas barrier properties of polyethylene naphthalate have attracted plenty of attention during the past few years. Beverage marketers in particular have been anxious to test PEN's ability to hold carbonation and withstand pasteurization and hot-filling.
One of the latest applications of this promising material comes not from the beverage industry but from the veterinary drug sector. Elanco, the veterinary products division of Indianapolis-based Eli Lilly and Company, is now launching Pulmotil®AC in 250-ml and 1-L PEN bottles injection/stretch blow molded by Bormioli Rocco (Parma, Italy). Bormioli uses Shell Chemical's (Akron, OH) Hipertuf® 90000 homopolymer PEN resin and Aoki (Elk Grove Village, IL) single-stage equipment to make the custom bottle.
"It's the first PEN bottle produced commercially by Bormioli," says Lilly's Bruno Van de Pol, packaging engineer. "They had plenty of experience with PET [polyethylene terephthalate], but they had some learning to do with PEN.
"We're not specialists when it comes to new materials," he adds. "For that we rely on the partnerships we have with our suppliers. That is where Shell came in."
A treatment for respiratory infections in pigs and chickens, Pulmotil AC is reaching distributors in Italy as Packaging World goes to press. "As we get [regulatory] authorization elsewhere, we'll go there as well," says Van de Pol. The intention, he adds, is to ship Pulmotil AC into many markets around the world.
According to Van de Pol, the use of PEN, still a relative newcomer among packaging materials, is a departure from Lilly's usual tendencies.
"Normally we rely on proven packaging materials," says Van de Pol. "After all, proven materials are used in large volumes, and the more people use them, the more affordable they are for us. But the standard container for a liquid like this is glass, and for this application, glass wouldn't do. The product is used out in the field, where shattering is a problem."
When top management was shown that PEN not only is shatter resistant but also offers a good barrier to oxygen and ultraviolet light that might damage Pulmotil AC, they were convinced that PEN, though far from a standard resin, was the way to go. Yes, says Van de Pol, it's pricey compared to other plastic resins. But its cost is more easily justified when the liquid inside is an equally pricey veterinarian product as opposed to, say, a soft drink or beer.
Shatter resistance, weight reduction
"Shatter resistance and something like an eighty-five-percent weight reduction compared to glass made plastic attractive," says Van de Pol. "But weight reduction, though appealing from a distribution cost standpoint, was never a prime motivation. Shatter resistance was."
Development of the innovative packaging dates back to 1994 and the National Plastics Exposition in Chicago. That's when Lilly's Indianapolis-based Global Package Technology and Development group encountered PEN at Shell's booth.
"At the time, other barrier plastics didn't seem to have the properties we needed," says Tim Dearth, a senior packaging engineer in the group. "After the show, we received samples of PEN bottles that Shell had made. We used them for preliminary stability studies." The availability of these bottles, says Dearth, made a big difference in the overall timeline of the development work.
"Once we determined that PEN was the way to go," says Dearth, "Bruno Van de Pol in our Belgian office was tapped as the project's packaging engineer because it was a corporate decision that the best place to manufacture and package this product was in Europe."
According to Dearth, PET was evaluated, too, and it might have been deemed acceptable if not for its poor moisture vapor transmission rate. This allowed product to be lost through, essentially, evaporation. The amount of medication lost in a PET bottle justified the added cost of PEN.
"The other drawback we would have encountered with PET is that because the product is suspended in liquid, if we lose some of that liquid through the sidewall, the product could become more potent than it's supposed to be," says Dearth.
Even after PEN was selected as the material of choice, considerable development work remained. A significant design contribution was made by Plastic Technologies Inc. (Toledo, OH).
"They played a pivotal role in designing the container," says Dearth. "At the time, PTI was one of the few companies working on PEN, and Shell had a relationship with them, so it became a joint development."
Ribbed sidewalls
One lesson learned in the course of development was that the container's sidewalls needed to resist collapsing or "paneling," caused by the vacuum that forms inside.
"The product absorbs oxygen in the headspace, which creates an internal vacuum pressure and causes the sidewalls to be drawn in," explains Dearth. "We designed the ribs in the sidewalls to help prevent that from happening, and if you hold the bottle in your hand you can see why it works. It's a tough little bottle."
Shelf life data is still being finalized. Accelerated tests, says Dearth, indicate a two-year shelf life is easily attained. "We're awaiting real-time tests to confirm that," he adds.
Container weights are 19.5 g for the smaller bottle and 40 g for the 1-L size. Each takes the same 28-mm threaded closure, also supplied by Bormioli. Injection-molded of polypropylene, the closure has a breakaway tamper-evident band. It comes with a laminated liner that includes a layer of foil for oxygen barrier.
Induction sealing of the cap was considered, says Van de Pol, but Lilly's marketers felt the user in the field might have trouble removing an induction seal. The backing material behind the foil, he says, is an expanded, foam-like substance. When the foil is pressed down to the land of the bottle finish, there's enough flexibility to result in a good seal.
Over the cap is a snap-fit PP dosing cup. It's applied by the same contract packager that handles filling for Lilly.
Extended-text labels are supplied by Inprint Systems (St. Charles, MO). The Incirc(TM) label has three components: pressure-sensitive, adhesive-coated white paper, printed offset in two colors; extended-text portion, which in this case is a single paper page printed offset in one color on one side and two colors on the reverse; and an overlaminate of 50-micron (nearly 2 mils) PP. The end user peels the top two layers away from the paper label that remains adhered to the bottle, thus exposing printed information on the reverse side of the extended text portion. Remaining adhered firmly to the bottle is the p-s paper label with name and product information. The extended-text panel hangs from it like a hinged door.
Now that initial quantities of Pulmotil AC in PEN bottles are reaching the market in Italy, Lilly marketers look forward to expanding distribution of the product in other parts of the world. Van de Pol is confident the PEN bottle will help make this new product available on a global basis.
Companies in this article