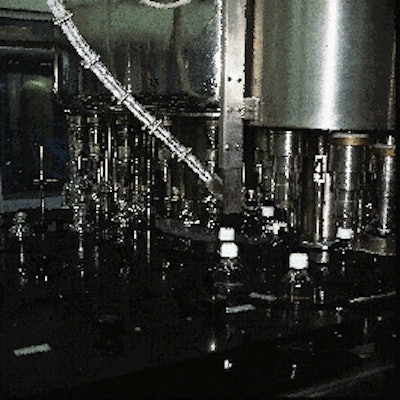 There's nothing like having a clean slate when it comes to planning a new bottling line. Just ask Andre Radermaker of Natural Glacial Waters, a startup bottled water marketer based in Vancouver, British Columbia, Canada. Radermaker is operations manager at the firm's newly built production facility on Vancouver Island near Fanny Bay.
"Many times a bottling line has to be designed for an existing structure you move into and adapt for your purposes," says Radermaker. "But this building was designed and built specifically for in-line blow molding and filling of PET containers. From a sanitation standpoint, it's exactly what you want.
"The filling room has a two-percent slope to the drain for quick, sanitary drainage of water. Corners are rounded where the wall meets the floor to make cleaning easy and effective. And throughout the building, an epoxy finish makes the floor easier to clean and seal against contamination compared to concrete or other surfaces."
This passion for perfection is driven partly by the firm's belief that it is marketing some of the purest water on the planet. The source for NGW's Névé brand is a glacier, while the Canada Icefield brand comes from a snowcap mountain range.
All the equipment in the integrated blow-and-fill line is brand new, from the Krupp Corpoplast reheat-and-blow system at the front (see Packaging World, September '98, p. 34) to the pallet wrapper at the end. Prodigious speeds, however, took a back seat in the design and layout of the line, which is built to blow mold and fill no more than 120 bottles/min. Management views this line essentially as an opportunity to perfect the art of blow molding and filling in-line on a modest scale. Then the company plans to use the experience gained to build faster lines that run just as smoothly in the same plant.
Four sizes
Bottles are produced in four sizes: 500- and 710-mL and 1- and 1.5-L. NGW buys preforms from two vendors currently, but management is actively exploring the installation of its own injection-molding equipment.
Bottles move from the blow molder directly to the filler via an air conveying system from Conveyor Systems, Inc. (Sanford, FL). From framework to air-flow manifold to neck-ring supports, the system is solid stainless steel. That sets it apart from comparable systems, which typically incorporate components made of plastic or other flexible materials. Says Conveyor Systems' Tom Barfell, "Workers in canning and bottling plants have a tendency to crawl all over a system like this. If it's made of stainless steel, it can stand up to that kind of abuse."
The air-flow manifold along which bottles move is 8" in dia and stretches about 120'. Inside, bottle neck rings are supported on stainless-steel brackets. Air directed at bottle sidewalls propels the bottles forward. Regulating valves operated manually allow adjustment of air flow every 2' along the length of the manifold. This results in less surging and an overall smooth transport.
Because the air blown at the bottles is directed well below the bottle finish, chances for contamination are greatly reduced. "In our QC lab we do swab tests of bottles before and after they are conveyed down the track, and we see very little contamination pickup," says Herman Poon, vice president of business development at NGW.
One feature especially useful on a line where any one of four bottle heights may be in production is the hinged discharge section. A single operator using a hand crank can raise or lower this 5'-long section when bottle height changes. It gently deposits the bottles single-file on a tabletop conveyor leading through a glass wall into the filling room. Measuring about 12' x 15', the glass-enclosed filling room is overpressurized with HEPA-filtered air to help keep contamination out. An added sanitation measure is a ceiling-mounted filter equipped with an ultraviolet light that kills airborne bacteria.
Occupying most of the filling room is a monoblock rinser/filler/capper from Ave, an Italian manufacturer represented in the U.S. by Horix (Pittsburgh, PA). It consists of 24 rinsing stations, 24 filling stations and six capping stations.
"We like it for its small footprint, reliable bottle transfer features, and solid reputation," says Radermaker. "Also, with the four bottle sizes we produce, quick-change capability was important. There are a few parts to change at the front end, starwheels and guides mostly, and that's it."
The rinser rinses with ozonated water, "currently considered one of the most effective rinses available," says Radermaker. Soon to be added to the filling room is one more sanitizing device, a sterilizing UV tunnel through which threaded closures will pass on their way down from the overhead hopper. "We believe all components must undergo some form of sterilization," says Radermaker. Both sport cap and conventional threaded closures, 28 mm for all four bottle sizes, are used.
Gamma ray detection
When bottles exit the filling room, they pass through a fill-level detection system from Peco Controls (Milpitas, CA). Relying on gamma- ray technology, it sends a low-level energy pulse through the bottle. If a receiving sensor on the other side registers the wrong density level, it means the fill level is incorrect, so the bottle is automatically rejected. The Peco system also uses photoelectric sensors to detect and reject bottles with cocked or missing caps.
On their way to the labeling machine that's next in line, bottles are conveyed past an Alvey Systems (St. Louis, MO) accumulation table. It provides about four minutes of accumulation time when the small 500-mL bottle is running and about two minutes on the 1.5-L size.
Labeling is done on a roll-fed unit from B&H labeling (Ceres, CA). An incoming bottle is detected by photocells and causes the label feed to advance label material. The label cutter is driven by a servo motor whose encoder tracks precisely where the motor shaft is in its 360° revolution. The position of the shaft is relayed to a motion controller from Ormec (Rochester, NY). With this information, the motion controller "knows" when to signal the cutter to cut a printed label from the roll in register.
Once cut from its roll, the label is transferred onto a vacuum drum and a small seam of hot melt glue is applied. The vacuum drum rotates to apply the label to an incoming bottle and the label is rolled onto the container.
Supplied by MRI Flexible Packaging (Newtown, PA), the labels comprise a 1.1-mil white polypropylene, surface-printed in seven colors, with an adhesive lamination of 0.5-mil clear PP that traps and protects the ink.
"Many water bottles out there have glue-applied paper labels," says Radermaker. "With these roll-fed film labels, there's no color fade and no susceptibility to moisture damage." The labels also are easily removed, adds Radermaker, which makes them more suitable for bottle recycling.
Radermaker concedes that MRI's Pennsylvania location makes them something less than neighbors. "But they're a proven manufacturer, and they're large enough so that we can count on them when we grow," says Radermaker. "We have bold expectations, and we want to align ourselves with suppliers we think can keep up with our growth."
Labeled bottles pass through a Solo 5 ink-jet coder from Domino Amjet (Gurnee, IL). The year, month, day and time all are printed on the bottle shoulder.
Fork in the line
Next, bottles can be sent down one of two paths for secondary packaging. For customers who want corrugated shippers, a case erector and drop packer are planned. For customers not interested in that much corrugated protection, bottles can be sent to a shrink bundler from Arpac (Schiller Park, IL). "The shrink bundler gives us an unsupported pack with just film and no corrugated at all, or it produces a bundle with film plus a flat corrugated pad, or film plus a corrugated tray," says Poon. "We think tray plus film will be most popular, but it's nice to be able to produce the other presentations, too." One piece of equipment soon to be ordered, adds Poon, is an automatic handle applicator for bundles wrapped in film only.
After secondary packaging, palletizing and stretch wrapping are all that remain. The former is handled by an N-500 system supplied by Crown Simplimatic (Lynchburg, VA).
"It's a pick-and-place style of machine that allows us to change pallet patterns easily," says Poon. Up to 14 pallet patterns are preprogrammed into the system and can be called up quickly at the touch screen control panel. Incorporated is an automatic slip sheet placer that uses vacuum pick-ups to place paperboard slip sheets between layers.
The stretch wrapper is from ITW Mima (Tamarac, FL). Its gantry-mounted arm brings the roll of film around the pallet load, which remains stationary. Poon believes this helps keep loads neater and less likely to loosen up than systems in which the pallet rotates. He also likes the automatic top sheet applicator that's part of the machine. It keeps packages clean during distribution and storage, which is particularly helpful as NGW explores export markets in, among other countries, Japan.
Operators on the line do more monitoring than operating. "Our goal is to install a similar line right beside this one and not add any operators at all," Poon says. Another goal is to add 47ꯠ sq' of plant space to the existing 38ꯠ sq'. All warehousing would then be moved to the added-on section, while the current plant would be dedicated to blowing and filling lines. Ground has already been cleared for this expansion.
In the meantime, Poon and Radermaker and their colleagues continue to add finishing touches to the existing line. Systems integration will soon provide better machine-to-machine communication. For example, the PECO fill- height detector will be linked to the filler to signal the filler to shut off automatically if more than five bottles are ejected in a row. Also, management will be able to call up a central report providing real-time data on the entire line.
When these and other finishing touches are completed, the company will know if the blow-molding and filling line as built is as seamless as the one management envisioned many months ago. Assuming it is, it should be time to build the next line.
Companies in this article