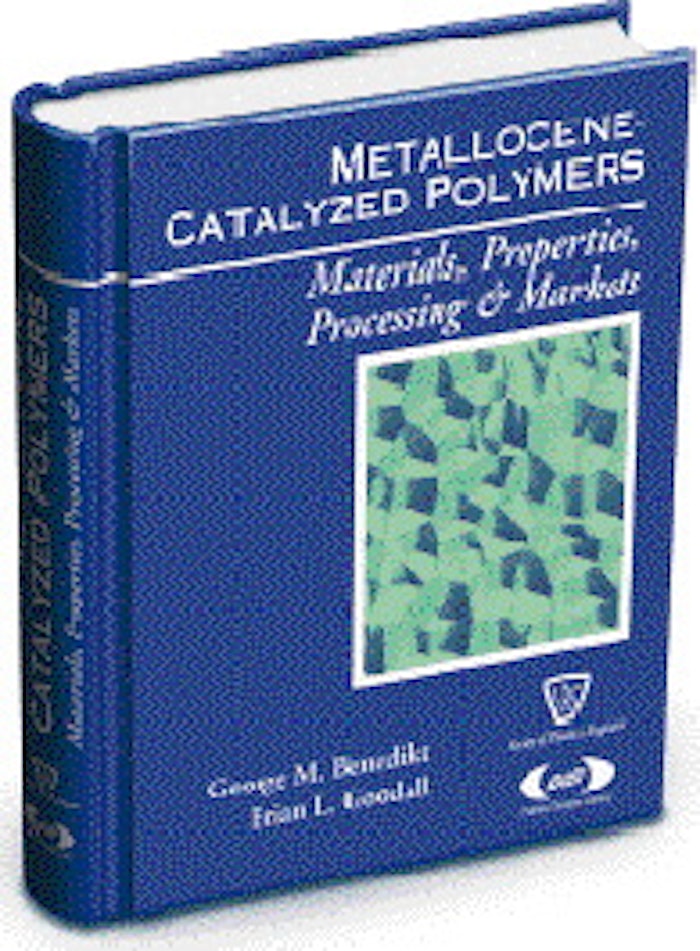 Now, a hard-cover book, Metallocene-Catalyzed Polymers-Materials, Properties, Processing & Markets, brings together a collection of papers presented at various industry meetings that describe metallocene advances and uses. It's co-published by Plastics Design Library and the Society of Plastic Engineers and is available for $160 through William Andrew Inc. Publishing (Norwich, NY).
Make no mistake, this nearly 400-page book is not of the coffee table variety. It's densely packed with complex graphics, some of which look like they were taken directly from the papers used by their respective authors in delivering the presentations. Combined with its smallish type size, the book is a bit intimidating at first glance.
Esthetics aside, the book aims to educate professionals involved in the development, use, production, marketing or testing of metallocene-based resins. Contributions from major industrial suppliers and academia review the historical origins of these catalysts, which reportedly were first discovered back in the '50s, sprinkled in are helpful conclusions and future outlooks.
Nearly 50 papers are included in the book. They're grouped into four areas: materials, properties, processing and markets. The last area provides general overviews that look at where this technology is headed, as well as specific attempts to use metallocenes to replace commodity polymers.
In a chapter called, "Metallocene capabilities drive success of innovative packaging manufacturer," the author cites a study that says the market for metallocenes was 671 million lb in 1995, with that number expected to rise to 941 million lb by 2000. At the heart of that optimistic forecast are the customer benefits metallocenes are reported to provide: superior sealant/hot tack to help increase f/f/s speeds, improved clarity, oxygen transmission characteristics, puncture-resistance and downgauging opptunities.
In the book's Foreword, BFGoodrich's George Benedikt and Brian Goodall report that "at present, the volume of commercial polyolefins generated using metallocenes totals less than ten percent of total polyolefin production capacity. Considering the huge investments that have been made in metallocene research and development, it is safe to conclude that this situation will change...Food packaging films, impact modifiers in blends, molded goods for medical and other durables, as well as foams and adhesives are just the first commercial target markets."
Refreshingly, the book acknowledges economic issues. "Since large-scale metallocene production is in its infancy, current prices reflect high development costs and minimal economy of scale," writes Boulder Scientific's Jeffrey Sullivan in the book's first chapter. "Costs are influenced by the number of production steps, overall yield and raw material costs...Since most metallocenes are labor-intensive, considerable im<> provement in production methods, scale and ultimately, costs should be realized in the next five years." (JB)
Companies in this article