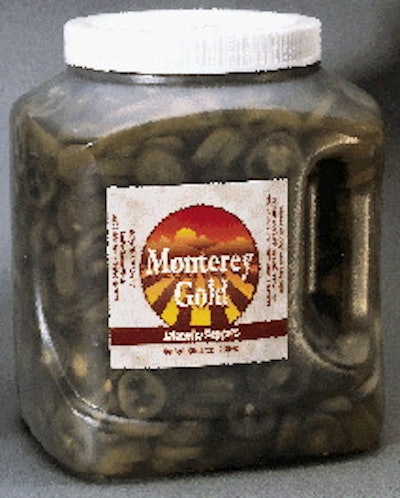 A versatile new square jug molded with a grip feature has Pacific Choice Brands excited. Not only will the company triple its use of the container in '98, but the number of products packed in it will widen this year.
That's really good news for Pacific Choice Brands, and for Continental Plastic Containers (Norwalk, CT), the container molder. However, Pacific Choice, a Fresno, CA, food packer, is staring down the barrel of El Ni"o and its limitations on California harvests. Although it wants to increase sales of products in the container, it knows it will be hampered by reduced supplies of jalape"o peppers, the only product that has thus far established a history with the container.
"Our first customers had a very good reaction to this new container," says Bonifacio Villalobos, technical director for Pacific Choice. "Customer response to the container was strong last year. That's why we're expecting our usage to triple this year."
Pacific Choice is a versatile food packer with a majority of sales serving as a copacker or contract packager of some 400 different products. It does market some product under its own labels, including Monterey Gold. Originally, Continental brought the container to Pacific's attention when it was still in concept stage. The blow molder's Lamicon® technology produces a six-layer bottle primarily of polypropylene, but with ethylene vinyl alcohol copolymer for its oxygen barrier properties. This container was designed primarily as a convenient replacement for #10 steel food cans, the staple of the foodservice market. Foodservice, however, was not the primary market for Pacific Choice, nor for most of its customers.
In packing jalape"o peppers, most of Pacific Choice's copacking volume was in smaller retail-size jars. However, when these retail marketers saw the barrier plastic jar, they saw it as a way to move into foodservice distribution, says Villalobos. In the past, some of these same customers were buying peppers in #10 cans packed by Pacific Choice or by companies in Mexico. "These were the companies that saw the value added by this container," says Villalobos. "They saw this container as helping them develop a new, more upscale market."
Small runs last year
When Pacific Choice packed jalape"o peppers in the new jar to show to one of its copacking customers, "they were really interested, so we made some sales samples for them, and later we did some small production runs," says Villalobos.
Some of this was done on virtually a manual basis, but Pacific Choice saw the potential and purchased the equipment needed to be able to pack the product in a fairly automated fashion. While it was able to use an existing filler, Pacific Choice did add a capper, labeler and an induction-sealing system.
Although this container is capable of being hot-filled, the jalape"o pepper wheels are, in fact, filled at ambient temperatures and later pasteurized. The hot-fill capability of the container is now being tested for some sauces. Regardless of filling technique, the company codes the container for a 24-month shelf life, the same as for #10 cans.
"The primary benefit of this container is that the customer can see the actual food inside," says Villalobos. "The visibility of the product is a big issue. Although polypropylene is typically not very clear, once the product is put into these jugs you can see it quite clearly where it's in contact with the sidewalls."
More costly, more benefits
For Pacific Choice, this new jug is more costly to pack, but it also offers more benefits to the company's copacking customers.
"This package offers better value and a safer package to the foodservice outlet. That's because you don't have the possibility of injuries you can experience with sharp edges on metal cans. Reusability of the container is another issue that some of our customers like. When some of the product is used, the cap can be replaced and the jug can be stored in the refrigerator. That doesn't happen with #10 cans," points out Villalobos.
Disposability is definitely better. In some areas, the container can be recycled; in others, it can be reused. Villalobos claims that even pepper juice isn't a problem with residuals. "Actually, it cleans up rather well" for reuse, he says.
For its limited use thus far, Pacific Choice uses a 110-mm cap from Phoenix Closures (Naperville, IL) with an inner seal that not only avoids leakers but also provides tamper-evidence. The addition of induction sealing and the new labeler, Villalobos says, is what makes the new container a bit more costly to pack.
However, the new package has been so well received that Pacific Choice customers have sold all they had. Now they have to await the next harvest. As well, Pacific Choice plans to pack more of its own products into the new jar. In fact, says Villalobos, the new package was being highlighted at a recent private-label expo in Las Vegas.
Companies in this article