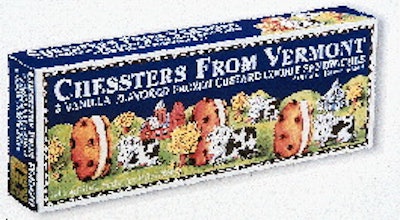 Through distributors, these film-wrapped sandwiches, sold individually, have been available at convenience stores throughout much of New England since the mid-'80s.
But last year the firm hooked up with additional distributors, this time the kind that reach supermarkets. Could Chessters find a home in the supermarket freezer case, Rhino's marketers wondered? Not without a secondary package, says director of sales and marketing John McCarthy. "The format for frozen novelty items in supermarkets is the multipack," he points out.
So McCarthy and colleagues came up with a prototype three-count carton and showed it to Hannaford Bros., a leading supermarket chain based in Scarborough, ME.
"We didn't set out to show the prototype to every supermarket chain in the country, just the ones that had notable success with premium products in the past," says McCarthy. "Hannaford Bros. called back in about two weeks and said they wanted to go with it. Fortunately the prototype was well-developed in terms of art and graphics, so at least that part didn't require too much refining. But there was plenty of copy and other components that had to be ironed out."
McCarthy says it was the second week in January when Hannaford Bros. expressed their interest in carrying Chessters From Vermont in three-count cartons. Just five weeks later, the first shipments left Rhino's door. "It was a scramble," admits McCarthy.
The lively graphics decorating the folding carton were executed by well-known Vermont artist Anthony Sini. "We believe the light-hearted, innovative package design accurately conveys the feelings we hope our customers have for our product," says Rhino marketing specialist Timothy Puro. "The uniqueness of the artwork will also help Chessters break through the clutter in the frozen food aisle."
Rhino purchases the folding carton from Rice Packaging (Ellington, CT). Rice prints the 20-pt SBS board on an offset press in six colors plus coating.
At Rhino, ice cream sandwiches are wrapped at about 65/min on a Mustang flowwrapper from Doboy (New Richmond, WI). A clear 70-ga oriented polypropylene from Shrink Packaging Systems (Nashua, NH) is used.
Cartoning is done manually with an assist from a carton sealing machine from Scandia (Clifton, NJ). Operators open a carton blank and insert three sandwiches inside. The carton is placed on the flighted infeed conveyor of the Scandia machine, which simultaneously seals the flaps on each end. Minor flaps are plowed and tucked, then inner bottom major flaps are folded in and given a bead of hot melt from a Nordson (Duluth, GA) applicator system. Finally, outer flaps are folded over the inner flaps and compressed for sealing. Groups of 12 cartons are placed in corrugated shippers.
"We looked at different options, including bags of various kinds," says McCarthy. "But we wanted to convey that this is an upscale product, a quality product from Vermont, and this package does that best. We don't think there's another product like this right now. And with this package, we're really going to stand out." Rice Packaging, Inc.
Companies in this article
Videos from Nordson Corporation