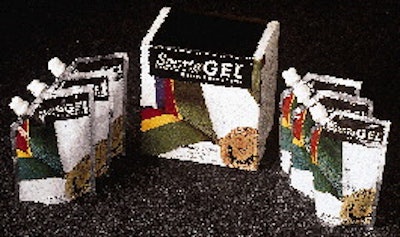 This month, a new spouted stand-up pouch filled in the U.S. with an energy gel beverage will debut in Japan. Also in June, consumers in Germany will be able to purchase a first-of-its-kind 1-L aseptic milk pouch. And out this summer in the U.S. will be a revamped pouch containing modified atmosphere-packed fresh fruit that's frozen for use in fruit "smoothy" beverages. It's filled in Costa Rica.
All three demonstrate how pouches continue to proliferate around the globe. In this report, Packaging World looks at some of the marketing and economic benefits that make the flexible pouch so enticing to packagers of different products. (For more on stand-up pouches, see stories, opposite page, and on p. 46.)
Energetic pouch
Newest among these atypical pouches is an unusual energy "gel" drink that's expected to be introduced to Japanese consumers this month. These vitamin-and-mineral-packed gels reportedly are popular with runners and other athletes in Japan. Called SportaGEL(TM), the beverage is sold by multi-level marketing firm Nu Skin Intl., Provo, UT. Each stand-up, spouted pouch contains 6 oz of product. Six pouches are sold in a colorful paperboard folding carton.
SportaGEL is filled by Advanced Nutritionals (Maple Grove, MN) and shipped to a Nu Skin facility near Tokyo, Japan. AN markets sports drinks and energy gels under its own brand names, but also contract packs for other companies, as is the case with Nu Skin.
AN began filling the product last month on a brand new FBM 10 PMP (flat bag machine/pre-made pouch) from Laudenberg, a company based in Germany and represented in the U.S. by Profile Packaging (Sarasota, FL). Profile notes that AN is the first company to use a U.S.-built Laudenberg machine. AN fills SportaGEL at 35 pouch/min rates, though the machine is rated to operate at higher speeds.
The gel, which contains no preservatives, is hot-filled as a liquid at 185integralF into a spouted pouch from Transflex (Livonia, MI). According to Nu Skin, hot filling is necessary for two primary reasons. First, the gel is carefully formulated for Japanese tastes. An ingredient in the product called pectin must be heated and cooled to create the product's gel-like texture. Secondly, hot-filling sterilizes the product, satisfying U.S. and Japanese legal requirements for the liquid.
Transflex serves as the U.S. sales and marketing company for Flex Industries, a vertically integrated converter based in Noida, India that manufactures the film and converts it into pre-made pouches. The 5.6-mil pouch structure includes an outer 48-ga polyester layer that's gravure-printed in six colors/adhesive/0.00036 aluminum foil/adhesive/4.8-mil linear low-density polyethylene sealant. A 9-mm, two-piece, screw-top fitment injection-molded of high-density polyethylene is heat-sealed into the pouch, which is shipped to AN for filling.
Six filled pouches are manually packed into a paperboard folding carton from Utah Paperbox (Salt Lake City, UT). UP offset-prints the 20-pt solid bleached sulphate board in five colors.
Heading up the packaging for SportaGEL are Jeff Graham, Nu Skin's marketing lead for the company's sports nutrition product management team, and Perry Morris, packaging buyer/specialist. Graham explains that management at Nu Skin in Japan regularly assesses that country's market and competitive packaging to make packaging design and configuration decisions. They then pass their findings on to Nu Skin in Provo, UT.
SportaGEL is the result of such research. Once Nu Skin in Japan determined what it wanted, it consulted with its U.S. arm to execute design, filling and distribution functions. As part of the U.S. team, Morris researched U.S. firms to find a company that could pack the product. "We're a marketing firm, not a packaging company," Graham notes. That search led to Advanced Nutritionals.
"We sent competitive samples to Advanced Nutritionals to find out if they could fill a pouch that would be similar, and they could," Graham recalls. "Most all of our Nu Skin sports nutrition products sold in Japan are filled in the U.S. because we have more people here with expertise when it comes to ordering materials. Our people in Japan are not experienced at ordering materials, so there would be a big learning curve for us to have them do that. We also have strong relationships with U.S. suppliers, so we're able to leverage our buying. We've carefully studied costs and have determined that we have the ability to package our products more cheaply here, despite the shipping costs."
Graham says the company is pleased with its new pouch. Besides the colorful matching pouch and carton graphics, designed internally, the pouch shape provides differentiation. "There are several other Japanese energy gels in six-ounce pouches, but they all lay flat, and they're smaller and more squatty," he notes. "This pouch stands up nicely and provides us with a very unique package in our product line."
Milk pouch first in Germany
Also new this month is Neuburger Milchwerke's 1-L pouch (from rollstock) for a new ultra-high-temperature processed milk called Ko/oonguKuh, which will be marketed in nonrefrigerated areas of retail food stores in Germany. Ko/oonguKuh carries a four-month shelf life and is sold in 1.5% and 3.5% milk fat versions.
The Neuburg, Germany dairy cooperative, near Munich, is the first to use the Elopouch(TM) (see PW, Nov. '97, p. 54) from Elopak (New Hudson, MI). The five-layer pouch coextrusion is 4.75 mils thick. An outer polypropylene layer is printed flexographically in eight colors by Elopak. A tie layer joins the printed PP to a proprietary center barrier layer that prevents gas or water vapor from entering. Another tie layer is followed by an inner polyethylene sealant layer. The pouch measures 5.2" W x 11" L.
The structure comes in rollstock form, with each roll containing enough material for 20ꯠ 1-L pouches. Neuburger Milchwerke can aseptically fill 1-L pouches at rates of up to 67/min, using an Elopak E-P 4000 Aseptic machine, which was developed in cooperation with the Packaging Machinery Division of Robert Bosch GmbH (S. Plainfield, NJ).
According to Udo Reile, general manager of sales and marketing for Neuburger Milchwerke, "consumers in Germany usually shop once a week and buy enough milk for the full week. Because of those purchasing habits, we sell the milk in a wraparound corrugated box that holds six pouches." To use, the consumer places the pouch in a holder or pitcher, and cuts open a corner on the nonresealable pouch to permit pouring. Suggested retail price for the six-pack is about 8 DM (around $14).
The box is sourced through Stone Europa Carton, a wholly owned subsidiary of Stone Contain-er Corp. (Chicago, IL). The B-flute blank includes an outer 30# bleached white linerboard that's flexo-printed in three colors/21# recycled kraft/30# kraft inner liner.
Reile tells PW the milk will initially be sold in southern Germany. He says plans call for sales to expand throughout that country in about one year. To do that, Reile expects the dairy cooperative to install two more E-P 4000 machines, each of which is capable of producing 15 million pouches annually. The first machine began running in late May. Photos, artwork or samples of the Ko/oonguKuh pouch were not available as PW went to press.
'Smooth-y' transition
The third pouch in this report comes from Tropeak®-Alimentos Pro, a San José, Costa Rica-based frozen fruit exporter. Tropeak now markets four flavors of 16-oz fresh-picked, individually quick-frozen fruit in a pouch. Modified atmosphere-packed in Costa Rica, at the company's San Pablo de Heredin plant, Supreme Smoothy offerings are shipped to the U.S. To make a "smoothy," the consumer uses all or a portion of the pouched fruit, adds fruit juice, milk or yogurt (purchased separately), then mixes the ingredients in a blender.
Tropeak introduced the product/pouch combination last year (see PW, August '97, p. 4). Unfortunately, "we had problems with delamination of the former materials," admits Tropeak's general manager Mark Washburn in regard to the initial film structure.
In the last month, Tropeak has switched to a "structure that eliminates our delamination problems," he says. The current 3.5-mil film structure is from M&W Packaging (Jackson, MO). It comprises 48-ga polyester that's reverse-printed by gravure in seven colors/adhesive/3-mil linear low-density polyethylene sealant layer. Rollstock is shipped to the Costa Rica plant. But materials are only part of the packaging changes made by Tropeak for the Smoothies.
Rather than being vertically formed, filled and sealed, pouches are now being modified atmosphere-packed on a Laudenberg FBM Duplex machine. The machine includes a LamiPurg(TM) gas flushing system that uses nitrogen to eliminate oxygen that could otherwise quickly cause unwanted oxidation of the freshly picked fruit. Washburn tells PW that the MAP-packed product's shelf life is now in the six- to 12-month range. That's quite an improvement from the previous pack's four- to six-month shelf life.
Another new element to the pouch is an unusual perforated zipper along the top flange that Washburn says makes it easy for consumers to open. The E-287 zipper is supplied by Minigrip/Zip-Pak (Manteno, IL). The zipper provides secure reclosability for consumers who want to use only a portion of the product and leave the remaining product in the pouch, which can be placed back in the freezer for reuse later. Tropeak considers the zipper a key part of the Smoothy package. The Costa Rica plant ships product to select club stores in the U.S., as well as to retail outlets located primarily in the western U.S.
"When we made the change to modified atmosphere packaging, we had to change our film structure to improve our barrier," says Washburn. "We believe the modified atmosphere process better main-tains the quality of the fruit. And we've also ended our delamination difficulties with the new film."
Companies in this article