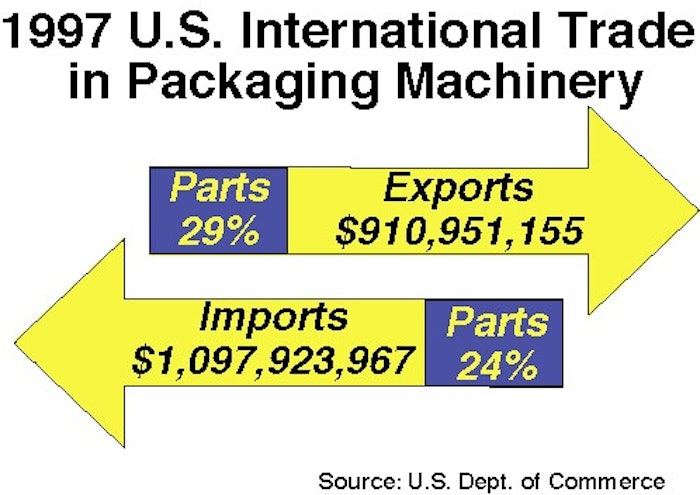 What does your packaging machinery shopping list look like? If it's anything like the litany of packager interests the Packaging Machinery Manufacturers Institute compiles, you've put the following types of equipment near the top of your list:
* Labeling and coding equipment,
* Cartoning units,
* Conveying lines,
* Bag/bagging systems and
* Form-fill-seal machinery
Those five equipment categories have topped the PMMI's lists of packager interests for the last two Pack Expo shows. Fully 31% of the 236곞 technology interests cited by 1996 Pack Expo pre-registrants falls into one of those five categories:
Add filling/closing, wrapping, palletizing/depalletizing and casing equipment to the top five machinery categories and you've covered 51% of the interests expressed by Pack Expo's audience of machinery specifiers and buyers-a pretty good benchmark of contemporary market interests.
If we didn't already know from market observations and other statistical sources that flexible packaging is continuing to gain market share at the expense of rigid packaging, PMMI's Pack Expo pre-registration polls lead you to that conclusion. The numbers reflect the packaging/production machinery interests of a market turning increasingly toward flexible packaging, with an overriding concern for efficiently tracking, packing and moving non-rigid packages through the production process.
The 1996 survey also reflects the market's on-going move to plastics in the dramatic 405% increase in interest in thermoforming systems from the 1994 show. Thermoforming equipment still wasn't among the top 10 interest categories in 1996 but it could be this year.
Already underway, this year's PMMI poll of pre-registrants for Pack Expo (November 8-12 at Chicago's McCormick Place) will, once again, reflect the market's interests in technology advances for the lightweight, flexible packages that are continuing to challenge traditional container forms.
The U.S. Department of Commerce (DoC) also tracks packaging trends, specifically exports and imports of parts and machinery. But here you'll find the data much less susceptible to analysis for anything other than the crudest assessment of the international commerce in packaging parts and equipment. Last year, DoC data shows that the 1997 U.S. packaging machinery and parts trade deficit was a little less than $187 million. Driven partly by the strength of the dollar, the trade gap's been growing larger since 1995.
By DoC's accounting, the top five U.S. packaging machinery export markets, accounting for 46% of the 1997 total, are Canada, Mexico, the UK, Japan and Germany. Brazil, Australia, South Korea, France and The Netherlands round out the top 10 and make up another 17% of the 1997 U.S. packaging machinery and parts export market.
In descending order, Germany, Italy, Canada, Japan and the UK produced 80% of the packaging equipment and parts imported into this country last year, according to DoC's tabulations.
But if you think Commerce's export/import data would be useful in plotting much more than the flow of money and machines in and out of the U.S., you'd be wrong. The data does tell you that packaging machinery parts make up 24% of the import market. Not much market delineation data in that number. Unfortunately, "Packaging or Wrapping Machinery NESOI," the second largest piece of the import market, tells you even less. NESOI is DoC-speak for "not elsewhere specified or included." Looking around, you'll find the only types of packing or wrapping equipment specified or included in the numbers are machines for packing or wrapping tobacco and candy.
We don't know specifically why candy and tobacco-two relatively small markets for packing and wrapping equipment-are the only end-use markets identified in DoC's packaging machinery numbers. It probably goes back to the days when U.S. machinery makers had all they could do to keep up with domestic demand and paid almost no attention to international markets. We can only assume that the self-serving interests of German and Italian machinery makers who dominate the tobacco and candy wrapping machinery markets promoted those categories.
On the U.S. side of the negotiating table when the categories were being picked were mid-level government bureaucrats probably operating without much knowledge of the packaging machinery business, or input from the PMMI or the U.S. packaging community at large.
If you were on the committee drafting the categories, what were you thinking? Form-fill-seal equipment isn't included, but "machines for aerating beverages" is? "Strapping machines" are included; coding/marking equipment isn't? "Machinery for cleaning or drying bottles or other containers" is being tabulated, but bottle fillers aren't?
In fact, dishwasher export/import numbers are mixed in with the packaging machinery numbers! "They had to go somewhere," DoC officials tell us.
We can only hope that Commerce's packaging machinery categories aren't immutable. For what has been wrought in the spirit of international harmonization may be a convenient contrivance for counting tariffs, but it is almost useless as a tool for measuring packaging machinery markets. As they stand, the Department's packaging machinery export/import numbers misrepresent the true significance of the international packaging machinery trade, and deny the U.S. the market insights an accurate picture of the business would afford our country. c
Companies in this article