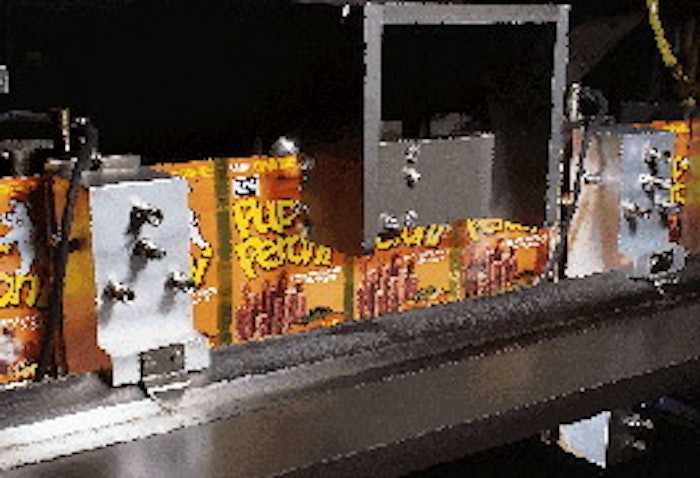 Risk versus reward. It's a debate management wages regularly in justifying packaging equipment purchases. For Heinz Pet Products, the decision to buy five new horizontal form/fill/seal machines is already proving to be well worth the investment risk. The machines have enabled the company to switch from pillow packs to stand-up, resealable zipper pouches for its already popular Pup-Peroni® and Jerky Treats® dog snacks.
"We're a marketing-driven company, and we wanted to give consumers a better package," says Andy Gordon, manager of packaging engineering. "The stand-up pouch also helps keep us competitive." Anyone who has shopped pet food aisles recently can appreciate the latter viewpoint, as stand-up pouches for dry dog foods continue to enter the market at greyhound speed.
The Newport, KY, affiliate of H. J. Heinz introduced the new package nationwide last spring for several flavors and sizes of the two brands. While Heinz Pet Products has packed other products in stand-up pouches for more than a year, these two new dog-treat packs represent "a whole new packaging philosophy for our plant," notes Heinz's Patrick Wood. He's manager of engineering and maintenance at the company's El Paso, TX, plant, where the pouches are formed, filled and sealed on the five new Model RPM-L machines from Klckner Bartelt (Sarasota, FL).
Added between January and September, the horizontal f/f/s machines replaced horizontal machinery that had produced the non-resealable pillow packs. Besides producing a more marketable pouch that's easy for consumers to open and reseal, the new equipment has:
* generated upwards of $500ꯠ in annual labor savings,
* eased changeovers,
* simplified troubleshooting,
* slightly increased production speeds, and
* improved output, allowing much-needed offdays for employees.
Less handling = less labor
Production of the pillow pack required six to eight people per line, says Wood. Most of these people aligned the Pup-Peroni sticks and Jerky Treats sticks for downstream pillow packing machinery, removing broken or bent pieces.
Now, Wood says, "we need only one operator per Klckner machine with another three for secondary packaging tasks." With the machines running three shifts daily, six days a week, this automation has reduced hf/f/s-related labor costs by some $540ꯠ/year, according to Wood.
Computerized Ishida weighing systems from Heat and Control (Hayward, CA) also contribute significantly to labor savings (see sidebar, p. 26). They eliminate the need for labor-intensive handling. Unlike some dry dog snacks that are more conducive to fast filling, these moist, fragile pieces tend to stick together. "It was difficult to get an accurate weight and count without manually aligning the sticks and strips into collated bundles before inserting them into a pouch," Wood notes.
Because of the way product is now brought to the machines and weighed, these problems no longer exist. After exiting spiral dryers from processing areas, sticks and strips are conveyed along a belted conveyor system from Smalley Manufacturing (Knoxville, TN) that gently carries product to an Ishida Flowright vibratory conveyor, also from Heat and Control. The treats continue onto a second Flowright conveyor that carries them to a vibratory dispersion cone that feeds the 14-head Ishida combination scale system.
Heinz Pet Products refers to the upstream conveyors as product distribution systems. At the El Paso plant, Systems One and Two supply Jerky Treats to RPM-L machines numbered 1, 2 and 4. Machine 4 can also run Pup-Peroni stick products. Sticks are delivered from System Three, primarily to RPM-L's 3 and 5.
Quick changeovers
Another advantage of the RPM-L's is quick changeover. "One of our key goals," Wood notes, "is to try to minimize changeovers." That's not always easy. Marketing pushes for certain products, and fluctuations in demand influence what runs on each line. "Our production schedule can change daily," he says.
In general, the Jerky Treats machines run 3-, 6- and 9-oz sizes; one machine also packs 2.8-, 5.6- and 8.4-oz offerings. The Pup-Peroni machines also run the latter three sizes.
"We change over equipment anywhere from once every shift to once every two to three days," says Wood. "And changeovers are fairly easy. One person can complete a size changeover in about ninety minutes, roughly half the time that was required on the previous equipment. Film changes take only fifteen minutes, and are carried out by operators. Mechanics perform complete line changeovers.
"And for the most part the changes are tool-less," he adds. "With the exception of T-shaped tools that work like Allen wrenches to loosen bolts of the seal bars, the need for mechanics to carry tools is essentially non-existent."
Material properties
The 3-mil film structure includes a 48-ga polyester outer layer that is reverse-printed flexographically in eight colors by American National Can (Chicago, IL). The converter takes that material to a tandem extrusion machine where 10# low-density polyethylene is used to laminate the printed film to Toray PC-1, a 60-ga metallized oriented polypropylene film from Toray Plastics America (North Kingstown, RI). That structure is then laminated, again using 10# LDPE, to 125-ga high-density PE that includes ethylene vinyl acetate and a proprietary ultra-high surface energy treatment.
the previous pillow pack film lamination for Jerky Treats, from the outside-in, included polyester/polyethylene/foil/sealant. Pup-Peroni used a paper/LDPE/foil/sealant structure.
"We performed extensive trials to test the PC-1 from an equipment compatibility perspective and were very pleased with the results," says Gordon. "This film worked well and proved cost-effective."
By replacing the foil layer with metallized polyester, "We achieved a lower-cost option and it let us move to the stand-up pouch we wanted," he says. "It supplies the moisture and aroma barriers we needed, and it met all our functional performance characteristics. It also fares well in handling and distribution, and isn't subject to pinholing as was the previous foil structure."
Looking at the line
Depending on product and volume, the five machines run at speeds ranging between 25 and 58 pouches/min, rates that Wood says "are slightly higher" than the previous equipment. That's impressive, considering the pillow pack machinery did not produce either a zipper or a gusset.
Packaging begins as a powered draw roller feeds film from a power web unwind through a series of dancer rollers. A die-cutting device then punches two small holes in the bottom center of the material. Later, these holes are sealed together against the opposite sides of the film's interior to form the oval Delta-Pac bottom gusset. edge guide sensors keep film aligned as it's pulled around a forming plow. At the bottom of the plow a mechanism ascends, pushing the film up between front and back panels to form the gusset.
Next a linear low-density polyethylene zipper profile is mated to the top edge of the vertically folded, bottom-gusseted film, between its open front and back panels. A small metal plow is precisely positioned on the machine so that as the film and zipper profile move downstream, the plow separates the male and female halves. Side-seal jaws ultrasonically seal the male half of the zipper profile to the inside of one panel and the female half to the other panel. At the same time, the leading and trailing ends of each gusset area, including the hole-punched areas, are sealed by another set of sealing jaws.
At the next station a pair of sealing jaws heat- seal an area from the pouch bottom up through the ultrasonically-sealed zipper area on both side edges. A Norwood (Downers Grove, IL) AKS-7 hot stamp imprinter then applies a production date code to the bottom gusset. A mechanical device cuts opening notches above the zipper area, and a cut-off knife separates the leading pouch from the web.
Rotary filling turret
As this occurs, a pouch transfer assembly equipped with a clamp grips the top of the pouch and delivers it to the first station on an eight-head intermittent-motion rotary filling turret. Clamps move in unison, holding the pouch as it indexes around the turret. At the second station, overhead-mounted air jets blow air into the top of the pouch to help open it while a pair of reciprocating vacuum cups pull open the bottom of the pouch.
After the Ishida scales release product into the pouch and complete the filling process, the turret indexes to the next station where clamps pull the two top ends of the pouch in opposite directions to accommodate top heat sealing.
Once the pouch is sealed, the clamps release so an arm with vacuum cups can pick up the pouch and deposit it onto a discharge conveyor that carries it over a Hi-Speed (Ithaca, NY) checkweigher.
Presenter tray
Pouches continue along the conveyor to a hand-packing table where operators place six, eight or 12 pouches (depending on pouch size) into a 20- to 24-pt paperboard tray from Fort James (Deerfield, IL). Trays are then placed into a corrugated shipper for downstream palletization and distribution.
The tray boosts material and labor costs compared to those of the pillow packs, which were placed by hand directly into corrugated shipping cases.
"The 'presenter' tray comes at an upcharge," Wood notes, "but it is justified because of its strong graphic appeal that gives us more muscle in the retail market." Andy Gordon explains that retailers request these secondary trays to help keep the packs organized on the shelf.
"Along with the pouches, the whole presentation really stands out," Wood says. "The response so far has been very good, and we've noticed a significant increase in the demand for the Pup-Peroni sticks in particular."
Give 'em a break
Late last year, the El Paso plant changed from a straight seven day/week schedule to 13 days out of 14. This, says, Wood, represents a significant advantage for employees. "With the increased speed and efficiency of the Klckner machines, we've been able to produce enough so that we can free up one day. For the past three to five years, we've been working people pretty hard. This equipment put us in position to offer that break to our people."
Looking back, Gordon recalls the El Paso plant's need for automation stood out like a sore thumb. Ultimately we decided to partner with an equipment company that had the engineering expertise and willingness to act as a systems integrator," he says of Klckner.
Taking control
The equipment also provides Heinz with "significant control advantages compared with our previous machinery," Wood says. "There's a screen that indicates where a fault is to help troubleshoot if necessary. We didn't have that benefit before. And each machine uses a programmable logic controller." In this case, the PLC is an Allen-Bradley (Milwaukee, WI) SLC 540.
While the five machines currently operate independently, that's likely to change. "In the future we're planning to connect them to a network so that we can collect reports from each machine for each shift to calculate packaging rates, yields, reject rates, material use, and so on. Right now we have production data for each line separately. The combined data would add to the information managers have at their disposal," says Wood.
But it's the bottom line where management most appreciates the pouch that's produced on the equipment.
"At a time when consumers are becoming more price conscious and less brand loyal, innovation in packaging is increasingly important," says Gordon. "Through consumer testing we have found that consumers value the convenience of a pouch that's resealable. New features which bring greater convenience also bring enhanced brand loyalty."
Companies in this article