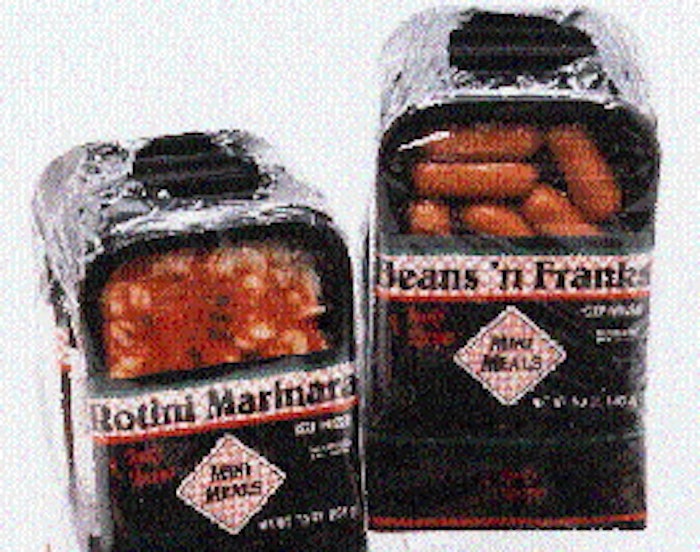 An unusual blend of high-impact polystyrene and polyphenylene oxide is now being used to produce trays that allow Rook's Recipes to market frozen, ready-to-heat microwavable meals from vending machines. This success led to expanded marketing to both club and retail stores.
The St. Charles, IL, company uses an unusual skin packaging system to seal the precooked foods in their trays. Packaging is farmed out to Kitchen Fresh Foods (Green Bay, WI). Rooks purchased the Trigon Intact(TM) packaging machine, made by Trigon Engineering in New Zealand, from Trigon representative Koch Equipment Group (Kansas City, MO).
Rook's purchased the machine about a year ago, which Kitchen Fresh uses solely for Mini Meals(TM) packaging. The black-colored trays are supplied by Plastic Ingenuity (Cross Plains, WI). PI thermoforms them from 25-mil sheet it extrudes from a blend of high-impact polystyrene resin from Dow Chemical USA (Midland, MI), and NORYL® PPO resin from GE Plastics (Pittsfield, MA). The Noryl PPO resin provides the heat-resistance necessary for microwaving.
PI custom-built the tooling for the trays. Rook's owns the tray mold. The 7" x 4" rectangular trays have rounded corners, with an approximately 3/8" flange area for sealing. Notches in four areas along the flange (two on each long side) help hold in place a paper label that wraps around the tray's width dimension. The product is clearly visible near both tray ends that are not covered by the label.
Harry Rooker, Rook's owner, attributes much of Mini Meals' initial success to its packaging. "These are see-through skin-packs that let the buyer see the restaurant-quality food inside," he says. "The film contours to the shape of every bean, or every noodle within the tray. The finished package has no unappealing ice crystallization like you find in many frozen meals that rely on printed cartons to sell the product."
For more than a year, Rooker worked closely with James Tingey, president of Northfield, IL-based Marketstart, to develop Mini Meals. Both companies continue to push for nationwide sales. To date, more than 20 Mini Meals varieties have been sold in limited test markets. But, says Rooker, "Four products are now in broader distribution in regional U.S. markets." Serving sizes range from 5 to 7.5 oz.
Filling and sealing
Kitchen Fresh employees fill product into the trays, placing one tray into each of 12 cavities on a "magazine." This magazine is lifted onto a platen within the Trigon Intact machine.
An operator then pulls the lidding film from an unwind dispenser positioned near the back of the machine. Trigon/Koch also supply the 4-mil film made of ethylene vinyl acetate/DuPont (Wilmington, DE) Surlyn®.
Within the Intact machine, the 4-mil film is draped over the magazine/platen, extending beyond the four sides of the area. A knife automatically cuts off the film. The operator then shuts the lid of the machine. The Intact includes a top and bottom chamber that pull complete vacuum of 29.9" of mercury from above and below the film.
Initially, vacuum is pulled from above to draw the film approximately 1/16" upwards to a hot plate that heats the material. At the same time, vacuum pulls air down through a vacuum port beneath the machine's platen.
Once complete vacuum is attained, the top vacuum is released. The heated film immediately descends, conforming to the shapes of the product in the tray, and heat-sealing to the tray flanges. At the end of the cycle, the vacuum is released. The machine's lid opens automatically and the platen lifts the magazine so that an operator can easily remove it. A separate cutting machine is used to cut film, making 12 individual packs.
During the Intact machine cycle, operators fill another magazine with product-filled trays. As the sealed magazine is removed from the machine's platen, this next magazine is inserted. By using multiple trays, Kitchen Fresh attains the machine's maximum 24/min production rates, achieved in two cycles. Rooker says the frozen product has a 12-month shelf life from date of manufacture.
Kitchen Fresh operators manually apply the paper labels, then end-load five trays into a chipboard "boot" that's overwrapped in plastic film. Ten of these multipacks are placed into an outer corrugated shipper prior to freezing, and subsequent distribution to regions in the Midwest, South and East. Retail prices range from $1.10 to $1.60/tray, and up to about $2 for vending machines.
"We still consider Mini Meals a start-up product," says Tingey. "Besides hotel/motel and other vending machines, we have sold product to foodservice distributors for sales in nursing homes, day care centers, hospitals, and even jails. They're also in Sam's Club outlets, gas/food marts and convenience stores."
"Right now," Rooker concludes, "Mini Meals is our only product. Any new and innovative product takes time to earn recognition by customers and consumers. We're still moving it into people's hands and so far we've sold about 230ꯠ units. Our packaging is customized and we feel it gives us something different. And as we market the product, we're learning that there are applications for it that we had never thought of initially."
Companies in this article