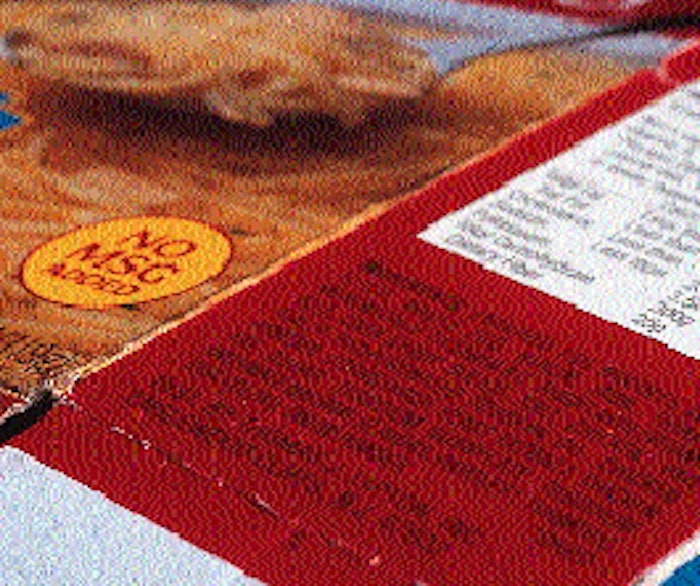 A wide range of food processors will have to either overhaul product labels or reconstitute products over the next year to comply with a new USDA rule on mechanically-separated poultry (MSP). The rule, issued on November 3 by the USDA's Food Safety and Inspection Service (FSIS), requires food marketers to add MSP as an ingredient to the product label by November 1996 (see PW, Dec. '95, p. 48).
The rule will affect manufacturers of more than just chicken franks and sausages, the most obvious products affected by the rule. Other products which include MSP include dry soups and flavored rice mixes.
John Toney, vice president for technical affairs at Henningsen Foods, Inc., Omaha, NE, says his company sells dehydrated MSP to food companies who use it in as many as 100 grocery shelf products. Those are products like Lipton dry chicken soup mix, Rice-A-Roni and Stove Top Stuffing. Toney is concerned that those food companies will Playing
chicken
stop buying MSP rather than add it to their ingredient panels. The fear on the part of some food companies may be that consumers will blanch at the sight of MSP on the label.
Currently, for example, Lipton lists chicken powder and chicken* (* dried) on its ingredient panel for "Soup Secrets." Nissin Foods Cup Noodles lists powdered chicken; Rice-A-Roni also lists chicken with an asterisk for dried.
The term "mechanically separated," whether used for poultry or meat, means that the meat and bones are ground together and passed through screens under high pressure to filter out bone fragments. The final product is a poultry product with a paste-like form and batter-like consistency. Some in the poultry industry claimed the product is no different than "finely ground" chicken or turkey made from hand-deboned meat. But the FSIS did not buy that argument.
Vito D'Agostino, vice president, national sales of Henningsen, points out that Lipton already puts MSP on the ingredient label of products it sells in Canada. "It hasn't caused a problem there," he reports.
Those companies who go ahead and make the label change will have a year to do so. Kimberly K. Rice, a labeling specialist for Jimmy Dean Foods, Cordova, TN, wrote to the FSIS to say the costs associated with reformulating products are enormous. These would include getting rid of obsolete packaging inventories.
Contacted after the rule became final, she referred a reporter to the company's legal office. No one returned repeated phone calls.
In written comments it sent in, one company told the FSIS it had 250 products which would have to be relabeled at a cost of $1ꯠ/label. The FSIS dispatched that concern by saying "the cost of labeling changes can be significantly reduced by allowing companies to use up their old stocks..."
The FSIS says an average label change costs in the $600 range. Moreover, the agency argues that many companies relabel products frequently, and that adding MSP to the ingredient statement would be something many companies could do without much extra cost, as the part of an already-scheduled relabeling. For example, about 50 percent of the 180ꯠ labels submitted to FSIS each year for approval are for label changes on existing products.
Although the USDA first considered requiring labeling for MSP in 1969, this rulemaking was finally put on a fast track by a lawsuit filed in 1993 by several meat sausage manufacturers (Bob Evans Farms, Inc. et al. v Mike Espy, then Secretary of Agriculture, they argued meat products were discriminated against because labeling for mechanically separated meat is already required.)
The rule could have been worse. Public Voice, a consumer group, wanted the FSIS to require products with MSP to include all the components of MSP in the ingredient statement. That would have entailed listing everything except muscle and tissue, such as skin and organ materials. c
Companies in this article