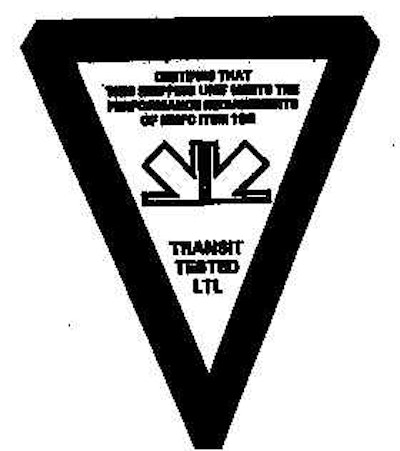 A variety of packaging applications and load unitizing experiences dominated the heart of the Institute of Packaging Professionals 12th Annual Symposium on Transport Packaging. The package performance option, Rule 180 (see opposite page), and several regulatory issues also shared center stage.
A record 187 registrants attended Transpack 95 February 22-24 in Orlando, FL. The program featured 19 sessions with 20 speakers, led by symposium coordinator/moderator and consultant, Alfred H. McKinlay.
Applications
Richard White, a retired material handling engineer from Procter & Gamble, Cincinnati, OH, and Patrick Lancaster, president of Lantech (Louisville, KY), discussed load containment as a means of combatting "damage to goods in the dry grocery industry during distribution that costs suppliers an estimated $2.5 billion a year. A significant percentage of this damage is caused by pallet load handling systems in which load integrity is not maintained," says Lancaster.
Among the conclusions of testing done by P&G and its supplier Lantech was that "high-quality stretch wrap containment can substantially reduce product damage during transportation. A quality pallet and form and fit of the load to the pallet are essential components of the improved shipment results," says Lancaster.
Tips to optimize stretch wrap included: increasing the wrap force to the maximum level without breaking the film or damaging the load; uniformly distributing film from top to bottom of the load rather than the traditional method of applying extra top and bottom wraps; changing the film carriage travel rate in accordance with number of wraps; documenting machine settings, containment force, wrap force, wrap profile and film weight; and choosing a film strong enough to reduce use and cost.
Canton, OH-based Timken Co.'s Gary E. Roe discussed a returnable transport system for three sizes of Sensorpac(TM) bearing components used for automotive braking systems. Vacuum-molded trays for the sensitive bearing components went from concept drawing to production startup in 13 to 17 weeks. Existing high-density polyethylene twin-sheet pallets are also part of the returnable system. One tray is bolted to each pallet. After considerable testing and design modifications, the system satisfied the company's concerns with regard to possible abrasion between bearings and trays and bearing damage.
Packaging consultant George Haggenjos and senior vice president Dominic P. Frazzoni of Fabri-Form (Byesville, OH) discussed the advantages of thermoformed returnable transport packaging systems for several companies, including General Electric Motors, Ft.Wayne, IN, and Chicago Magnet Wire, Elk Grove Village, IL.
In '93, GE Motors replaced single-use corrugated cell packaging for a vacuum pump motor with thermoformed trays of HDPE that were designed to last 60 trips. By mid-'94, more than 70ꯠ motors were shipped in the reusable/returnable trays, with the costs of the new tray recovered in just nine months.
Chicago Magnet Wire was spending $360ꯠ/yr for corrugated and packaging used by its customers to return empty wire reels. A switch to a reusable thermoformed plastic packaging system saved nearly $2 million in costs between '87 and '92.
Chrysler Mopar Parts Division, Marysville, MI, packaging engineer Robert A. Torney summarized the development of the Latchpad package cushioning system to prevent damage to automotive fenders between Chrysler plants. Die-cut PE foam pads work with U-shaped double-wall corrugated to prevent "fender benders" during transit.
When coupled with the experience of a packaging professional, computer software can help optimize space usage in primary and secondary cartons, as well as on pallets, according to TOPS Engineering (Plano, TX) director of operations William J. Rehring. He listed examples showing how packagers and retailers saved substantially on product shipments, including both standard and mixed loads.
Sealed Air's (Saddle Brook, NJ) technical development manager William R. Armstrong discussed using Shock Response Spectra (SRS) to design cushioned packages. "This approach calls for the use of mechanical shock test equipment to impart a series of rectangular shock pulses into the item to be packaged to define the level of shock that will cause the product to break," explained Armstrong.
"This information allows the packaging designer to combine it with knowledge of the shipping environment and cushioning data to design a package that will protect the product from the shocks encountered in the intended shipping and handling environment." He added, "In today's push to source-reduce all packaging, being able to more exactly predict design success should lead to the more efficient use of all cushioning materials."
Craig Wiser, packaging engineer for Framingham, MA-based Bose Corp., and Sonoco Products' (Hartsville, S.C.) global technology manager, Robert D'Amore, described how a three-dimensional CAD system was used to design molded pulp end caps for two new Bose shelf speakers shipped in a single package.
"Pilot production units were shipped to Japan for inspection prior to being released into that market," says Wiser. "So far the reports are that they love the new packaging. The molded pulp caps save approximately 65 percent in storage space compared with an equivalent EPS [expanded polystyrene] cap. Sonoco's molded pulp parts are also easy to handle."
Amendment for 180
McKinlay reviewed the somewhat controversial "Rule 180," an alternative performance-based method of testing shippers for less-than-truckload (LTL) deliveries by common carrier proposed by IoPP to the National Motor Freight Traffic Assn. (NMFTA).
On February 13, 1995, NMFTA passed an amendment to 180 "that concerns changes in testing procedures and classifications compared with the original rule," he says. Listed under NMFTA's National Classification Committee Docket 951, the amendment has an effective date of April 29, 1995.
The amended rules, which exclude drums, pails and bags, are "recommended for solving chronic damage problems and for providing an acceptable assurance level of packaging for articles of great value," according to the docket. Packages tested in accordance with this rule will have to bear a symbol (shown on p. 38) indicating that it meets specified minimum performance requirements. The shipper, or competent test laboratory, may conduct these tests, but this marking is the responsibility of the party identified at the top of the symbol by its name, city and state.
While 180 affects LTL common carrier shipments, it may also pose questions for companies that employ both LTL and small parcel carriers (see story, p. 38).
Gary W. Lietzke, manager of packaging services for Yellow Logistics Services (Overland Park, KS), said, "It appears the new rule will have a more immediate effect on shippers since they can realize cost savings in packaging by conducting testing."
James Southwell, manager of technical and developmental services for Packaging Corp. of America (Evanston, IL), noted that 180 "provides an opportunity to reduce costs, improve package performance and customer satisfaction." However, he added, "It is not free. It requires an investment in time and resources by shipper, supplier and labs. But like most wise investments, it will pay dividends over time."
Representatives from both Federal Express (Memphis, TN) and United Parcel Service (Atlanta, GA) provided historical information and test and design requirements for products in various weight categories as well as for air and surface shipments. Some Transpack attendees toured these carriers' local shipping terminals following a roundtable discussion on the LTL rule.
Rules & regs
Transpack 95's concluding sessions focused on regulatory issues, with AlliedSignal's (Morristown, NJ) S. C. Watkins updating attendees on shipping regulations for hazardous materials. International and domestic packaging issues were covered by Eric F. Greenberg, a partner in the Chicago law firm Bullwinkel Partners, Ltd. Rochester, NY-based Eastman Kodak rounded out the program with a session on how package design can yield more "environmentally sound" packaging.
One of the liveliest discussions followed Greenberg's remarks on regulatory issues as attendees tried to get a grip on the ever-changing rules and regulations regarding hazardous materials shipments and state/federal legislation.
Greenberg announced that he expects to complete an encyclopedia of packaging law this year, and he observed that political changes are already playing an important role in influencing packaging law.
"The new Republican-dominated Congress is creating a changing scene for the packaging function," he said, hinting that a new political climate will likely result in fewer federal regulations, and increased power at the state level. For the most part, he said, this could be beneficial, "unless greater state activity creates a hodge-podge of nonuniform laws." However, he stressed, "The U.S. constitution says states can't make laws that interfere with interstate commerce."
As to the international climate, Greenberg said that fewer tariffs will benefit trade among the approximately 120 countries involved in the General Agreement on Trade and Tariffs. He advised attendees to be aware of the European Union's Packaging Waste Directive (see PW, March '95, p. 100) with regard to source reduction and recycling/recyclable-content mandates in those countries to which attendees are exporting.
In assessing the impact of the North American Free Trade Agreement, Greenberg said, "Initially there was a concern about Americans losing jobs to lower-paid Mexican workers, but what's happening in many instances is that Mexican workers can't compete with more educated, advanced U.S. workers." On a broader scale, he notes, "We've seen a lot of exports of food products to Mexico and the opening of many U.S.-based convenience stores in that country, though there's still a need to export greater quantities of larger-ticket items like computers and appliances. This bodes well for the overall U.S. packaging marketplace."
Much of Greenberg's presentation focused on a IoPP survey of its members. More than half of the survey's 33 respondents considered hazardous materials the most time-consuming and costly legal issue. Recycling requirements and variations in state environmental laws was singled out as the most feared legal issue.
"There's a perception of disharmony among states when it comes to recycling requirements," said Greenberg, "but they're not as bad as they seem. Most require compliance with a certain percentage rate involving the use of recycled content, recyclable material or source reduction by a certain date. The rates tend to climb over time." Greenberg advised attendees that hazardous materials compliance involves good recordkeeping, proper package testing and design, and clear marking of the hazardous materials on shipping containers.
Donald Appleton, senior packaging engineer with Eastman Kodak, ended the 2 1/2-day program by describing how design engineering helped create "environmentally sound packaging" for nontraditional EK products such as copiers, blood analyzers, microfilmers, X-ray processors and photo finishing equipment. The company, he says, continues to develop new materials that reduce packaging and manufacturing costs.
Appleton admits that not every new effort to meet environmental goals is successful. He cited a prototype honeycomb pallet that didn't pass muster. However, he says that "environmental considerations are very high on our company's priority list. We try to be project-specific to create an environmentally sound packaging solution."
Together with IoPP, Transpack 95 was sponsored by five companies: Fabri-Form, Gaynes Engi-neering, Instrumented Sensor Technology, NEFAB and Sonoco Products. "With a record number of attendees, there seemed to be a greater level of excitement than before, and we hope to continue that at next year's program," summarized IoPP's John Cudahy. The 1996 meeting is scheduled for February 21 to 23, at the Holiday Inn Surfside, Clearwater Beach, FL.
Companies in this article
Videos from All Packaging Machinery Corp.