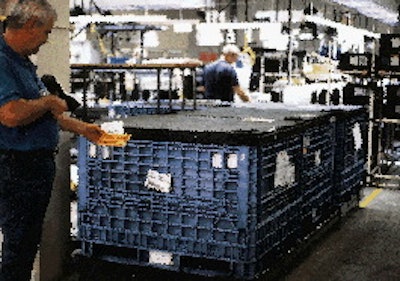 Switching from disposable corrugated shippers to reusable high-density polyethylene containers has helped Lexmark Intl. reduce operating costs and improve protection for parts it needs to build its printers.
Headquartered in Lexington, KY, Lexmark is one of the world's leading manufacturers of laser, ink-jet and dot-matrix printers and imaging supplies. The company has developed an approach to product design and manufacturing that has allowed it to reduce the new product introduction cycle from 24 down to as little as 12 mo.
Assembly operations figure prominently in cycle time reduction, and assembly efficiency is directly affected by the packaging materials used by suppliers that make component parts for Lexmark printers. That's especially true since assembly line operators often pull these components directly from the shipping containers. These suppliers traditionally had used standard corrugated boxes with thin, sheet-type dunnage to ship parts to the Lexington manufacturing facility. About 31/2 years ago, as part of a broad program to reduce costs, improve product quality and get "greener," the company tried a new approach to parts packaging.
"We were experiencing some difficulty with the corrugated packaging that our suppliers were using to ship parts for our Lexmark Optra laser printer line," says Kevin Griese, Lexmark packaging engineer. "The packaging created dust on the parts, and in some cases it didn't protect the parts as well as we would have liked, and that caused assembly problems for us. In addition, because not all the corrugated packaging was sent back to suppliers and reused, we saw an opportunity to further our commitment to the environment and save costs in our manufacturing operation."
"Corrugated containers also created handling and safety problems for us," adds David Traxler, Lexmark industrial engineer who helped set up the assembly operation. "To use them on line, material handlers had the non-value-added work of physically opening the boxes, presenting a potential for lacerations. We often had to repackage the parts to make it easier for the operator to assemble them."
HDPE solution
Lexmark packaging engineers looked into using plastic reusable containers for the shipment of parts from its suppliers. The company was positioned well to investigate such an approach because a majority of the Lexington facility's suppliers were in a closed-loop transportation system where trucks visited the same suppliers on a daily basis, picking up parts for delivery to the Lexington facility.
Lexmark selected HDPE reusable bins from Ropak (Georgetown, KY) in two sizes: 45"Lx48"Wx34"H tall and 45"Lx48"Wx42"H. The containers have two solid sidewalls and two hinged drop doors on the 48" sides. They allow four-way truck entry.
The new container approach also included, from Concept Packaging (Cynthiana, KY), reusable plastic corrugated dunnage and about 15 different sizes of totes. The totes stack inside the Ropak containers to provide additional protection for the parts during shipment.
Initially, some 200 of the 45"x48"x34" reusable containers were integrated into the materials handling system for the Lexmark Optra laser printer assembly lines. "We determined very quickly that reusable containers were not only a financially sound method of shipping parts, but also resulted in less parts damage than corrugated shipping containers," says Clyde Jasmin, Lexmark's new products coordinator.
Because the pilot program succeeded, the company integrated additional reusable containers into the materials handling operation for its new Lexmark Optra S laser printer assembly lines. Today, there are nearly 5ꯠ containers in use, handling about 60 different parts ranging from plastic and metal structural components to sensitive electronics hardware. The program involves 24 suppliers.
"Although the initial investment in the containers, totes and dunnage was substantial, our return on investment was very fast, six to nine months in most cases," Jasmin says. "When all of the cost variables are considered, we've had a corporate return on investment for the program of 230 percent over the past three-and-a-half years."
Saving handling time
When full containers are received from the component parts supplier, they're handled in one of two ways. For some of the larger components, such as paper trays, the entire Ropak container is delivered directly to the assembly line on a roller conveyor. The operator works from the container, removing parts as needed for assembly operations. When the container is empty, the operator pushes it to an exit lane where it is retrieved by a lift truck, returned to the shipping dock and placed in a lane dedicated to that supplier. When that supplier arrives with a fresh container of parts, the driver takes back the empty Ropak container.
For the majority of parts, individual totes are removed from the Ropak container by a parts handler, and the totes are delivered directly to the assembly line on a flow rack.
"With the Ropak containers, we can tailor both the dunnage and totes for optimum shipping protection and provide the line operator easy parts access for efficient assembly," Traxler says.
Although Ropak containers are designed to be folded after use to reduce storage space requirements for empty containers, they are rarely folded in the Lexmark operation.
"Our goal is to keep the containers in constant motion, not idle for more than a day," Jasmin says. "If we've set up our delivery schedules properly, containers with empty totes inside are on a shipping dock for only a short period of time before they're on their way back to the supplier to be reused in the next shipment back to us."
Have the containers been reliable? Over the past 31/2 years, fewer than 10 containers out of 5ꯠ have had to be repaired. The Ropak containers are designed in a modular fashion to allow easy replacement of components that may become damaged, such as sidewalls and bases.
Jasmin is quick to point out the need for support across the operation for a move to reusable packaging. "Packaging goes beyond parts storage during shipment. It is a factor in defining product assembly processes and how we respond to our environmental objectives. It ultimately influences the cost of manufacturing, as well as product quality."
Companies in this article