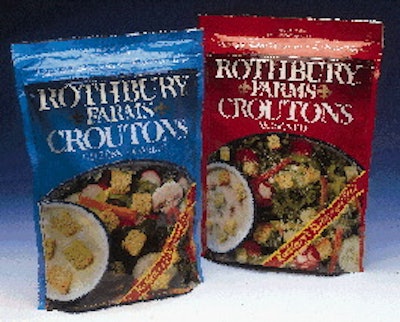 In the past two years, Roskam has installed at least a dozen Superscan Micro (intelligent sensitivity control) detectors from Loma Intl. (Carol Stream, IL). Unlike conveyor-mounted systems that often check packaged products for metal near the end of a packaging line, these are "in-tube" or "free-fall" units positioned beneath weigh scales. As product is discharged from scale buckets, it falls through an 8"- or 10"-dia detector tube before descending through the product fill tube and into a bag or pouch below. If metal is detected, the unit communicates with the filling equipment to stop.
"As our business started to grow, we went to these metal detectors," recalls William Murphy, Roskam's project engineer. "We knew the Loma name was a good one, and they offered us good lead times in receiving the equipment," which was needed for fast-turnaround projects. Murphy also appreciates that many of the detectors fit into about half the space required for many comparable metal detectors. Other advantages of the units, he says, include: "Accuracy, ease of set-up and cleaning, reliability, price, delivery and product support."
The Loma detectors are used at all four of Roskam's plants. In many instances they're paired with Ishida scales from Heat and Control (Hayward, CA) and Klockner Bartelt (Sarasota, FL) horizontal form/fill/seal machines (see Packaging World, June '95, p. 48 or packworld.com/go/roskam).
The free-fall detectors are used in tandem with detectors at the end of the line in some instances to provide a "double-check." Package fills vary from less than 1 oz to about 40 oz and are packed in flexible film structures such as pouches and bag-in-box configurations. Roskam Baking packs for customers that range from well-known manufacturers who shy away from publicity to its own products, such as its Rothbury Farms croutons.
Murphy concludes: "With the Loma units, we maintain repeatable accuracy over long runs, and specifications or product changeovers can be changed in minutes by line personnel."
Companies in this article