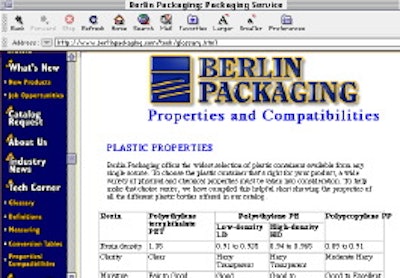 It also describes the types of substrates that can be laser-coded and addresses commonly asked questions about laser-coding technology.
Also available are color bar charts that compare costs of lasers to other forms of coding. An interactive worksheet is intended to help potential buyers cost-justify the purchase of the equipment. Also on the site are customer applications featuring the likes of Anheuser-Busch and Crystal Geyser. Drawbacks: confusing navigation and vague section headings.
Display Pack (Grand Rapids, MI), a contract packager and manufacturer of paperboard packaging, blisters and clamshells, has an easy-to-use site at www.displaypack.com. Its product section is broken into four parts: printed packaging, vacuum-formed packaging, display boxes and contract packaging. The site also features an informative photographic tour of its operations, including package design, electronic prepress, laser die making, in-house sheeting, printing, die-cutting, gluing, CAD/CAM tooling, vacuum forming and contract packaging. The site gets high marks for ease of navigation, though it's a bit sparse on the details.
The Institute of Packaging Professionals (Herndon, VA) also has some useful sections at its site, www.iopp.org. Standouts include a link to the IoPP Consultants' Council. Site visitors can submit a question that's e-mailed to all current council members for a response. Packaging-related books can be purchased securely with a credit card at the on-line bookstore, which seemed easy to use. Book buyers can even enter their own FedEx number for shipping. The site also lists award winners in the 1998 Ameristar and Worldstar competitions and allows entries to be submitted for the 1999 Ameristar competition.
A company with a very useful site is Berlin Packaging (www.berlinpackaging.com). By clicking on the "Tech Corner" heading in the blue vertical strip along the
left side of the screen, visitors can access a number of educational resources.
The glossary of terms is quite thorough, ranging from autoclavable to such classics as urea ("The generic name for urea-formaldehyde--the thermosetting compound that's used to mold light-colored closures."). The definitions section also had useful terms and abbreviations, though it was unclear why the definitions section was distinct from the glossary.
Other goodies in the Tech Corner portion of the site are a bottle/closure measures section, a handy conversion table for liquid measures and a metric conversion chart for length and capacity measurements.
Another useful chart lists the various characteristics of plastic resins by resin type, in accessible language. It took this editor years to assimilate this type of knowledge; a newcomer could get relatively up to speed in minutes. c
Companies in this article
Videos from Universal Labeling Systems, Inc.