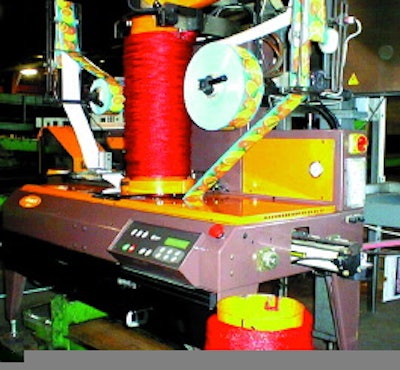 About five years ago, Golden Gem Growers ceased using paper headers or draw strings on its net bags of oranges for retail sale. In place of these conventional packaging styles, the Umatilla, FL, grower has relied on net bags with brightly decorated film running from top to bottom on the front and back of the net bag.
In addition to giving the finished package a much more appealing look, this approach cut costs compared to paper headers. That's because the equipment typically used for bags with paper headers is more labor-intensive than the highly automated weigher/bagger combinations Golden Gem uses for its packages.
As appealing and cost-effective as the film-decorated bag is, this package had one liability: The film strips had to be preprinted with fruit variety, weight and a bar code. That meant having to inventory dozens of preprinted film rolls. And as Paul Leonard, packing house manager at Golden Gem Growers, puts it, "It cost a lot to stock that film."
Golden Gem management dodged the preprinted film inventory cost by contracting with Fresh Mark (Mascot, FL) to take care of packaging for them. Fresh Mark purchased and installed in Golden Gem's Umatilla plant two combination scales. Each scale feeds two baggers. All four baggers are equipped with thermal-transfer print-and-apply pressure-sensitive labelers, so variable information can be printed on-line.
"It's brought us more throughput and more accuracy without having to stop and change preprinted film for every citrus variety we bag," says Leonard.
Two Spanish manufacturers supplied the weighers and baggers that were installed in the Golden Gem plant in September '98. The PA-38 weighers come from Daumar, represented in the U.S. by Daumar U.S.A. (Miami, FL). The baggers were manufactured by Giro, represented in the U.S. by Giro Pack, Inc. (Miami, FL).
While the baggers are capable of producing bags weighing anywhere from 2 to 10 lb, most of what Golden Gem markets are 4-, 5- and 8-lb bags. Each bagger has a maximum speed of 30 bags/min, but the speeds routinely achieved at Golden Gem are not quite as high.
"We get 16 to 24 bags per minute on these new machines," says Leonard. "On the old ones, we couldn't get much higher than 10 per minute."
Fruit is elevated to a Daumer PA-38 weigher on a cleated incline belt and then drops into the 38 weigh buckets arranged in two concentric rings on a carousel rotating at about 12 revolutions/min. Buckets pass over one of two side-by-side load-cell weighers, one for the inner ring of buckets and one for the outer. As soon as a bucket passes the load cell, the weight of its oranges is registered in the system's industrial-grade personal computer. Each time a bagger draws a load of fruit from the discharge belt above it, the PC selects the combination of buckets, anywhere from three to seven, that comes closest to the target weight and signals those buckets to reload the discharge belt. Two independent discharge belts make it possible to feed two Giro baggers at once.
Netting in a continuous tube
Each Giro Girplus bagger performs multiple operations. The netting material fed into it comes in a continuous tube holding material for hundreds of bags. The material is mounted over the central chute down which the fruit drops from the overhead weigher. Inside this chute is a draw-down device that advances the netting an appropriate length with each cycle.
Also fed into the bagger from opposite sides is the brightly decorated film material that gives the bag its shelf impact. With each cycle, a heat-seal tool closes on the film and the netting material, bonding film to netting to create a header at the top of a finished bag. Also punched into the header while the tool is closed are two finger holes.
A few inches above the header, a separate heat seal is made when the sealing tool closes. This becomes the bottom of the next bag. Just before the sealing tool opens, a cutting tool cuts the finished bag free so it drops down to a discharge belt. Then a new load of oranges drops in and the cycle repeats.
The other important task executed by the bagger is application of the thermal-transfer-printed p-s label that carries net weight, fruit variety and bar code. Giro's Gircod labeling head is positioned such that one of the two roll-fed decorative films runs directly past it. A freshly printed paper label is partially peeled from its release liner onto a flat plate, adhesive side up. The film runs above the waiting label and a pneumatically operated stamping device strokes down on the plate to affix label to film.
Golden Gem's contract stipulates that Fresh Mark furnish a machine operator and all packaging materials in addition to supplying the weighers and baggers. According to Fresh Mark's Mike Bowers, the machine operator's primary task is to feed labels, film and netting into the four baggers. These materials all are supplied by Giro.
"We've found their material, especially the netting and the film, machines better and produces a better appearance on the finished bag," says Bowers.
The netting material is polyethylene and so is the 90-micron (3.7-mil) decorative film, which is printed flexographically in five colors.
Packing house manager Leonard says the installation of the new weighers and baggers brought a big boost not only in productivity and inventory control but also in reduced giveaway. He estimates the new weighers are 25% to 30% more accurate than the older ones they replaced.
"That's the name of the game," he says. "You don't want to give away fruit." (PR)
Companies in this article
Videos from All Packaging Machinery Corp.