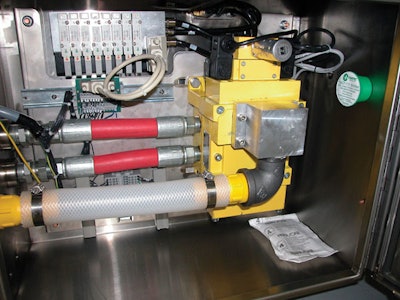 Tipper Tie (www.tippertie.com) is a manufacturer of food packaging and clipping equipment used widely in the meat and poultry business. When it introduced in 2008 a new machine, the Model TN2001 WM, for semi-automatic applications, management wanted the machine to qualify at a Category 3 level under the EN 954-1 Safety Standard developed by the European Committee for Standardization (CEN). Specifying a self-monitoring and redundant pneumatic safety valve helped Tipper Tie reach the Category 3 level it had targeted. The pneumatic safety valve is a Series DM 2C from Ross Controls (www.rosscontrols.com).
At the crux of the machine's design is a door that opens so that an operator can place a piece of whole-muscle meat in the chamber. The operator then closes the door and a piston pushes the meat into netting or some other form of casing and then into a station where a clip is applied to close the netting at the open end.
"What had to be avoided, of course, is any risk that the operator's hands would ever be exposed to the stroke of that piston," says Mark Poteat, project manager at Tipper Tie. The piston he refers to is actuated pneumatically. One way of making sure the piston won't stroke at an unsafe time, says Poteat, is to arrange the control system in such a way that any time a safety signal is tripped, pneumatic pressure is dumped. No air, no actuation—and thus, no chance for an injury to a worker.
The Ross Controls safety valve ensures that this is precisely what happens. It also is self monitoring and has a dual-chambered design that brings an all-important redundancy, and this, says Poteat, is what made it so attractive.
"If one half fails," says Poteat, "a built-in sensing circuitry detects that failure and trips the valve, which in turn dumps the air out of the system and prevents actuation of any kind. The valve remains in the locked-out position until a re-set signal is applied."
Poteat notes that the main controller on the Model TN2001 WM is an Allen-Bradley CompactLogix unit from Rockwell (www.rockwellautomation.com). But the Ross Controls valve is functionally independent of this PLC.
"If the Ross valve senses something wrong, it will trip," says Poteat. "It won't wait for information or instructions from the PLC." According to Ross Controls, the DM 2C meets the ANSI/PMMI B155 standard for safety and also is safety-rated to Category 4 under the EN 954-1 and ISO13849 Standards.
Companies in this article