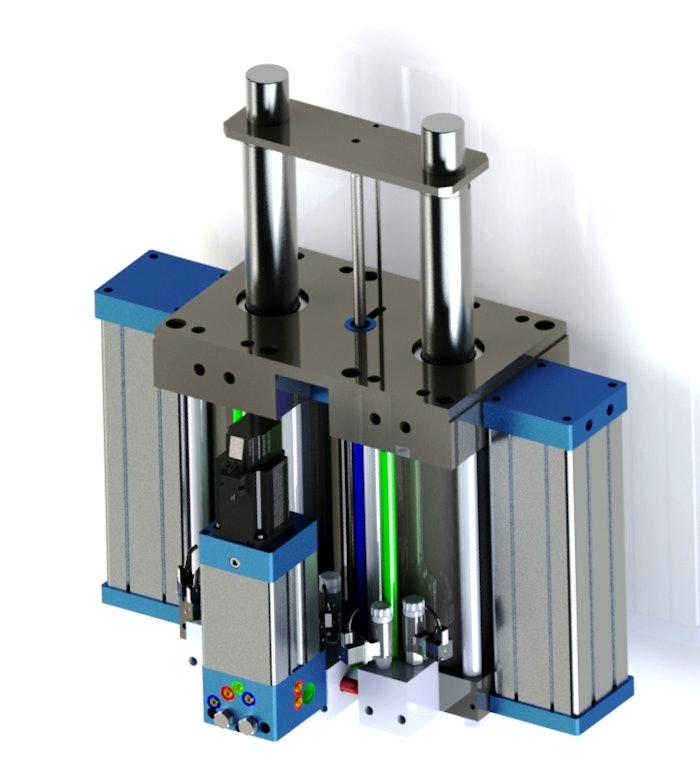 Traditional clamp and press mode actuation applications present the challenge of having a rapid stroke at a low force, while requiring a steep ramp-up to a high force for a short period. The inherent nature of achieving these demanding performance parameters typically means expensive oversizing of the hydraulic infrastructure to provide the high speed and high force necessary.
Within this large machine footprint, delivering the requisite position and force control goals present complex motion and expense variables. In addition to having too many overall pieces in the equation, other factors include: oversized and continuously running pumps, large hoses that often leak and require maintenance and the energy consuming frequency of stopping/starting with valves repeatedly turning on/off, while transitioning from high speed (low force) to lower speed (high force).
In an effort to overcome and revolutionize the problem of having to oversize actuation components for applications that have a rapid stroke at low force with a load stroke at high force–cutting-edge, Kyntronics developed its patent-pending high speed/high force (HSHF) all-in-one actuator. Combining key technologies from its servo-based SMART Hydraulic Actuator (SHA), coupled with a high-speed actuator and a high-force pair of actuators–the HSHF delivers an industry changing, cost effective solution in a scalable, modular and 'power-on-demand' machine platform, according to the company. The design is self-contained with no hoses, which eliminates the expensive leaky infrastructure.
"We strive to provide our customers and channel partners with unique solutions like the HSHF that are ahead of the curve," says Carl Richter, Kyntronics VP/General Manager. "Our nimble, responsive team of in-house engineers thrive on 'solving the unsolvable' actuation application problem. The HSHF is revolutionary as its modularity, power-on-demand, and multi-cylinder capabilities save time, energy, and money for OEMs across the board."
Ultimately, the dual cylinder system configuration can lower operating costs and better performance across a wide range of OEM applications, the company says.
"The HSHF Actuator is a production enhancing product via cycle time reduction at a lower cost vs. current alternative hydraulic and electromechanical options," says Wayne Foley, president of Kyntronics. "Accurate position, force and speed control move quickly under the low load, then the balance of the cycle (5-10 percent) retracts/repeats quickly like nothing else on the market. Ultimately, as we aggressively launch in 2019, OEMs will benefit the most from this game-changing, dual cylinder actuation evolution."
Companies in this article