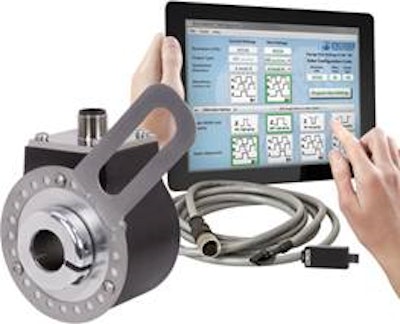 The Model 58TP is a versatile, cost-effective solution for rotary feedback in many industrial and non-industrial applications, such as: motor control, conveyors, elevator controls, machine control, food processing, process control, robotics, material handling, and all types of motion control feedback. Almost anywhere a thru-bore or hollow-bore encoder is called for, the Model 58TP will get the job done.
Using EPC's optional programming module for the Model 58TP, users may select from 6 output types, choose from 32 different waveforms, and program any resolution from 1 to 65,536 CPR – that's 262,144 counts using 4x quadrature counting.
These programming features allow a single encoder to be configured for multiple applications, enabling one encoder to replace many different part numbers, and providing cost savings on inventory and down-time replacement.
The unit offers:
Thru-bore or hollow-bore options
Programmable waveform – 32 options
Programmable output type – 6 different output types
Programmable resolution – program any resolution from 1 to 65,536 CPR
Standard and metric bore sizes up to 5/8" or 15 mm
Multiple flex mount options
Seven different connector types
Operating temperature option of -40° to 100° C
Sealing up to IP67.
Companies in this article