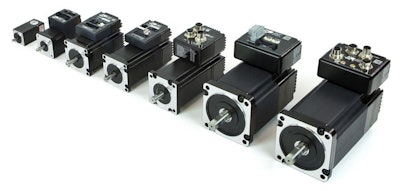 The addition of these larger frame sizes in the successful StepSERVO product offering represents a widening of the product range, which already included smaller frame sizes NEMA 11, 17, 23 and 24.
TSM34 and TXM34 StepSERVO integrated motors come in 4 lengths, offering machine designers a broad range of torque values to choose from.
A highly anticipated feature of the NEMA 34 StepSERVO series is dual-port Ethernet, which simply means two Ethernet ports per motor instead of one. The motors can now be connected (daisy-chained) in a line network topology in addition to the traditional star network topology. This small but important improvement allows for cost savings and design simplification via the reduction of cable lengths, the omission of bulky cable runs, and the downsizing of network switches.
Companies in this article