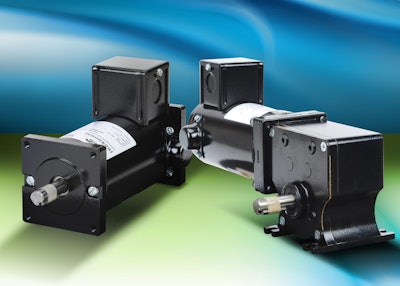 UL, CSA and RoHS compliant, models are IP40-rated and feature reversible design and dynamically balanced armatures; models are available with 18-inch leads or fitted with junction boxes with 8-inch leads.
The MTPM series motors, available in sizes ranging from 1/31 to ¼ HP, feature rolled steel totally enclosed non-vented (TENV) housings, high energy ceramic magnets and replaceable brushes. Mountable in any orientation, the motors are rated for SCR drives and accommodate 12, 24, 90, and 180 VDC. Fractional HP DC motors start at $71.
IronHorse MTG series DC gearmotors are designed for use on unfiltered SCR (Thyristor) type rectified AC inputs. They may also be used with PWM (pulse width modulated) type DC adjustable speed drives and in across-the-line applications. Mountable in any orientation and available in sizes ranging from 1/19 to 1/5 HP, models are offered with parallel or right-angle gear shafts and accommodate 12, 24 and 90 VDC; 386:1 to 11:1 gear ratios are available. Other features include TENV enclosures, Class F insulation, double-shielded bearings and replaceable brushes. IronHorse DC gearmotors start at $146.
View the complete line of IronHorse DC motors here.

To learn more about IronHorse DC gearmotors, click here.

Companies in this article