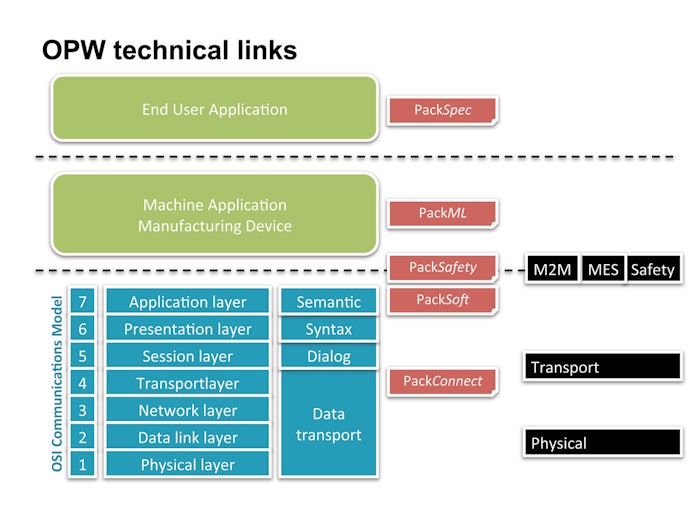 Editor's note: Last month, contributing editor Keith Campbell took a hard look at where the OMAC Packaging Workgroup has focused its energies recently and introduced us to the new leadership at OPW's helm. This month he examines new technical teams that have been established and explores some of OPW's planned deliverables.

In response to needs identified by OMAC Packaging Workgroup members, OPW chairman Bryan Griffen of Nestlé and his executive committee have established two new technical teams within the past year.

The first of these is PackSafety led by Fabrice Bertin of Nestlé in Vevey, Switzerland. Their mission is: Provide an integrated safety environment within the PackML framework, use the latest safety technologies to reduce the need to enter the Aborted state for some stopping situations, and allow faster recovery times from such stoppages. Ten members of this team met for two days this past January in Vevey, are continuing to meet via video conference, and will hold a second face-to-face meeting at Eaton offices over the summer. They expect to have a draft specification by November of this year when they meet at Lenze. Priority on this work for European members is very high because of new safety standards being promulgated in the EU that will challenge end users to make significant changes in their operations to satisfy onerous new shutdown requirements that could stop an entire production line for some routine incident on a single machine. End users in other areas of the world would be well advised to be vigilant to prevent similar requirements from creeping into standards for their region.

PackSafety should not be confused with PMMI's PackSafe, which is a registered trademark used for computer software used in recording and documenting internal risk-assessment processes and procedures for packaging machinery.

The second new technical team is PackSpec, whose mission is: To specify the requirements of a generic, PackML-compliant machine. The document created would serve as a template for machine specifications, streamlining the commercial interaction between end-user and machine builder. Team co-leader Tom Jensen of Lenze says that there is a lot of confusion in the industry about what it means to adopt PackML. The idea behind this team, whose other co-leader is Carl Bostrom of Bosch-Rexroth, is to provide templates to help drive the entire conversation between end users and their machine supplier. For example, PMMI's Tom Egan, who serves as the PMMI focal point and mentor for the OMAC teams, believes that the OPW-defined line types should be a point of discussion between buyer and seller on every request for proposal (RFP). A PackSpec template could be a reminder to both to have that discussion.

The OPW team in its revitalized, PMMI-supported guise was established at PackExpo Las Vegas 2011 and held its first meeting in Eagan, MN, late last year. They have identified other industries that have created specification templates, such as the pharmaceutical industry's JETT (Joint Equipment Transition Team) Equipment Acquisition Model. They see two types of templates: one for the business transaction, and another for the technical issues of how to go about implementation. On the technical side, P&G has already created templates along with a 3-day training program for their equipment suppliers to help them prepare to implement PackML in a manner based upon S88 equipment decomposition. The team will look at the P&G process and tools and templates provided by a number of technology providers. The intent is to have a working document, perhaps one that has undergone an industry trial, by PackExpo 2012. The original release will only incorporate PackML, with later releases including PackConnect and PackSafety.

Selling the deliverables
During the lull in OPW's activities in 2010, as they transitioned from ISA to PMMI, longtime OPW supporter John Kowal organized the PackML World Tour with PMMI members ADCO Manufacturing, Pearson Packaging Systems, Pro Mach Inc., and Ilapak. This group of packaging machinery builders volunteered to explain the business benefits of PackML to the profit-and-loss stakeholders at consumer packaged goods companies in North America and Europe. The reinvigorated PackAdvantage team and its new subgroups are now building upon the message of those visits to make the information more pointed and more widely available.

PackAdvantage is another team under Nestlé leadership, this time by Tom Doney who is located in the U.S. Doney intends to develop the story that says "we should adopt this standard" and to present that story from the three stakeholder perspectives of end user, machine builder, and systems integrator. The PackAdvantage team's mission is straightforward and in two parts: Evaluate and quantify the benefits of PackML adoption with respect to end users, OEMs, and systems integrators; identify and attempt to resolve roadblocks to adoption. The team of five members is using the first quarter of 2012 to identify and list the benefits of adoption and the barriers to adoption. During the second quarter they will quantify the identified benefits in terms of time and money and reach out to other PackTeams for assistance in resolving the barrier issues. During third quarter they will consolidate and summarize results and present their findings at PackExpo.

Doney thinks many perceptions about OMAC and PackML implementation in general need to be changed. Misinformation about OMAC outweighs good information, says Doney. The Nestlé folks are well aware of the challenges of moving a corporate direction down through semi-autonomous business units whose project managers may have little knowledge of technical standards and whose independent and demanding plant managers have their own priorities. The end user benefits need to speak to each of these stakeholders.

Some users have questioned whether OPW's message will succeed without additional support from Rockwell and Siemens. Both participate on the OMAC committees, both have implemented OMAC-compliant solutions, and both have prepared white papers and other information about OPW applications. OEMs and SIs can attest to the fact that both Rockwell and Siemens have provided great assistance to them in implementing Connect-and-Pack standards. But any perceptive attendee at Rockwell's Automation Fair couldn't help but see that while knowledge of OMAC principles may run deep within a small group of marketing and engineering staff, it is not knowledge that runs widely across the organization. An end user or OEM is likely to extract a blank stare when asking a local sales or support team for more information. This just highlights the need for OMAC to heighten its emphasis on communications.

End users, whether they realize it or not, have experienced many of the benefits that OPW espoused early in its life, when its focus was on moving from electro-mechanical machines to true mechatronic servo-based machines. These benefits included shorter delivery times, lower costs, smaller footprints, increased reliability, and more flexibility. End users may have already obtained 80% of the benefits by employing only 20% of OPW's work product. But for the more sophisticated end users who demand high OEEs and who depend upon integrated data management to run their day to day businesses, the next big round of benefits will come from the remaining 80% of OPW's deliverables, especially full implementation of PackML.

Convincing OEMs that those benefits are not only real but attainable falls to the PackAdopt subgroup under PackAdvantage, led by Schneider Electric's Christian Chatel. Adoption by machine builders is, at this point in time, very much a mixed bag. Some companies have already acted to gain first-mover advantage. Some companies have adopted OPW guidelines internally, and because of the competitive advantages they have obtained in terms of speed and quality of software development, they have chosen to remain silent on the topic. Some companies see the long term benefits and are investigating and evaluating when to make the leap. Some are still dragging their feet and use the customer's request for PackML as a justification for an up-charge.

Pro Mach, a packaging machine company whose stable includes a variety of industry-recognized brands, has demonstrated their commitment by their actions: eight Pro Mach engineers serve on OPW PackTeams and Mark Ruberg, director corporate business collaboration, was just elected to a term on the executive committee. Pro Mach showed its first machine with a full PackML implementation, including on-board OEE, at PackExpo 2010. This machine was not built to satisfy a particular customer request, but because ProMach wanted to get up the learning curve. Engineer Joe Grove, who led the first implementation, says that initially OEMs were turned off by the belief that OMAC wanted them to share their proprietary code with competitors. They now understand that PackML in fact helps to protect their intellectual property. They further benefit from being able to adopt tested code that has been developed by the technology providers and by being able to reuse their own code across multiple machines.

By bringing to the surface those tags that end users need to interface with machines and to connect them with MES systems, the OEMs no longer need to spend hours in interviews with end users or their systems integrators explaining to them their code. As a company that brings together machines from various divisions, Pro Mach sees great advantage for their service engineers to be able to easily work across all packaging machines because code design is consistent. If this consistency benefits the OEM's service people, think how much more of a benefit it could be for an end user's maintenance staff.

According to Pro Mach's Jack Aquero, "ProMach is, from our president down, supportive of Connect-and-Pack as the voice of the customer. We want to be a leader, which means being involved in the discussion. We are trying to be prepared to show our customers that we are willing to go the extra step to give them what they need. The more you see the leaders of major companies stepping up and the more you understand how they can improve their processes by gaining greater visibility into their operations and their OEE, the louder the voice becomes for PackML."

Currently converging are several trends of which OEMs should take note. End users, with a focus on OEE, product data management, and similar initiatives, are demanding more integrated lines. The thinning out of end user engineering departments has more of this integration being done by systems integrators (SIs). The intellectual property content of new machines is now primarily in software. Without PackML in the machine, end user engineers and/or their SIs must become intimately familiar with the OEMs software in order to accomplish the integration. But with PackML installed, engineers and SIs need only concern themselves with the PackML interface, leaving the OEM code protected. This should be a huge benefit to OEMs.

Furthermore, using the structured development methodology required for a full PackML and Make2Pack implementation should shorten development cycles, increase code reusability, give all code the same look and feel regardless of the individual developer, allow for personnel changes, and simplify troubleshooting for field service personnel.

Rob Aleksa, section head in P&G's Corporate Engineering, would  like to see the end of what he calls the "wild west" of software. He says that P&G purchases machines from around the world with no software consistency between like machines, even when supplied by the same vendor. This results in having lots of bad spaghetti code in a plant, which hampers efforts to improve productivity. In describing a P&G rewrite of some bad OEM code, Rob pointed out that during the first two weeks of software engineering, no code was written at all. This time was spent in decomposing the machine and in defining how the machine should operate in each mode and state. Once this work is accomplished, the claim is that the code "almost writes itself."

Adopting PackML with this structured approach is not just about adding some rungs to existing programs. It's about a new paradigm in machine software development. Aleksa admits that P&G specifies that PackML should be implemented in a fairly proscriptive way. In addition to the three-day class that P&G offers to its machine builders, they have also developed and make available an implementation guide, a project planning worksheet, a modular programming template, a dataflow template, an encapsulated code library, and a score card. The P&G metrics and the 90-point score card are used to evaluate the quality of the implementation and to provide feedback to the supplier. Aleksa says that P&G is experiencing faster startups, greater robustness and reliability, easier troubleshooting, more operational consistency, re-applicable software libraries, and one-time-only training. These benefits should accrue not only to the end users, but to the OEMs as well.

With all of the talk about using Connect-and-Pack to implement OEE, the OPW has correctly identified Systems Integrators as key stakeholders in the adoption of PackML. The newest PackTeam is PackSyst, led by Kirk Weiss, senior MES project manager for Stone Technologies. His team is to develop the benefits message for systems integrators.

Why would SIs endorse or promote PackML when it would seem that it results in less work for them and therefore fewer billable hours? Because they want to sell higher value added services, not just billable hours to make communications work.

Kirk points out that the use of PackML reduces risk for systems integrators, enables them to draw upon reusable software libraries, and as a result, lets them be more competitive in the marketplace. Customers don't want to buy engineering hours to get machines to talk to each other; they want to buy value-added services that improve the performance of their operations. When SIs spend less time making the interface to the machines work, it allows them to deliver the customer benefits sooner and at lower cost. This drives additional business.

Many SIs already have experience with S88 principles, so adapting to PackML should be very easy for them. One has to wonder why it took this long for OPW to mount a concerted effort to bring systems integrators on board.

The last of the market-focused teams is PackLearn, led by Paul Redwood of Church & Dwight Co. Redwood says that his team will focus on the 3 R's—not reading, riting, and rithmetic, but Resources, Relationships, & Roadmap. His idea of the team's mission is: To identify key global educational and training Resources and align them to build strategic Relationships that fosters and promote a technical training Roadmap for PackML education and adoption.

Redwood wants to use social media, print media, web presence, other trade associations, schools, and colleges to bring more awareness to Connect-and-Pack activities. He hopes to build relationships that encourage schools to add OMAC awareness to technical curriculum and expose students to packaging professionals, packaging machinery, and packaging operations. His roadmap includes a number of events throughout the year, including providing a presence at PackExpo, where OEMs and end users can bring their questions.

As one who remains involved in mechatronics education, I have shared with Paul that at least one school, Reading Area Community College in Reading, PA, already has an approved curriculum including OMAC awareness and is awaiting instructional materials that PackLearn may be able to provide. A number of PMMI partner schools who are jointly working on the PMMI mechatronics testing would also be likely candidates. PMMI has an outstanding education program, and their alliance with OMAC opens the possibility of meaningful collaboration in this crucial area.

The end game
There is still a lot of skepticism about whether OMAC Packaging Workgroup is going to be able to create and sell the Connect-and-Pack message to achieve widespread adoption. It seems it is like trying to push a growing snowball up a steep mountain. The Swiss know something about snow and mountains, so with a significant leadership infusion from Nestlé, perhaps the top of the mountain is coming into sight. OPW is now organizationally positioned where it should be—with PMMI. If the snowball makes it to the top of the mountain, it may come roaring down the other side as end users, machine builders, and systems integrators rush to learn what they need to know to adopt Connect-and-Pack and all of its pieces. At that point, PMMI can add even more value to the relationship. Alternatively, the weight of the snowball may become so great that the volunteers pushing it can't prevent it from rolling back over them. Either scenario will be an end game.

Leadership, dedicated volunteers, a good product, a supportive trade association, international involvement, and a growing awareness of the benefits for all of the stakeholders should lead to success. 
Companies in this article