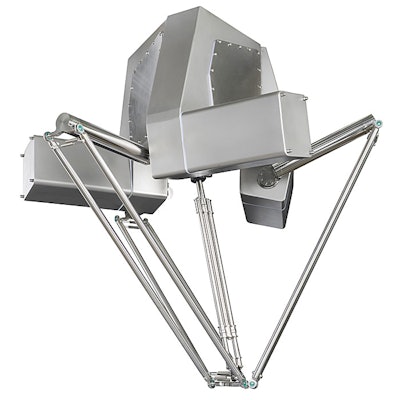 The P4 delta 3 robot from Schneider Electric/ELAU Packaging Solutions is designed for high speed pick & place solutions with payloads of up to 1.5 kg (inclusive of tooling). An optional rotary axis is available to increase freedom of movement. The drive housing, arms and end effector mounting plate are all constructed of stainless steel.

Drive selection determines the IP rating and scope of integration: The P4s model with standard servo motors and cabinet-mounted drives is IP 65 rated for washdown duty. The P4i replaces conventional servo drives with Intelligent Servo Modules that save valuable cabinet space and simplify cabling for applications where washdown is not required. The servo modules integrate drives directly onto the motors. A single quick connect hybrid cable supplies power and network communications from a shared power supply in the electrical cabinet.

The work envelope of the P4 is 1200 mm wide x 225 mm high. On the robot's parallel plate (the end effector mounting plate) the P4 provides guide holes for multiple tubes or wires that remain protected within the plate, rather than a rotary union accommodating just one tube. Today's sophisticated grippers require multiple pneumatic tubes with sufficient length to support rotation. On competitive designs, these tubes must be routed around the outside of the parallel plate, where they can interfere with processes or collide with products. The robot's mounting fixtures are at the very top, eliminating the risk of the robot arms colliding with the frame, even at extreme deflection.

With vision support, the P4 can also be utilized for pick & place applications with random and/or mixed product infeed. ELAU robotic solutions are compatible with virtually all standard vision systems. A preprogrammed interface can further reduce engineering effort for setting application-specific parameters with Cognex vision systems.

About Schneider Electric ELAU Packaging Solutions

Schneider Electric ELAU Packaging Solutions is the only automaton system in the world purpose-built for packaging machinery.

Schneider Electric ELAU Packaging Solutions equips over $1 billion worth of packaging machines annually, with over 45,000 systems already deployed worldwide.

The market demands packaging operations that are more flexible and efficient to fulfill marketing, supply chain and global business strategies. Schneider Electric innovations have enabled a revolution in mechanical, software and hardware modularity to deliver these agile packaging systems.


Companies in this article