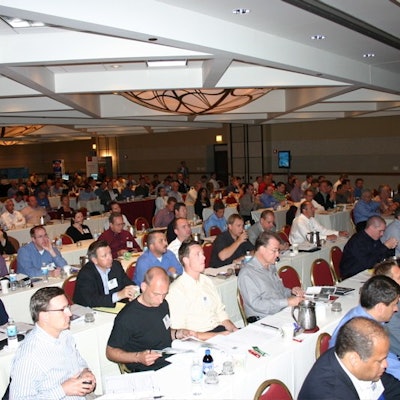 A central message delivered by keynoter Gregg Stedronsky, vice president of engineering at General Mills, is that greater standardization of controls architecture platforms is essential. He also reminded his audience that packaging controls technology—no matter how spectacular it is from a purely technological standpoint—isn't the least bit useful if it doesn't help General Mills make and sell more food more efficiently and profitably.
Keenly aware that his audience consisted of one-third packaging machinery end users, one-third packaging machinery OEMs, and one-third technology providers and integrators, Stedronsky delivered a few recommendations for each:

CONSUMER PACKAGED GOODS COMPANIES:
- Support open and industry standards (OMAC, PackML)
- Have strategies that are aligned with industry direction
CONTROLS COMPANIES:
- Create connectivity
- Be "open"
- Create tools for "assembly" that adhere to industry standards
PACKAGING MACHINERY OEMs
- Trap your faults—we want to know why a packaging machine stops
- Develop diagnostics that add value
- Set up your equipment with a recipe
- Think "system performance" and not just "unit op" performance
- Build remote support that works; the world is indeed getting flatter

Following Stedronsky, presentations from Nestle, Eli Lilly & Co., Odom's Tennessee Pride, Procter & Gamble Pharmaceuticals Germany, Frito-Lay, and Make2Pack provided numerous insights into how a more automated and integrated packaging future might be constructed.

The one-day conference then closed with a high-energy presentation on real-time data collection from Jeff Russell, principal electrical engineer at Tropicana Products.
His basic premise was that no matter what name it goes by—OEE analysis, efficiency monitoring, machine monitoring, process improvement, downtime data collection, or all or none of the above—properly executed data collection and analysis can drive significant packaging efficiency improvements. And if it's done with a boost from the latest software tools rather than by way of a clipboard and pencil, it will bring bigger benefits more quickly.
"It all comes down to knowing two things," Russell told the Packaging Automation Forum audience. "Are your machines producing optimally and how can you make them produce more?"
Sponsored by Packaging World and Automation World magazines, the Packaging Automation Forum will be presented for the third time in May of 2008. Representatives of packaged goods companies who are interested in delivering a presentation are encouraged to contact Packaging World editor Pat Reynolds at reynolds@packworld.com.
Companies in this article