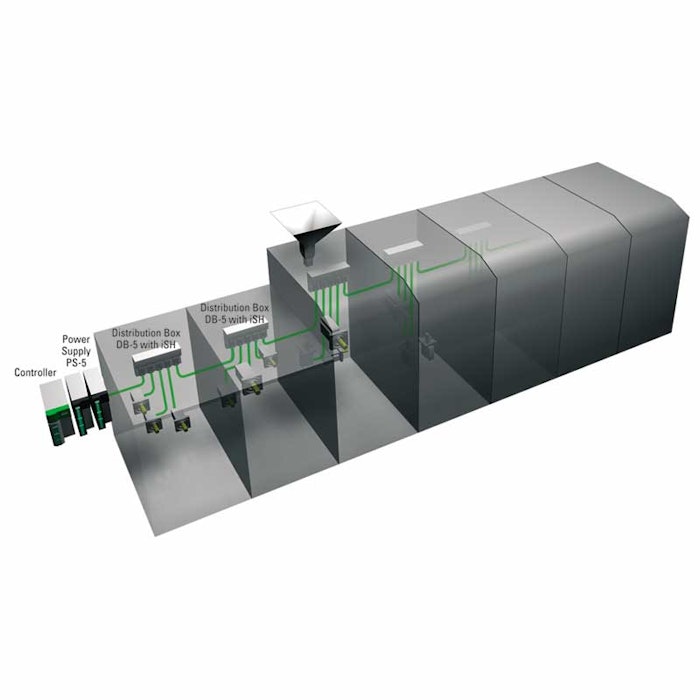 For most of us, this is a time to reflect on the year past and plan for the year ahead. But on packaging machine designers' development schedules, the next PACK EXPO and Interpack are right around the corner. Many are working now to capture first-mover advantage from game-changing new technologies such as intelligent servo modules, embedded robotics and modularity.
Intelligent servo module: a world first
Heads definitely turned at McCormick Place in November, when ELAU introduced its next advance in purpose-built packaging machinery automation, the new PacDrive™ iSH Series Intelligent Servo Modules. The technology allows machine builders to design a new level of plug-and-play modularity into their designs (see the story on
Goodman Packaging Equipment
). This system simultaneously reduces component and engineering costs. And for packagers it provides more compact, flexible and efficient packaging systems.
Instead of mounting servo drives in a cabinet, ELAU has developed an efficient system with a centralized, shared power supply that retains all the benefits of its synchronized, multi-axis PacDrive architecture. A single, quick connect, hybrid cable transfers power, control and I/O signals to remote, IP 65 rated distribution modules mounted close to the servo modules.
Cost savings + higher performance = TCO
As a result, wiring runs are reduced by up to 70% and electrical cabinet size is reduced by up to a 16:1 ratio. Equally important, this modularity also permits rapid configuration of packaging systems from self-contained equipment modules that are plugged into a single, centralized controller.
The IP 65 rated servo modules cover the vast majority of packaging applications and are purpose-built for packaging. Up to four PacDrive iSH modules can operate from a single distribution module using one quick connect cable each. The highly distributed, integrated hardware approach reduces component cost by an estimated 15% over conventional servo systems.
Dr. Thomas Cord, CEO of ELAU AG, states that "Just as ELAU set the standard for mechatronic design of packaging machinery with our modular approach to software, and then beverage production with our PacDrive SCL servo modules, PacDrive iSH Intelligent Servo Modules promise to redefine the market's expectations yet again."
ARC Advisory Group senior analyst Sal Spada wrote in a recent report "ELAU's iSH Series has thankfully taken us light years beyond (previous attempts at integrating servo motor/drives) and is showing the motion control market how to design product."
Get the full story at
https://www.packworld.com/view-22420
.
Innovative OEMs are busier than ever
Instead of a lull following the fall packaging classic, both North American and European machine builders who've embraced the new technologies are busy with quotation and order activity. That's what Packaging Automation is hearing from OEM executives who are mostly returning our calls from the road.
PACK EXPO Las Vegas is just 10 months away, but it's easy to forget that Interpack is also only 16 months away (Messe Düsseldorf, 24-30 April, 2008
http://www.interpack.com/cipp/md_interpack/custom/pub/content,lang,2/oid,3969/ticket,g_u_e_s_t
). That's really not so much time to deliver new, modular machine designs that take full advantage of the new technology. But, these projects are already in the works.
As packaging machinery demand remains brisk worldwide, there's another benefit to the engineering and manufacturing time savings afforded by modular designs. Reusable software, streamlined electrical systems and commission-as-you-go machine modules get machines out the door faster -- reducing delivery leadtimes and clearing the OEMs' factory floors to work on the next machine.
In change, there is safety -- in status quo, risk
The iconoclasts have prevailed, as today's best automation technologies mean innovation no longer equates to risk. Quite the opposite is now true -- waiting too long to break away from rigid adherence to the status quo means almost certain loss of opportunity that can never be regained.
This year, ARC reported that forward-thinking packagers are indeed embracing innovation, to counter the rapid pace of competition in the consumer goods marketplace (see the story,
ARC Report Challenges Status Quo
).
This same trend was evident at the first Packaging Automation Forum (see
Turning the Tide in Packaging Automation
). There, packagers related how they're leveraging international standards that are now in place to integrate best-of-breed solutions in their packaging lines.
At PACK EXPO, we saw plenty of innovation, especially in the form of embedded robotics, including those from industry leaders A+F Automation, Fallas Automation, Goodman Packaging Equipment, Pester Pac Automation and more.
While each was optimized for different purposes, they all had one thing in common. All were utilizing the robotic software functionality provided by the increasingly acknowledged system of choice, the PacDrive automation system.
Where to from here?
The trend became quite apparent in 2006. And 2007 promises to see substantial advances in new machine functionalities as a direct result.
Take the perspective of an automation visionary (see the story,
Future of Packaging
).
Or, listen to OEM visionaries (At PACK EXPO,
Modular Packaging Machinery Becomes Reality
).
They are all headed in the same direction -- toward machinery with control systems that comprise ever more sophisticated software as the basis for their intellectual property.
Companies in this article